---
| | |
| --- | --- |
| Monday, December 30, 2013 11:03 AM | |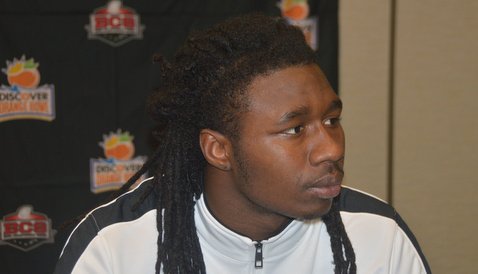 FORT LAUDERDALE, FL – Welcome to the first edition of First and Orange, TigerNet's Orange Bowl coverage blog.
This morning, we had interview sessions with offensive coordinator Chad Morris

Chad Morris
Offensive Coordinator / QBs
View Full Profile , quarterback Tajh Boyd

Tajh Boyd
RS Sr. Quarterback
#10 6-1, 225
Hampton, VA
View Full Profile , wide receiver Sammy Watkins

Sammy Watkins
Jr. Wide Receiver
#2 6-1, 205
Fort Myers, FL
View Full Profile , offensive linemen Tyler Shatley

Tyler Shatley
Gr. Offensive Guard
#62 6-3, 295
Icard, NC
View Full Profile and Brandon Thomas

Brandon Thomas
Gr. Offensive Line
#63 6-3, 305
Spartanburg, SC
View Full Profile and running back Roderick McDowell

Roderick McDowell
Gr. Running Back
#25 5-9, 195
Sumter, SC
View Full Profile .
We will start with Watkins, who told TigerNet that he didn't submit his draft paperwork to the NFL.
"I didn't even turn in [the paperwork] for my grade," Watkins said. "The coaches said that you will be somewhere in the Top 15 of the first round. I talk to those guys all of the time and they said that there is no reason to. They told me that if I decide to leave that I will leave on a good note and if I decide to stay, they will welcome me back. For me, it wasn't really about getting a grade. If I'm going to enter the NFL, I'm just going to enter it."
Watkins said he has a good idea of which way he is leaning, but doesn't want the focus on him during Clemson's bowl preparations.
"In the back of my head I know what I want to do. The coaches know what I want to do," Watkins said. "But as a player and a leader, we want to wait until after the game. I don't want the focus on me and everything just coming down to an end. We definitely want to wait until after the game."
Sammy also had a great quote about playing Ohio St.
"That's what I was looking for, I didn't want to be playing not to say a sorry team, but a team that everyone thought is better than us where we can prove ourselves once again," Watkins said. "We came down here two years ago and laid an egg. We have an opportunity to come down here and put this program back on the right page and hopefully come out with an 11-2 season. I think with this game it gives us a step forward and something to look forward to next year."
Chad Morris on how close he was to taking a job with Ohio St.
"It was an honor. It was right around our ACC Championship Game," Morris said. "It was pretty much within a couple of hours. It was great to talk to Coach Meyer. He has done a wonderful job. I don't know how close it really got. Everything happened around our ACC Championship Game. It was within a short few hours. I know that we – Coach Swinney and I and Dr. Terry Don Phillips, our athletic director at the time – were in the office at eight o'clock on Sunday morning [after the ACC Championship] negotiating and working out the final details of my contract extension. There was some talk, but we got it all worked out. "
Status of Ohio St. defensive end Noah Spence
Defensive coordinator Luke Fickell told the media that there is "hope" that sophomore defensive end Noah Spence will make it down to Miami in time to play in the bowl game. Spence, who plays Ohio St.'s "viper" end position, had 14 ½ tackles for loss and eight sacks and was an all-Big Ten selection.
However, he didn't fly down with the team.
"Noah didn't fly down with us. He's working through some personal issues at home. I hope [he will be here]," Ohio St. head coach Urban Meyer said Sunday after his team's arrival in Miami.
Senior linebacker Ryan Shazier said the potential loss of Spence would be "huge"
"It will be a huge loss if Noah [Spence] can't play and we'll need some guys to step up if he won't be able to," Shazier said. "It'll be a huge loss. He's our sack leader on the team right now, he's one of the top in the Big Ten and he just has consistent pressure on the quarterback and does a good job against the run game. He just has a lot of experience and if we don't have him out there it'll be a tremendous loss."
Von Bell starting at nickel back for Buckeyes
Ohio St. freshman defensive back Von Bell will likely be the "nickel" back against the Tigers in the Orange Bowl. Bell played in all 13 games this season and had 12 tackles.
Ohio St. defenders on Roderick McDowell
It was apparent that Fickell has told his defensive guys that Clemson senior running back Roderick McDowell is "shifty." Fickell said "shifty" during his press conference, and all five defensive players that we talked to used that word to describe McDowell.
Fickell on Clemson's wide receivers
"I don't think we've faced a group or a corps of receivers like Clemson has. They are all big and fast, and that's stuff you just can't teach. You can't teach 6-foot-5. They will be definitely be a challenge, and probably the best corps I've seen."
Chad Morris on Tajh having trouble with shotgun snap
"We talk about the growth of Tajh as a player, but I don't think we have enough time in this press conference to cover all of that," Morris said. "When I first got to Clemson, Tajh struggled catching a shotgun snap. Just a quick story – I hope Tajh doesn't get mad at me, but it will be okay if he does. Really our first spring here, when we were installing our offense, he really struggled catching the snap – just something we take for granted. Just a shotgun snap. He struggled to the point where it really alarmed me and I contacted our training staff and we sent him to the eye doctor. I thought he needed glasses. He came back and he had 20/20 and I was like, 'Wow, Tajh. Something is wrong and we need to figure this out.' "
Boyd explained what he thought he was wrong
"It was interesting because the way I was catching the snaps," Boyd said. "I'd drop it or my knees would kind of cave in while I was catching the snap. It was more so of me kind of being nervous, but the guys would come back on the sideline saying 'Coach doesn't think you can see'. I told them I have 20/20 vision, but he said 'I have to see for myself'. So Coach [Morris] took me to the eye doctor and it was better than 20/20, it was 20/15 or something like that. It was an interesting story, something I'll never forget."
Ohio St. defender to watch
Both Brandon Thomas and Tyler Shatley told me that freshman defensive end Joey Bosa is the player that jumps out to them when they watch Ohio St. film.
Thomas said that Bosa will line up on both sides of the line.
"They flip him a lot. We noticed on film that he has a high motor, and he finishes plays. He is definitely a guy we have to watch, and when we watched film he was one guy that really stood out to me. They don't do a lot of blitzing or stunting with the linebackers, they just let those defensive line guys go get people."
Roderick McDowell on being a 1,000-yard back
"Knowing all of the great running backs that have played here, and to have my name associated with them is a blessing," he told me. "I don't play for the credits, but that was a big question mark at the beginning of the season, and people wondered if we had a thousand yard rusher. But this has been a blessing and I am ready for it."
McDowell ran hard against South Carolina, a game he said he took personally.
"That game right there meant more to me than anything," he said. "It was more than just a game. I had to give it my all."
Turnovers
Clemson gave up 16 points off turnovers in the 10 wins, and 45 points off turnovers in the two losses and McDowell was asked what he takes from that stat.
"If we don't give up the ball, we are probably playing in the national championship."
**NOTE: We are headed out to Clemson's practice, and will have more coverage later this afternoon.