| | |
| --- | --- |
| First and Orange - Tuesday edition | |
---
| | |
| --- | --- |
| Tuesday, December 31, 2013 12:16 PM | |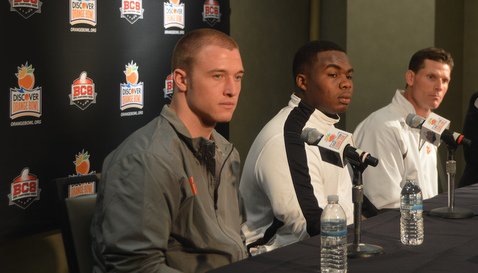 FORT LAUDERDALE, FL – It's Tuesday morning in muggy South Florida, and that means it's time for the second edition of First and Orange, TigerNet's Orange Bowl coverage blog.
This morning was all about Clemson's defense as we had interview sessions with defensive coordinator Brent Venables

Brent Venables
Defensive Coordinator / Linebackers
View Full Profile , defensive end Vic Beasley

Vic Beasley
RS Jr. Defensive End
#3 6-3, 225
Adairsville, GA
View Full Profile , safety Robert Smith

Robert Smith
Jr. Safety
#27 5-10, 210
St. George, SC
View Full Profile , defensive tackle Grady Jarrett

Grady Jarrett
Jr. Defensive Tackle
#50 6-1, 290
Conyers, GA
View Full Profile and linebackers Spencer Shuey

Spencer Shuey
Gr. Linebacker
#33 6-3, 230
Charlotte, NC
View Full Profile and Stephone Anthony

Stephone Anthony
Jr. Linebacker
#42 6-2, 235
Polkton, NC
View Full Profile .
The big topic of the morning was the status of Vic Beasley for the 2014 season and where he is with his decision.
Beasley said that he received a second round grade from the NFL Draft Advisory Board and that he will sit down and make a decision after the bowl game.
Mewhort and Ohio St. offensive line well aware of Beasley's skill set
Buckeye senior offensive lineman Jack Mewhort – a first team All-American by ESPN - said that he has been preparing for Beasley since Bowl Selection Sunday and that Beasley presents a challenge that he hasn't faced in the Big Ten.
"Obviously, Vic Beasley is a tremendous player, defensive end," Mewhort said Tuesday. "He's very quick off the edge, kind of a speed rush guy, but he can also give you a little bit of power too. I've been preparing for him since the Bowls got drawn. I think it's going to be a great challenge for me. I'm really looking forward to it. I think it's going to be a lot of fun.
"He's a little bit more unique than any D end I've played against in the Big Ten so far. Like you said, it's a little bit of a unique challenge. I'm preparing for him just as hard or harder than anybody I've played against this year. I guess I'm excited, and it's going to be a good matchup."
Brent Venables is offended by the word "shootout"
"I don't like that [labeling the game as a shootout] one bit. I'd be lying to say, oh, we'll be it doesn't matter if it's Ohio State, if it's the Pittsburgh Steelers, it doesn't matter. Your job on defense is to stop people.
"So when somebody says everybody wants to say it's a shootout, you take offense to that. But that's not just this game, you know. You play in a high powered offense in today's age of football, whether it's the NFL or it's in college. They're offensive driven, and the rules set it up for them to have an advantage per se."
Venables not responsible for 70 points
Venables was inundated with questions about the 2011 Orange Bowl debacle, but little did the Ohio and Florida media know, it was because of the 70 points given up in that game that led to Venables being named Clemson's defensive coordinator.
"Well, I wasn't here, so I don't really have any memory of it. Sorry to spoil the question," Venables said. "It doesn't matter whether I was or wasn't. It's just like a year ago, or even our last game, we lost against South Carolina. So what? That doesn't matter. It has nothing to do with this game. So a game that happened two years ago, I think we had maybe two guys on our defense that were actual starters and played significantly."
Stephone Anthony update
Anthony said that he has also received his draft grade, but he doesn't want to publicly announce the results. He told TigerNet that it's a tougher decision than most people realize, but at this point he has no idea what he is going to do. He wouldn't indicate whether he was leaning toward returning for his senior season or declaring for the NFL draft.
Happy birthday Spencer Shuey
Today is Shuey's 23rd birthday – a day that will be filled with interviews and practice in the hot Florida sun.
"It's been awesome so far," Shuey said. "You can't really ask for a better place to spend your birthday than Miami and the hotel we're staying at."
Several Buckeyes sick with 24-hour flu bug
Ohio State quarterback Braxton Miller didn't attend Tuesday's interview session as sickness has spread to many members of the Buckeye football team.
We asked defensive tackle Grady Jarrett if the thought of not facing Miller would change Clemson's preparation and he said no.
"They run their scheme no matter who is playing quarterback, whether it's Miller or Kenny Guyton the offense really doesn't change that much," Jarrett said. "We prepare for the scheme rather than the player."
Ohio State running back Carlos Hyde's perfect Orange Bowl?
Friday night's Orange Bowl will be Hyde's last game in a Buckeye uniform and he said that he wants to break the Orange Bowl rushing the record or 206 yards, set by Nebraska's Ahman Green in 1998.
"A perfect ending for me would be beating 226; that's the most rushing yards in an Orange Bowl," Hyde said. "That would be the perfect way to go out. And a win."
Ohio State offensive coordinator Tom Herman on Chad Morris

Chad Morris
Offensive Coordinator / QBs
View Full Profile
"I like Chad. He's a good dude. We go way back to when I was you know, I spent 11 years coaching college football in the state of Texas and recruited his schools and have known him all the way from the time he was down as the head coach at Bay City Black Cats.
"So me and Chad go way back. I wouldn't say we're best buddies. We don't go on vacation together or anything like that, but we do spend a lot of time talking football over the phone. And as has been documented, spent some time in the off season in person with our staffs. It's been a very good good, productive working relationship."