| | |
| --- | --- |
| Final thoughts on the Georgia game | |
---
| | |
| --- | --- |
| Monday, September 1, 2014 7:01 AM | |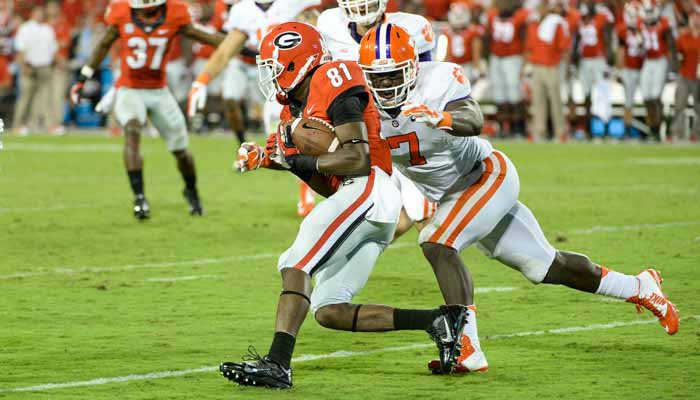 Respect.
Respect is something that's hard to earn and easy to lose. For an ACC program trying to push its way into national consciousness and prove it belongs with the big boys of the Southeastern Conference and with ACC foe Florida St., respect isn't something that comes easy when all of the talk and platitudes are thrown in the direction of others.
It's also hard to earn that respect when you get embarrassed on the national stage.
A friend of mine sent me a message this week, and said he was sick and tired of other programs getting respect, especially when Clemson had bowl wins over LSU and Ohio St. to lean on over the past couple of seasons. It was his hope that a win over Georgia in Athens would restore some of the luster to the program, piggybacking on the win over Ohio St. in the Orange Bowl.
All of that went out the window in listless third and fourth quarters in Sanford Stadium on a steamy night in Georgia, respect ebbing and flowing away with each Georgia run and every failed third down conversion by a Clemson offense that spent the entire second half inside of its own twenty.
The unfortunate thing for Clemson fans and for the Clemson program as a whole is that bowl games don't tell the whole story. They are good for gaining momentum heading into the final recruiting stretch and feeling good about yourself heading into the offseason, but real respect is won and earned during the battles waged during the regular season, when one win might mean the difference between a chance at a division title or a chance at playing in one of the big games at the end of the regular season.
In that regard, Clemson has not passed muster. The Tigers have a 1-7 record against their rivals – FSU and South Carolina – since the beginning of the 2010 season.
Making it even worse is the fact that when Clemson loses, it sometimes loses in spectacular fashion.
Since the beginning of the 2011 season, the Tigers have lost nine games. All nine of those games have resulted in double digit losses, and in seven of those contests Clemson's highly-regarded offense has failed to produce the kind of time-killing drives that keep games close. Turnovers and quick three-and-outs have put the onus on Clemson's defense, and the game quickly deteriorates into the kind head-scratching contests that leave fans sick at their stomachs.
But it isn't all on the offense. There have been the failures of the defense to stop South Carolina on third down, to stop almost any running quarterback, and there have been special teams miscues aplenty.
Double-digit losses
Aug. 30, 2014 -Georgia 45, Clemson 21
Nov. 30, 2013 – South Carolina 31, Clemson 17
Oct. 19, 2013 – Florida St. 51, Clemson 14
Nov. 24, 2012 – South Carolina 27, Clemson 17
Sept. 22, 2012 – Florida St. 49, Clemson 37
Jan. 4, 2012 – West Virginia 70, Clemson 33
Nov. 26, 2011 – South Carolina 34, Clemson 13
Nov. 19, 2011 – N.C. State 37, Clemson 13
If you're keeping score at home, that works out to an average score of 41.67 to 20.22. Yep, that cringeworthy stat works out to 375 points for the bad guys, 182 for the good guys over nine contests. That's not just losing, that's losing on a grand scale. Yes, the numbers are skewed by the debacle in the Orange Bowl, but they all count. Florida St. has averaged 50 points per game over the last two seasons, and South Carolina has scored 31, 27 and 34 in their last three wins.
What causes this kind of implosion when it matters most? Talent? Heart? Mental toughness? Something has to be amiss somewhere, and with a road game at Florida St. in a few weeks and a challenging home stretch that includes North Carolina and Louisville, a road date at Georgia Tech and the season-ending finale against South Carolina, the Tigers have to find a way to get over the hump at some point.
This team has shown heart and mental toughness during big games – the win over Georgia last season, the win over LSU, the hold against Ohio St. in the most recent Orange Bowl and more than a few ACC games over the last few seasons.
But when it goes sideways in a loss, it goes sideways quick.
Admit it, losing by a 31-27 score or 27-23 would have been easier to take Sunday morning than seeing that 45-21 number? You can say you went into the opponent's stadium (Clemson is 11-13 in true road games under Swinney since 2009) and came out feeling respectable. For 50 minutes or so of Saturday's game, the Tigers went toe-to-toe with the Bulldogs, but once again, the wheels came off.
At some point, the wheels have to stop coming off.
Other observations
*Where were the tight ends? We heard during fall camp that Jordan Leggett

Jordan Leggett
So. Tight End
#16 6-5, 251
Navarre, FL
View Full Profile was a matchup nightmare, and that Stanton Seckinger

Stanton Seckinger
RS Jr. Tight End
#81 6-4, 241
Isle of Palms, SC
View Full Profile and Jay Jay McCullough

Jay Jay McCullough
RS So. Tight End
#89 6-3, 248
Fort Mill, SC
View Full Profile had made huge strides. The tight ends were going to be a weapon. Saturday, that group had two catches for no yards, and it's hard to remember if a tight end was even a target. Once the defense got the Clemson offense on its heels late, they started bringing the house, and I thought a way to combat that would be to send the tight ends or receivers on quick slants and quick patterns that can cause the defense to hesitate a second. We never saw it. The slant isn't a huge part of what Morris tries to do, but it might have helped Saturday.
*Special teams. Georgia head coach Mark Richt wasn't afraid to use Todd Gurley – arguably the nation's best player – on special teams, and he provided the kind of spark that can change momentum. Meanwhile, another kick return in a big game cost Clemson. On punt return, Adam Humphries

Adam Humphries
Sr. Wide Receiver
#13 5-11, 193
Spartanburg, SC
View Full Profile is steady, but Richt used freshman Sony Michel, and he looked like he was always a step away from taking one to the house. It makes a difference having that kind of threat back there.
*Youth. Richt wasn't afraid to use some of his talented freshmen at big moments – Isaiah McKenzie got his touches, as did Michel. Another freshman running back, Nick Chubb, ran over the Clemson defense late. In all, Georgia played seven true freshmen in the contest, including tight end Jeb Blazevich. Meanwhile, Clemson barely used Wayne Gallman

Wayne Gallman
RS Fr. Running Back
#9 6-1, 209
Loganville, GA
View Full Profile and Adam Choice

Adam Choice
Fr. Running Back
#26 5-10, 211
Thomasville, GA
View Full Profile was a no-show. Artavis Scott

Artavis Scott
Fr. Wide Receiver
#3 5-11, 190
Oldsmar, FL
View Full Profile had a catch, and Demarre Kitt

Demarre Kitt
Fr. Wide Receiver
#8 6-1, 183
Tyrone, GA
View Full Profile was open on one pattern. Would it have been better to see what the freshmen could do? Perhaps Richt felt comfortable doing that considering they were at home. However, if the freshmen are as talented as we've heard, they need to play.