| | |
| --- | --- |
| Final thoughts from Charlottesville, and meeting a real American hero | |
---
| | |
| --- | --- |
| Sunday, November 3, 2013 4:08 PM | |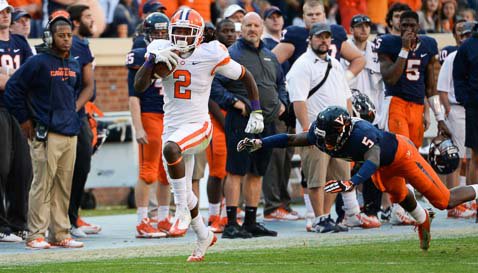 CHARLOTTESVILLE, VA – If you're a Clemson fan, you have to feel pretty good heading into the bye week.
I've just gotten back to the hotel room following the game so the BCS standings aren't out yet, but I would expect to Clemson to move up a spot and take over Miami's No. 7 spot in the rankings.
That sets up a big Thursday night – you're all invited to my house – as Baylor (No. 6 as I write) and No. 10 Oklahoma square off in the early game, and No. 2 Oregon and No. 5. Stanford face off in the second game. At least one team ahead of Clemson will lose, and there is the possibility that two could lose. No. 1 Alabama hosts No. 13 LSU next Saturday in a game that bears watching.
Quarterback Tajh Boyd

Tajh Boyd
RS Sr. Quarterback
#10 6-1, 225
Hampton, VA
View Full Profile said it all Saturday night when he said the Tigers just have to take care of business, and everything else will fall into place.
*Freshman safety Jayron Kearse

Jayron Kearse
Fr. Safety
#20 6-4, 205
Fort Myers, FL
View Full Profile continues to make plays – he had the big interception and forced fumble before halftime that helped turn a 14-7 lead into a 35-7 lead at the half. His ball skills might be the best on the team right now, and his skillset is apparent. I just sometimes wonder – especially when I am standing next to him interviewing him – if he will outgrow the safety position.
*We were talking in the press box after the game about Clemson's next opponent – Georgia Tech. I remarked that this might be the best defense Clemson has been able to field against one of Paul Johnson's option squads, and my buddy agreed with me.
Case in point – after Clemson took a 14-7 lead in the first half, the offense went four straight drives without a first down. In the past, that might have spelled disaster, but Clemson's defense was able to rise to the occasion each time and stop Virginia.
The Cavaliers had five straight possessions in which they gained exactly one first down, and that was on the questionable penalty call against Travis Blanks

Travis Blanks
So. Defensive Back
#11 6-0, 190
Tallahassee, FL
View Full Profile . However, I wondered if the coaching staff made a mistake by going for it on fourth down just over midfield and not converting. That gave a Virginia team that had been struggling to gain any momentum new life, but Kearse came up with his interception and 37-yard return, setting up Clemson's third touchdown.
The defense gave up the early touchdown – Virginia almost made it look easy – but tightened up and held the Cavaliers out of the end zone for the rest of the game. Last week at Maryland, the defense gave up two late touchdowns that had defensive coordinator Brent Venables

Brent Venables
Defensive Coordinator / Linebackers
View Full Profile fuming and you could tell Saturday evening that even the second and third string players were playing with a little bit of attitude. Of course, it always helps when your opposition is more than a little outmatched.
Clemson's defense forced 10 three-and-outs Saturday, giving the defense 19 over the last two games.
*Boyd was out of the game after Clemson's opening drive of the third quarter, and backup quarterback Cole Stoudt

Cole Stoudt
Jr. Quarterback
#18 6-4, 205
Dublin, OH
View Full Profile came in for two scoreless drives that covered the rest of the quarter. Enter Chad Kelly

Chad Kelly
RS Fr. Quarterback
#11 6-2, 210
Buffalo, NY
View Full Profile .
Kelly managed to get in about 20 snaps while leading a couple of scoring drives, including one that ended on his 38-yard touchdown run in which he showed almost no ill effects of his off-season ACL surgery. He finished the night as Clemson's second-leading rusher, ending up with seven carries for 56 yards. He also went 5-for-7 for 27 yards through the air.
After his touchdown run, I posed this question on Twitter – Who do you think has the inside edge at being Clemson's starting quarterback against Georgia in the season opener next season, Stoudt or Kelly. I guess I shouldn't have been surprised when about 75% of the responses said….Deshaun Watson.
*One of the things I love about my job is getting to see all of the different stadiums and traditions and meet different people from all walks of life. Saturday, however, took the cake, and I wanted to end this story with a quick note about someone special we met in Virginia's press box.
As Nikki Steele and I were walking through the door of the press box, we were met by an older gentleman who grabbed Nikki's hand and told her it was the first time all day that he had a handful of sugar.
We struck up a conversation, and we learned that Monk Bingler was 90 years young and had been working University of Virginia sporting events for 77 years. That wasn't the interesting part, however.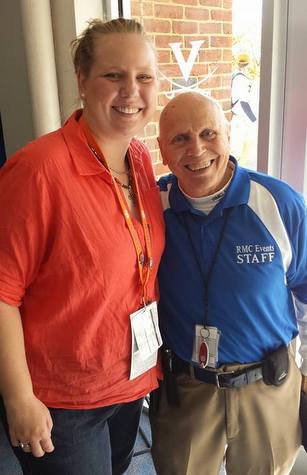 He told us that his time working for the athletic department was interrupted only by his service in World War II, and that began a conversation that last almost 45 minutes, all before the game started. Mr. Bingler – he was called Monk because it was short for Monkey, a nickname he received in the Army because of his ability to climb trees – went ashore on D-Day at Omaha Beach with the 29th Infantry Division.
He told us that he carried the BAR – or Browing Automatic Rifle – all across France and the fighting in the Hedgerows, and then he teared up and said it was hard to talk about, and we started to walk away, wanting to simply respect this man who has obviously given so much. But he stopped us, and continued his story – he was at Bastogne during the Battle of the Bulge, and climbed a tree one night to escape the snow on the ground and woke up the next morning to find a German command post set up almost beneath him. He had to tie himself to the tree and wait for the Germans to leave, and he made it back into Bastogne just as the town was relieved.
He told that he was wounded and captured on Valentine's Day in 1945, and was sent to a German POW camp not too far behind the front lines. A few days later, he and some other soldiers escaped and it took them five days to get back to Allied lines, and he was so weak from loss of blood from his wound that he passed out, and when he woke up he was in a hospital in Paris.
He said that when he went overseas he weighed a solid 219 pounds, and when he returned home all of his golden curls were gone and he weighed only 98 pounds. His wife was supposed to meet him at the train station, but she walked right by him because she didn't recognize him.
Meeting someone like that – who can put things in perspective for you – can change the way you look about things. Later in the game, I went outside to meet a TigerNet member – you know him as soccerkrzy – and Mr. Bingler came outside to ask if I was having trouble with "the crazy guy" and told me he was ready to "mix it up" if I needed him to!!
After the game, however, he humbled me. He found where Nikki and I were sitting in the pressbox, and thanked us for listening to his stories. And then he offered to go and get us a piece of apple pie and whipped cream out of "the secret stash." Talk about humbling – to have someone like him offer to serve me….was beyond words. We found a true American hero in Monk Bingler.