---
| | |
| --- | --- |
| Sunday, October 6, 2013 9:57 PM | |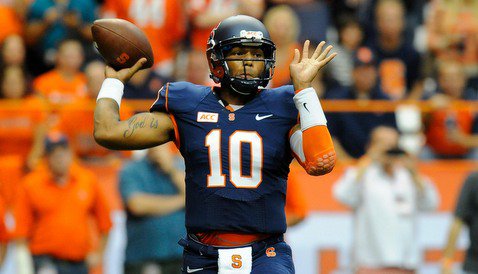 *Here is a stat for you – Syracuse completed 12 passes on the game, and only one went to a wide receiver. That covered six yards. The other 11 were to running backs, the tight end and the quarterback. Yep, the quarterback caught as many passes as the 'Cuse receivers.
*Hunt had a miserable time of it, despite his brash talking during the week. He wound up completing just 8-of-24 passes for a paltry 52 yards and three interceptions.
After the game, he told the media that the Orange did a lot to beat themselves.
"Very disappointing. At the same time we lost to a good team, we actually beat ourselves too," Hunt said. "They are a good team at the end of the day. We had a couple of things we should have maximized on, but we didn't and so be it. We just got to take it on the chin and go into next week."
Sophomore running back Ashton Broyld said Syracuse had Clemson's defense right where they wanted them.
"We saw exactly what we saw on film. We got exactly what we saw on film," he said. "It was just a little bit more man coverage than we expected. At the end of the day, we got to play football. We didn't play our best football today and we know that. It was a time and a point where we had them. We had them right where we wanted and we just didn't execute, and that's what we come back for on Monday, to get better and tighten up the little things."
*Running the football wasn't easy, and I heard one radio host say this week that Clemson wouldn't rush for 150 yards against the Orange. They rushed for 158, but it wasn't easy. Syracuse sells out to stop the run and to bring pressure, and they frequently bring more than you can block. The downside of that is that you leave your secondary all alone against some pretty good receivers, and we saw what happened in the passing game.
However, Zac Brooks rushed nine times for 46 yards, a 5.1 yards per carry average. I think he needs to see the field more.
*Finally, the Syracuse staff and people at the Dome were over-the-top nice, and we met a lot of great fans over our three days here in this part of the country. The staff at the Dome was extremely helpful, and we couldn't have asked for anything more.
*After getting back to the hotel room late Saturday, I opened up my Facebook and saw the usual postgame thoughts from fans. However, I noticed that several fans were blasting the defense for giving up 323 yards on the ground to the Syracuse offense, and I am sure that defensive coordinator Brent Venables isn't happy with that number, either.
However, Clemson's defense held its fourth straight opponent to 14 points or fewer, something that hasn't been done since the 2000 season. The front four is getting pressure on the quarterback, the secondary looks better and better each week, and Vic Beasley leads the nation in sacks.
This unit doesn't have to be great and throw shutout numbers on the board for this team to win games. It just has to be good. And so far, they have been good and look to be getting better in certain areas.