| | |
| --- | --- |
| Final thoughts: Short-yardage issues, Ben Boulware and ACC defense | |
---
| | |
| --- | --- |
| Monday, October 13, 2014 7:01 AM | |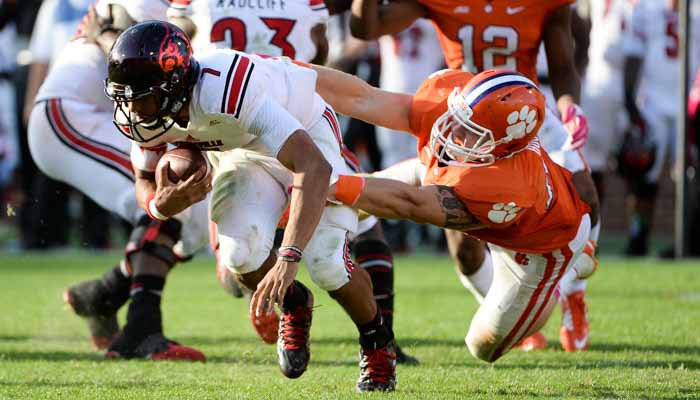 Walking out of the press box Saturday night and heading down to the locker room to do interviews, I turned to Nikki Steele and asked her why the 23-17 win over Louisville felt like a loss.
And, for some odd reason, it did. Was it the offense, or lack thereof? Was it the fact that Clemson came within a few yards of finding an incredible way to lose? No….it was because the loss of freshman quarterback Deshaun Watson

Deshaun Watson
Fr. Quarterback
#4 6-3, 204
Gainesville, GA
View Full Profile . In a small sample size, it began to feel as if Watson could do the unthinkable every time, and the different dimension that he brings to the offense can't be understated.
However, it wasn't a loss. It was a tremendous win, and it didn't take long being around the coaches and players to understand that every win needs to be celebrated, and the way Clemson won Saturday's game has to make you smile – defense and special teams. How often has anyone associated with the Clemson program been able to say that in recent memory? Not a lot. Ammon Lakip

Ammon Lakip
RS Jr. Kicker
#36 5-10, 200
Alpharetta, GA
View Full Profile kicks three field goals, Adam Humphries

Adam Humphries
Sr. Wide Receiver
#13 5-11, 193
Spartanburg, SC
View Full Profile returns a punt for a touchdown and the defense plays lights out for most of the game, overcoming the struggles of the offense.
There are some other takeaways from the game…..
* Cole Stoudt

Cole Stoudt
Sr. Quarterback
#18 6-4, 231
Dublin, OH
View Full Profile has taken a lot of grief for his play, and it's really disheartening to see Clemson fans turn on a kid who has given so much to the program. Stoudt didn't take any snaps during the week, had to have a shot to his shoulder before the game and then came out and managed to gut his way through the game. There was one point where he took a hit to his shoulder, and the pain was obvious enough that offensive coordinator Chad Morris

Chad Morris
Offensive Coordinator / QBs
View Full Profile asked Stoudt if he needed to be taken out of the game. Stoudt told reporters after the game that he told Morris they would have to drag him off the field.
Of course, many Clemson fans have a problem with Stoudt because he isn't Deshaun Watson. I get it. Stoudt didn't play particularly well, the offense struggled and the Tigers didn't score an offensive touchdown. Ugly. For Stoudt, Clemson fans have been on his case all season, and yet he managed to play for his teammates and then stood in the middle of the field, overcome with emotion, and sang the alma mater with the students and fans. It's a good thing he shows a little more class than the fans who continually hate on him. Yep…hate on me for writing that, but I will defend a 21 or 22-year old kid all day long.
*Don't forget, Louisville's defense was pretty good. I actually overlooked them in my prediction, thinking Clemson would manage to score points, but it didn't take long for the Cardinals to pass the eye test with me. They were big, fast and physical and both Swinney and Morris said after the game that they might be the best defense the Tigers will face all season. I believe it.
* Ben Boulware

Ben Boulware
So. Outside Linebacker
#10 5-11, 235
Anderson, SC
View Full Profile ……Boulware was all over the field Saturday night. Tackle after tackle and emotional play after emotional play. Right after Louisville hit the big pass play at the end of the game, the Cardinals tried to run the ball on the goal line. There was Boulware, knifing over the pile and getting first contact on the runner.
He is listed as the starting WILL linebacker this week, and if he continues to play like he did Saturday it will be hard to keep him off the field. He was one of the unsung heroes of the defensive effort.
Boulware told us after the game that, "The Ben you see now is a lot different than the Ben that first arrived here at Clemson. That speaks to Coach Venables, because he is on my butt every day and always pushing me. He rides me all the time, and it's paid off."
*Short yardage difficulties…..Clemson's issues in short-yardage situations has been well-documented, but Saturday's lack of execution and play-calling seemed to take it to another level. First of all, the call to go for it on fourth down was a head-scratcher – your defense is playing well, your offense isn't and you decide to go for it in your own territory instead of punting? Swinney said after the game that the Tigers had to overcome some "horse crap" coaching and that was one of the "crappier" decisions.
As for using Stoudt on the short-yardage plays, here is the issue I have with it (besides starting six yards deep in the shotgun, doing a delay, and then expecting an injured Stoudt to get the tough yards). First off, Clemson's offensive line was getting beat at the point of attack. I could see it. You could see it. The coaches could see it. And then, at that point, you're not fooling anybody because everybody knows the quarterback power is coming.
When Clemson had Tajh Boyd

Tajh Boyd
Quarterback (2009 - 2013)
#10 6-1, 225
Hampton, VA
View Full Profile , I didn't have an issue with Boyd running the power in that situation – he was bigger than Roderick McDowell

Roderick McDowell
Running Back (2009 - 2013)
#25 5-9, 195
Sumter, SC
View Full Profile last season, and was really the best option on that play. I don't have an issue with Watson running that play, simply because the kid can make plays and he's one of your best options when he's healthy.
But….in no universe is Stoudt your best option on that kind of play, which typically come at big moments in games. Is Stoudt a better option there than Adam Choice

Adam Choice
Fr. Running Back
#26 5-10, 211
Thomasville, GA
View Full Profile or Wayne Gallman

Wayne Gallman
RS Fr. Running Back
#9 6-1, 209
Loganville, GA
View Full Profile or C.J. Davidson

C.J. Davidson
RS Jr. Running Back
#32 5-10, 203
Clemson, SC
View Full Profile ? Nope. So why run your fifth or sixth or seventh-best option at that point? Another head-scratcher.
For the record, I asked Choice after the game if Morris had asked him about running the Wildcat and he said no. Choice was a quarterback in high school, and if you're determined to run the quarterback power in those situations Choice might be the best option. However, that isn't in the playbook right now.
No, we didn't get a chance to ask Morris about not going under center on that play. To put it lightly, the post-game interviews are an absolute scrum, and it's dominated by TV people with huge cameras who have to get their five second sound bite. The hallway where the interviews are conducted is narrow, and once the cameras push their way to the front it's hard to get in there. And they don't ask the real questions – they ask sound bite questions. We get Morris today, so hopefully we can get more in-depth with the TV types out of the way.
*Boston College….this game concerns me. I've been up there countless times, and it seems like the Tigers always struggle in Alumni Stadium. Their defense is solid, and it may surprise some people to find out that four of the top ten teams nationally in total defense hail from the ACC – Louisville (1), Pittsburgh (4), Clemson (6) and Boston College (8). Remember when the SEC was known for all the good defense?
Back to Boston College…they can run the read-option, and they can also throw the ball down the field. Clemson will have its hands full in Chestnut Hill Saturday. After that, the schedule gets a little easier with Syracuse in Death Valley and then at Wake Forest on a Thursday night.