| | |
| --- | --- |
| Final thoughts: Florida St. | |
---
| | |
| --- | --- |
| Monday, September 22, 2014 8:17 AM | |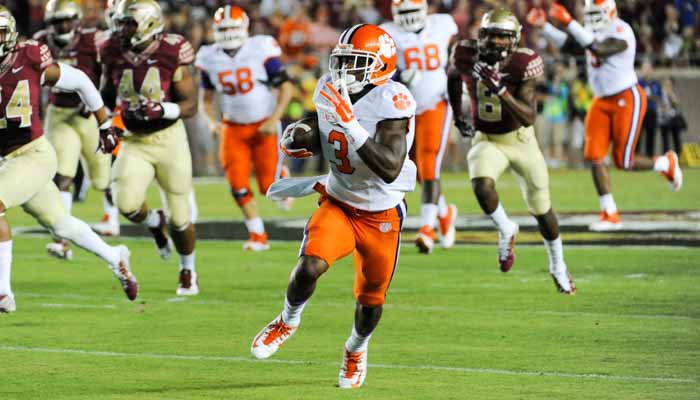 TALLAHASSEE, FL – Sitting in a press box at the end of a long night pondering how Clemson can outplay its opponent for most of the game and still wind up on the losing end is becoming all-too commonplace.
Clemson's defense played lights out for most of Saturday's heartbreaking loss at Florida St., and the Tigers outplayed the Seminoles for the majority of the snaps. The Tigers, however, have a way of breaking at the worst possible time in critical games, and fumbles and missed field goals and failures in short-yardage situations were once again to blame.
Following Clemson's loss at South Carolina to end the 2013 regular season, it was easy to realize that Clemson won both lines of scrimmage and the stats war but lost the game. Head coach Dabo Swinney

Dabo Swinney
Head Coach
View Full Profile has mentioned several times that he was sick after that game, wondering how Clemson could have played so well in so many phases of the game and still wound up on the losing end.
If thinking about the possibilities of that game made him sick, thinking about all of the missed opportunities in Saturday's loss might send him into a coma.
First and foremost for me is the play calling at critical junctures – I've never been a fan of handing the ball off to a running back six yards behind the line of scrimmage when you have less than a yard to go. Watching Clemson line up in the shotgun on the fourth down play in overtime made me feel like a psychic – I could see how that play was going to turn out before the ball was ever snapped.
Clemson had just inches to go for the first down, but quarterback Deshaun Watson

Deshaun Watson
Fr. Quarterback
#4 6-3, 204
Gainesville, GA
View Full Profile lined up six yards deep and handed the ball off to running back Adam Choice

Adam Choice
Fr. Running Back
#26 5-10, 211
Thomasville, GA
View Full Profile . Florida St.'s defensive line, linebackers and even a safety lined up in the box and swarmed Choice before he had a chance to make it back to the line of scrimmage.
Morris and Swinney both said later that Watson wasn't comfortable taking the snap under center, but at some point you have to try, right? Clemson's failures in short-yardage situations and play-calling with the game on the line continue to be an issue.
If you had told me before the game the mistakes that Clemson would make, I would have shrugged and said FSU wins by 40. Instead, the Tigers showed just how good they can be. And just how frustratingly bad.
Special teams
I wrote in my prediction that special teams and playcalling scared me – both of those hit home early in the game. It just seems like Clemson's special teams play has been on a downward spiral since Andre Powell left, and it says a lot when you're on the road playing the top team in the country and you have your punter kicking extra points, your field goal kicker kicking off instead of your kickoff guy and a disturbing lack of positive momentum in the return game.
Swinney said that the competition would be open this week, including perhaps taking the redshirt off of freshman Alex Spence

Alex Spence
Fr. Kicker
#47 6-2, 190
Florence, SC
View Full Profile . My guess is that the coaches will tell us on Wednesday or Thursday that Lakip has had a great week of practice and will get his shot again versus North Carolina.
Winning out
Clemson's objective has to be to just win out. The Tigers will fall out of the polls, and a win over North Carolina next weekend isn't likely to vault them back into the Top 25. Just keep winning, however, and the polls will take care of themselves.
The Tigers have more talent than anybody left on the schedule right up until that season finale against arch-rival South Carolina. The Gamecocks haven't looked great, but the concerns we had heading into Georgia and Florida St. hold true in that game – can special teams and the playcalling get better against teams with equal talent?
Swinney said something interesting in his postgame press conference – he said the team has to learn how to finish.
I can say that a little better – this team lacks that killer instinct. This is just my opinion, but if you want your offensive line to have that killer instinct, run the quarterback up under center on short-yardage and tell your line to go get it. Don't line up six yards deep. Florida St. was 2-for-2 in the red zone, and Clemson was just 3-for-7. That's a lack of a killer instinct, and in a lot of ways I think it's the lack of an identity on offense.
Why? You can hurry hurry hurry up and down the field, but when you get inside the redzone you have to have an identity. Are you the spread team? Are you the team that throws a lot of bubble screens and shovel passes and routes close to the line of scrimmage? Those don't work in the red zone, and I think that's why Clemson struggles down on the goal line and in short-yardage.
The defense
Clemson's defense was, for the most part, magnificent. Ten tackles for loss and five sacks, and FSU quarterback Sean Maguire threw a number of passes with Clemson's defenders hanging onto his jersey. The one real "bust" was when corner MacKensie Alexander

MacKensie Alexander
RS Fr. Cornerback
#2 5-11, 190
Immokalee, FL
View Full Profile fell down on the long touchdown pass to Rashad Greene. Defensive coordinator Brent Venables

Brent Venables
Def. Coordinator / Linebackers
View Full Profile told us after the game that if he could do that one over he would probably give Alexander help over the top. However, he left Alexander on an island for much of the night and the freshman responded.