| | |
| --- | --- |
| Fighting attitude: Elliott likes what he sees out of Hyatt | |
---
| | |
| --- | --- |
| Tuesday, August 11, 2015 8:11 AM | |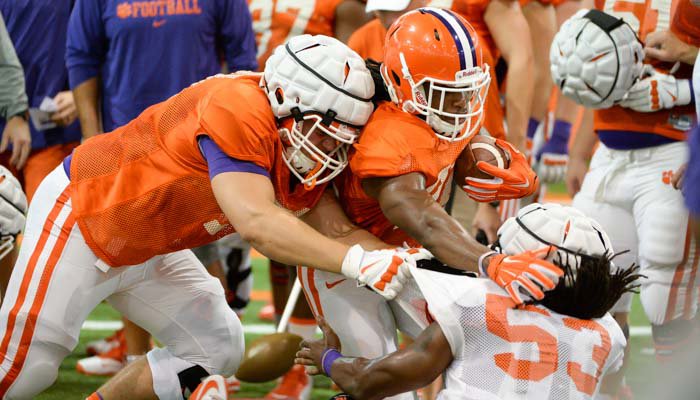 CLEMSON – The Clemson football team wore full pads during Monday's early practice session, and that meant the PAW drill. Which also means there was plenty of extracurricular activity during and after several plays.
Front and center? Freshman left tackle Mitch Hyatt

Mitch Hyatt
Fr. Offensive Line
#75 6-6, 270
Sugar Hill, GA
View Full Profile , who doesn't back down from any challenge. TigerNet asked offensive coordinator Tony Elliott

Tony Elliott
Co-OC / Running Backs
View Full Profile if he liked to see that kind of passion from his guys, and he said yes.
"We're quick to break it up to let them understand that, 'Look, during the course of a game you can't fight. It's a penalty that will cost the team.' But as a coach, from a football standpoint you like to see that fire and that passion," Elliott said. "Because it's a competitive game. At the end of the day, it comes down to one-on-one matchups. And you're pretty much in a fight the entire game within the whistles."
Elliott smiled when asked about Hyatt's proclivity to get involved in a skirmish.
"Don't let Mitch's quiet demeanor fool you, now," Elliott said with a smile. "He's got that nastiness to him. He's got that right demeanor, and he's not going to back down from anybody. He's getting tested every day. He's getting pushed. So he's going to be passionate. He gets upset when he gets beat. He's got that competitive fire to him."
OTHER NOTES
Defensive coordinator Brent Venables

Brent Venables
Def. Coordinator / Linebackers
View Full Profile walked into the meeting room Monday and saw a stranger. It turned out to be linebacker Ben Boulware

Ben Boulware
Jr. Outside Linebacker
#10 6-0, 235
Anderson, SC
View Full Profile , who had just shaved his beard.
"I was like who is this little boy sitting in the meeting," Venables said. "That was very weird. Somebody said there was an article about him with the beard, and then he showed up this morning, and he doesn't have a beard. I'm not sure what's behind that. He looks a little more clean cut. I guess that's one less hair strand that the opponent has to grab and hold you. He looks like a little baby Brian Bosworth."
Outside of Boulware's attention-grabbing look, Clemson went through the first practice of Monday's two-a-days and Venables said now is the time you figure out who will be there fighting at the end.
"Toughness and leadership and guys who love to play and love the process of the grind," Venables said. "You find out who does and who doesn't and who you can count on and who has a ways to go. You don't have to be elite as a player to have those other attributes. I think it just starts with attitude. Guys that love it are usually going to show up. The guys that don't, when it starts getting tough, you can't find them. You really start finding out who can fight through the bumps and the bruises and the different ways we try to strain them."
Business as usual
Quarterback Deshaun Watson

Deshaun Watson
So. Quarterback
#4 6-2, 205
Gainesville, GA
View Full Profile said Monday's practice was business as usual despite the Tigers missing their head coach, Dabo Swinney

Dabo Swinney
Head Coach
View Full Profile , who is home in Alabama after the passing of his father.
"We know his situation and where he's at. We still have to have that mentality to grind and get better each day," Watson said. "We can't have this tragedy and take a couple of days off because he's not here. He's down in Alabama with his family, and he's expecting us to get better and improve each day. The last couple of days have been pretty good, but we have Coach Swinney and his family in our prayers."
Watson on his health a week into camp
"I feel good, overall. Danny Poole and all of the training staff and strength and condition staff with Coach Batson, they all did a great job this summer getting me healthy and preparing me. I feel really good. I feel pretty good heading into these two-a-days. I feel great. I'm just taking it one day at a time. I don't feel like I need to sit out. I feel healthy and like I'm ready to go."
Running backs pay for ball security
"Just a little bit of running," Tony Elliott said. "Anytime we have a ball security issue, we always have to pay a little extra. We do it as a group because everyone is affected."
Elliott on injuries
" Stanton Seckinger

Stanton Seckinger
Gr. Tight End
#81 6-5, 240
Isle of Palms, SC
View Full Profile is just being smart with his knee. He had a serious injury that he's coming back from. He's a proven guy and we just want to make sure that we take care of him and get him through camp. He felt a little something and the training staff felt like it was best for him to sit out.
"I believe Ryan Norton

Ryan Norton
RS Sr. Offensive Line
#58 6-3, 285
Simpsonville, SC
View Full Profile is getting closer. He moved around a little bit today. Obviously, you have to be careful when you're dealing with a head injury. As soon as he's cleared, he's eager to get out there."