| | |
| --- | --- |
| Fighting Irish to visit Clemson with Malik Zaire at the helm | |
---
| | |
| --- | --- |
| Monday, May 11, 2015 4:22 PM | |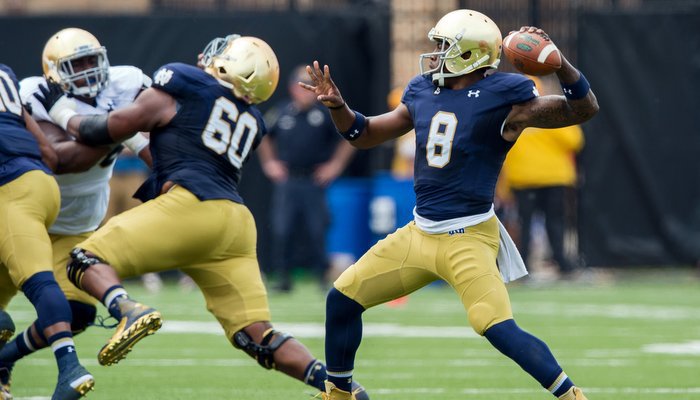 Clemson's first true test of the 2015 football season occurs in the third game when the Tigers travel to Louisville to take on Bobby Petrino's Cardinals in a primetime Thursday night matchup. The first true home test is the very next game when the Tigers host Notre Dame in what figures to be one of the true marquee games of the season.
It will be the first meeting between the two schools since November 17, 1979 when Clemson won 16-10 in South Bend. It will be the first time Notre Dame has come to Clemson since 1977. Those are the only two times the two schools have met on the gridiron, but it is that 1977 game that most people remember. A fifth-ranked Notre Dame football team led by quarterback Joe Montana defeated a 15th-ranked Clemson team led by quarterback Steve Fuller, 21-17. Both of those quarterbacks went on to become Super Bowl Champions.
Notre Dame went on to win the National Championship that season.
The Irish finished 8-5 last season but return 19 starters from last season's team. The Irish started the season 6-0 then lost five of the next six and finished the regular season with a 7-5 record. They defeated LSU in the bowl game -31-28 – and are picked by many as a darkhorse national title contender.
Notre Dame hosts Texas in the opener in South Bend, then travels to Charlottesville to take on Virginia in week two. That is followed by home games against Georgia Tech and UMass before traveling to Death Valley in early October.
Quarterback Everett Golson announced last week that he was going to transfer, leaving the offense in the hands of sophomore Malik Zaire. Zaire didn't attempt a pass last season until the regular season finale, a 49-14 thumping at the hands of Southern Cal. In the bowl game against LSU, he was 12-for-15 for 96 yards through the air but ran the zone read to perfection and finished with 96 yards on 22 carries.
Wide receiver C.J. Prosise – who caught 29 passes for 516 yards last season – took plenty of snaps at running back in the spring and could be the starter when the teams line up against each in Death Valley. At 6-5, 221 pounds, Prosise is a load and head coach Brian Kelly said he thinks Prosise will start somewhere.
"Well, I think as we continue to move forward, he'll get every opportunity to take over a starting position, whether it's at wide receiver or whether it's at running back," Kelly said. "So I'm going to play the 11 best players, and whoever the 11 best players are going to be on the field. So I'm not going to paint him into any particular position or category. If he's the best running back, he's going to start. If he's the best wide receiver, he's going to start. So it's my job, it's our job to get the best 11 players on the field, and right now it's hard to make the case that he's not one of the best 11."
In the meantime, Kelly has to get Zaire ready to take over as the starting signal caller.
"Yeah, I think with Malik, he has a tendency to hold back on his left side. So some of them are fundamentals, which are coming and working with him, and he's got to do a lot of that work in May and June as well," Kelly said. "But he's made great progress in his mechanics and delivery, and he'll continue to work on that. So we saw improvement from the spring day 1 to day 14, and I think we'll continue to see that as he goes through the summer.
"With Malik, it's really about his consistency in all the things that he does. He does some things so well and then there'll be a couple things that are not consistent. He'll do it so well in the same play, then there's a dropoff. So we think that's more concentration, that's just more focus and just working on those things with him."