| | |
| --- | --- |
| Feaster's blistering time takes him all the way to Oregon | |
---
| | |
| --- | --- |
| Sunday, May 31, 2015 5:51 PM | |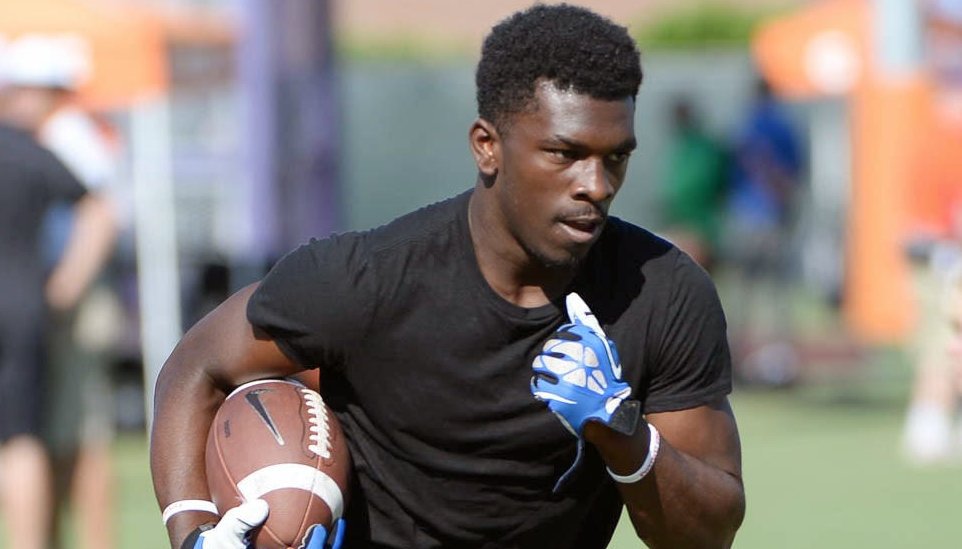 It's no secret Tavien Feaster

Tavien Feaster
Running Back
6-0, 190
Spartanburg, SC
ESPN:


View Full Profile is fast, and it only took a few hours worth of running Sunday for the 2016 Clemson commit to run himself from Columbus, Ohio to Beaverton, Oregon.
The Spartanburg (SC) running back competed in Nike's The Opening Columbus Regional Sunday on the campus of Ohio State, accomplishing all of the goals he set for himself before making the 500-mile trek.
Feaster told TigerNet Sunday afternoon he wanted to prove he was amongst the best in the country. He did that and more by earning an invite to The Opening in Beaverton, Oregon later this summer.
"Honestly, I was just making a statement that I am one of the top high school players in the nation," Feaster told TigerNet. "There are giving me the platform to improve myself and show off my skillset in Oregon and that's what I'm going to do. The goal was to avoid to disappointment and I was going to be disappointed if I didn't run a 4.3. "
Nike has held regional combines in both North Carolina and Georgia, but Feaster's busy track schedule kept him from competing in the local competitions. However, the extra time and preparation with his track coaches paid off as he ran a 4.34 in the 40-yard shuttle.
"It was a lot of hard work and hard work pays off. That comes from track," Feaster said. "The track coaches sat me down and just really the first part of my races is drive based and I ran a 4.34."
Feaster said he knows that his success in Columbus is only the first step of the process and he will have to prove himself against even better competition in July.
"I know this is just the first," he said. "I made a path to the Regionals and now they want to see a little bit more up in Oregon, so now I have to go home and practice, practice, practice to get ready for Oregon so I can go out there and do what I've got to do."
The 5-11, 202-pounder said he looks forward to the competition and proving that he's the best there is in the 2016 class of running backs.
"I've never been to Oregon. I'm just looking forward to getting better," he said. "I want to prove to myself that I am the best player. I want to go out there and compete. I'm going to make new friends."
As a junior, Feaster had 133 carries for 1,153 yard and 15 touchdowns and 45 receptions for 1,016 yards and 11 scores.
He is also the reigning 100m (10.59) and 200m (21.29) champion in the state of South Carolina.
This is what happens when show up at #TheOpening & run 4.34 40. #Clemson RB commit Tavien Feaster center of attention pic.twitter.com/boJOu0UpN5

— Jeremy Crabtree (@jeremycrabtree) May 31, 2015
Congrats to #TheOpening Finals 2015 invitee, Spartanburg (SC) RB Tavien Feaster (@Fast_lane28). #GOTOPEN pic.twitter.com/Ju1A6h54j3

— The Opening (@TheOpening) May 31, 2015
#Clemson commit Tavien Feaster is a surprise walkup @TheOpening Columbus. 4.34 40 on laser #GETOPEN #SolidOrange pic.twitter.com/Fx3lRjjHiN

— Brian Stumpf?? (@Stumpf_Brian) May 31, 2015