| | |
| --- | --- |
| Feaster: "This is just a dream come true" | |
---
| | |
| --- | --- |
| Wednesday, February 4, 2015 7:28 PM | |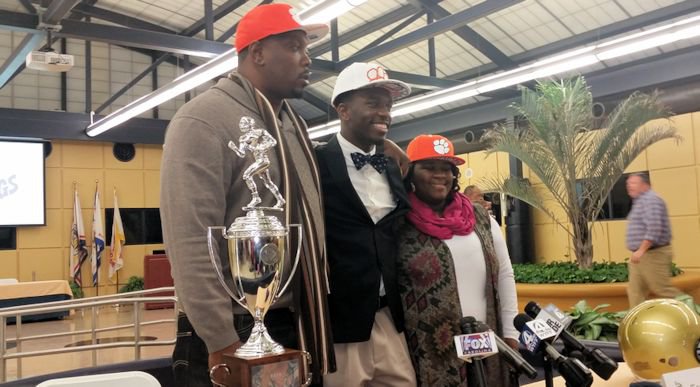 SPARTANBURG – Home is where the heart is and to Tavien Feaster

Tavien Feaster
Running Back
6-0, 190
Spartanburg, SC
ESPN:


View Full Profile Clemson felt just like home, which is why he committed to the Tigers Wednesday night in front of a packed crowd at Spartanburg High School.
The nation's number one running back for the 2016 recruiting cycle showed a little gamesmanship before making his final decision – Feaster grabbed an Auburn hat and looked at his dad, who shook his head no. He then grabbed a Tennessee hat and looked at his mother, and she shook her head no. Leaving a Clemson hat on the table, he reached into a bag and drew gasp from the crowd before breaking into a big smile and donning a white Clemson hat with a big orange tiger paw.
Feaster has been thought to be a Clemson lean but took his time during the recruiting process to examine all of his options but at the end of the day Clemson is where he felt most comfortable.
"I've known for about five days now," Feaster told the media after making his announcement. "What made it my final decision was that my mom loved Clemson. It made me happy that she was happy. That was the deciding factor for me."
The 6-0, 190-pound running back said that it was the family atmosphere that Clemson embraces and the great talent that will surround him on the field that ultimately led to his decision.
"Every time I stepped on campus, I felt like a family member," Feaster said. "They preach family and I definitely see that at Clemson. They got huge, big-time recruits and great receivers. If you have good wideouts and a great quarterback then it's easy to run the ball. I feel like I can run the ball at Clemson."
National Signing Day is usually reserved for those prospects that are signing for the current year, but Feaster said that he chose to go ahead and make his decision so that he won't have any distractions during his final season.
"I feel like I wanted to go ahead and get the recruiting process out of the way, so that qualifying and all of that will be easier and I can focus on my senior year and playing great football and my team during my final year," he said.
With the recruiting process behind him and his decision public, Feaster said that the feeling of knowing that he will attend Clemson is indescribable.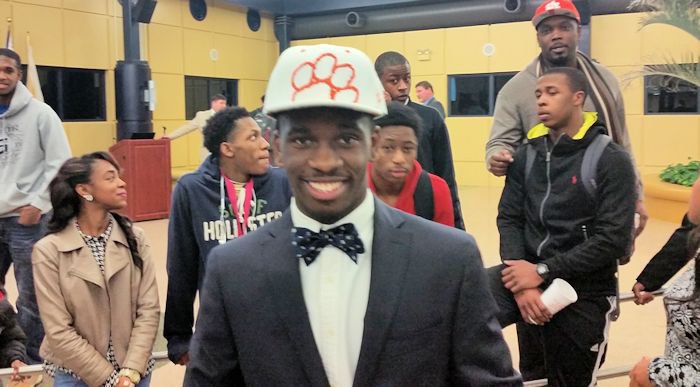 "I'm feeling amazing. This is just a dream come true," Feaster said. "It's great to finally make my dream a reality. It's the greatest feeling of the world."
As a junior, Feaster had 63 carries for 601 yards – a 9.5 yards per carry clip – and eight touchdowns, while adding 27 receptions for 623 yards and seven scores, despite nursing an incurred shoulder for most of the season.
In the last two seasons at Spartanburg, Feaster has rushed for over 2,700 yards and 19 touchdowns while catching 95 passes for 1,800 yards and 23 scores.
Feaster is also the state champion in the 100 meter (10.59) and the 200 meter (21.29)
Tonight at Feaster's commitment #Spartanburg HC Chris Miller said he was the best player he's ever coached...Miller also coached Lattimore

— Marc Dopher (@MarcDopherWYFF) February 5, 2015