| | |
| --- | --- |
| Feaster: I have Heisman dreams of my own | |
---
| | |
| --- | --- |
| Wednesday, December 16, 2015 1:54 PM | |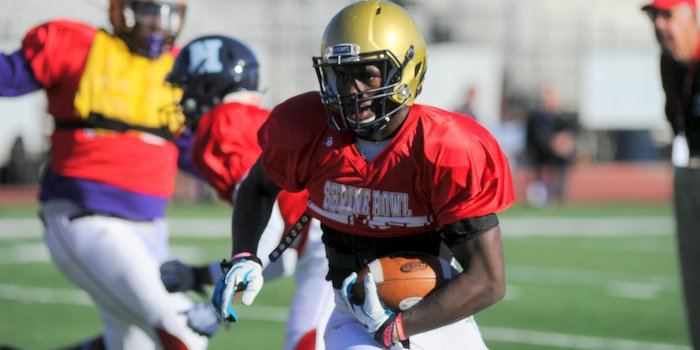 SPARTANBURG – Tavien Feaster was an interested observer of last week's Heisman Trophy ceremonies and was disappointed that Deshaun Watson didn't leave New York as the winner. But seeing a Clemson player on the podium for the finale let the 2016 Tiger commit know that he could one day be in the same position.
Watson finished third in the balloting, behind Alabama's Derrick Henry and Stanford's Christian McCaffrey, but Feaster is still a big fan of the Clemson quarterback.
"Man, he's phenomenal. He's only a true sophomore so it's only his second year out of high school and about 20 years old and to do all of that as a young man; he represents himself really very well," Feaster said after Wednesday's Shrine Bowl practice. "He's a well-rounded guy, nice and respectful. Him just being in the Heisman running early as it is for him, it's phenomenal, and I think he is an absolute beast."
One plus for Feaster was that a running back broke the run of quarterbacks who have won the award.
"I was kind of disappointed that Deshaun didn't win it but it was definitely a plus for the running backs," Feaster said. "Because a running back won it, and he (Henry) is a phenomenal running back. He is a workhorse. That was definitely a plus for the running backs, for one of us to be nominated."
Feaster will enroll in Clemson over the summer and should be a factor in Clemson's offense next season. Does he see himself having a chance to make a run at the trophy?
"I definitely dream things like that. Deshaun did it, and they told him he was going to do it during one of his campaigns," Feaster said. "I hope he goes back next year and wins it. As long as I stick to my plan, I think I have a good shot of being up there."
Feaster will likely be in a backup role to starter Wayne Gallman next season, but he's okay with that.
"He (Gallman) has played tremendously this year. He has been absolutely phenomenal," he said. "He is a little nicked up right now, but he is pushing it. He's carrying the load. He is doing it by himself - over 1000 yards this year. That is phenomenal. They said Clemson didn't have a back, so really for him to step up and show people what he can do for them it was tremendous."
Running backs coach and co-offensive coordinator Tony Elliott hasn't made any promises to the nation's number one running back for the 2016 cycle.
"He is just telling me to come in and work hard and prove myself to everybody," Feaster said of Elliott. "Just because I have a five-star rating, it doesn't mean anything when I step on campus. He said straight business - classroom, on the field. He just wants me to be the best all-around man that I can be."
Feaster would have enrolled early at Clemson if not for Spartanburg's block schedule, but the added few months as a Viking will give him a chance to pursue a few more state championship rings in track. He also wants to run track at Clemson, and he told TigerNet his ability to run in space will make him dangerous as a receiver next season.
"I can definitely catch the ball out of the backfield, like how they spread Wayne out as a receiver," he said. "I think I can catch for them as a running back. I can get mismatches with a linebacker one on one. Just be one of those guys that's supposed to pop one to the house early."
At the end of the day, however, he wants to run the football, and he's been impressed with the Tigers' commitment to the run this season.
"Against Florida State, they were giving Wayne the ball. Finally, he popped one and got it in the endzone," he said. "For them to start running the ball for these last couple of games and this year, it was tremendous being a running back. People say they are a spread team, but Wayne is going to get it about 20 times a game, so that is pretty good."