---
| | |
| --- | --- |
| Monday, November 11, 2013 8:28 PM | |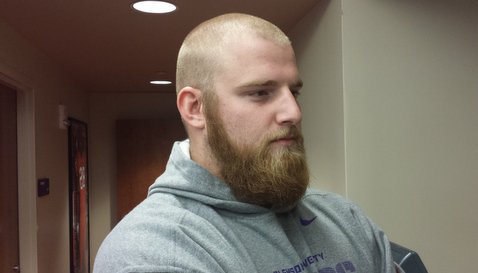 CLEMSON – Ryan Norton scoffs at those who complain about No Shave November.
Since A&E's Duck Dynasty became a hit television show and the Boston Red Sox took the bearded look to a world championship, beards have been all the rage. And, after a deal with his friends, you can count sophomore center Ryan Norton as a member of the bearded group.
The last time the Mauldin native shaved was the second week of fall camp – or the second week of August – giving Norton the look of a member of the Robertson clan or a member of the World Champion Boston Red Sox, who grew beards during their postseason run.
According to Norton, his initial agreement with friends was to not shave until the Tigers lost their first game.
"I made a deal with some of my friends that I wouldn't shave during the season," Norton said Tuesday in the West Zone. "We've got another two months to see how long this thing is going to get. It started out that I would grow it until we lost.
However, after the loss to Florida Sate, Norton felt that his team still had so much left to play for that he decide to keep the beard.
"Then I just said that I would grow it until the end of the season because I'm playing for a championship no matter what," Norton said. "I've just got to continue no matter what. It's fun."
The Clemson Tigers do indeed have a lot left to play for – a game against arch-rival South Carolina and a possible BCS berth is on the line over the next three weeks. If the Tigers are to be successful it will all start up front with the offensive line – a group that Norton says is gaining more confidence everyday at practice.
"I feel like we've grown a lot as an offensive line and we'll continue to grow," Norton said. "We've got a lot more chemistry going on right now. I feel like we are having a lot more fun out there – especially in practices the last few days. We've had more fun than what we've been having. We've all been very critical of ourselves and not really enjoying practices and enjoying every day. That's something that I've seen a big change in the past few days. In practice, we are starting to have fun and really enjoy it and that's building more chemistry."
For Norton though, the rest of the season will be determined by how well he can play the pain of an injured labrum.
"Just a little shoulder tweak every once in a while," Norton said. "It shifts. My labrum is kind of messed up, but nothing that I can't handle and that I can't push through it. I'll just push though it. I irritated it and it shifted a little bit [during the Virginia game]. That's why I came out. They felt like Jay [Guillermo] was doing a good enough job and we had a good enough lead that I didn't need to go back in."
And, just maybe the 14-week suffering of an itchy, scratchy beard will pay off down the home stretch Norton and the Tigers.