---
| | |
| --- | --- |
| Wednesday, October 22, 2014 9:11 AM | |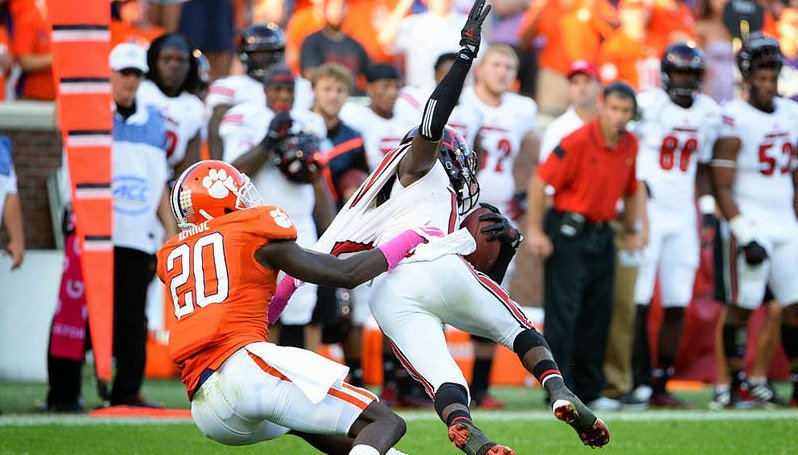 CLEMSON – Sophomore safety Jayron Kearse

Jayron Kearse
So. Safety
#20 6-4, 215
Fort Myers, FL
View Full Profile played a good portion of Saturday's win over Boston College close to the line of scrimmage, or "in the box."
Boston College's offense is predicated on running the football, and Kearse was used by defensive coordinator Brent Venables

Brent Venables
Def. Coordinator / Linebackers
View Full Profile as an extra linebacker to help in run support and to keep an eye on talented Eagle quarterback Tyler Murphy. The ploy worked as Clemson stifled the Boston College run game and Murphy for much of the afternoon.
That game was a perfect example of just how much Kearse has matured and progressed, and he said Monday in the WestZone that the only time he remembers playing so close to the line of scrimmage was last year against Syracuse and that thinking about his performance in that game makes him realize how much his game has grown.
"Last year against Syracuse, I played in the box a lot. Probably when I shouldn't have been in the box," Kearse said with a big smile. "That would have been the game. It was really my first game coming in and playing. We were calling calls where I should have been back deep. But I was so ready to play that I was just up inside the box. I actually got my first tackle on a bad assignment by me. I was playing too tight to the line and got my first tackle like that."
Kearse wound up with eight tackles and his first career interception in 75 snaps at Syracuse, and earned his first career start the next week against Boston College and he has been on the fast track to stardom since that time.
Venables told the media Tuesday that he learned a lot about Kearse's maturity during last Saturday's win over the Eagles and during Monday's practice.
"Jayron gives up a play in that game, and you would have thought the world had come to an end," Venables said. "And he hasn't really been that way in the past. That is maturation. But he was like, 'Oh my gosh, I may have cost us the game on that one play.' And fortunately, there was still a lot of ball to be played and we were able to overcome that. That is one small example of when you have that 'Aha' `moment on the sideline and you say, 'You're going to be alright. Let's go to work. Go get a stop.' And then he comes out there and might have had his best Monday practice I've seen, with his focus and that sense of desperation you want your guys to play with all the time."
Kearse said that as he gains more experience, he is learning more about what teams are doing to not only attack the Clemson defense as a whole but the secondary in particular.
"I know a lot of teams know we are aggressive in the back end and we will bite on a lot of things, so a lot of teams will try and beat us with double moves and play-action and try and get us looking at the wrong things and try to catch us peeking and then go over the top," Kearse said. "Really, Boston College's big plays were where our guys were just going in the wrong spot. They were going with double-reverse passes and things like that, so I feel like a lot of teams will try to attack us that way and we have to get better."
He then said that head coach Dabo Swinney

Dabo Swinney
Head Coach
View Full Profile told the secondary to get its act together after North Carolina scored 35 points in late September. Since that game, the defense has surrendered just 10 points and 227 yards per game in victories over NC State, Louisville and Boston College. The Tigers held NC State to 35 passing yards and then held Louisville to 52 yards rushing, and then held Boston College to 200 yards below their season average in rushing last Saturday.
"Coach Swinney said we can't give up cheap plays and give up freebies," Kearse said. "Against North Carolina, we gave up two screens that went for touchdowns. We just have to keep those plays to a minimum. If you have to drive the entire field, yard by yard, inch by inch it is going to be hard to score on our defense. "
Kearse took Swinney's words to heart, and he has been putting in extra film study as he prepares for a Syracuse team that has been hobbled by injuries and a coordinator change.
"I've already watched film and got a foot in the door and watching what those guys like to do," he said. "We are going to go double-check film from last year and I think we are due for a dominant performance, similar to NC State. We are going to prey on the weak. If they don't want to do what they have to do, we are going to make them go out there and pay for it. If they are not going to have their game plan down pat, we are going to have ours down pat and make them pay for coming into Death Valley and playing against a Clemson Tigers' defense."