| | |
| --- | --- |
| Family bond with Swinney moves Tigers to top of Thomas' list | |
---
| | |
| --- | --- |
| Thursday, January 30, 2014 2:52 PM | |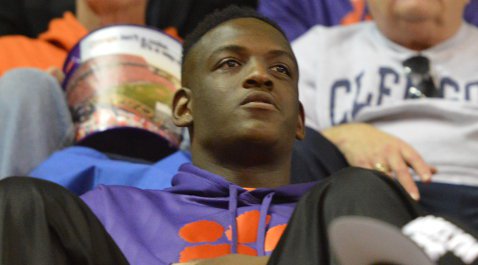 Cory Thomas

Cory Thomas
Defensive End
6-5, 275
Mc Calla, AL
View Full Profile

Cory Thomas
Defensive End
6-6, 270
Mccalla, AL
ESPN:


View Full Profile just might choose another school on National Signing Day, and he might not play a down of football in Clemson's Death Valley. He might spend his career being cheered on by fans of a different program, playing in a different conference and being coached by someone other than Dabo Swinney

Dabo Swinney
Head Coach
View Full Profile .
Even if that happens, however, the bond between Thomas' family and Swinney is a bond that will never be broken.
The 6-5, 275-pound strongside defensive end out of McCalla (AL) McAdory committed to Tennessee last November, but left his options open due to the size of the Vols' recruiting class and the depth chart. As a result, he made a trip to Clemson two weekends ago, a trip that allowed him to meet with the Clemson coaches and see the facilities in a more relaxed setting than his last trip to Clemson – he was in town for the home game against Florida St. last October.
For Pearl Mae Jemison Thomas – the recruit's mother - visiting Clemson and talking with Swinney is something she has done before, and a conversation that she relishes. She met Swinney back in 2007, when he was the receivers coach at Clemson and recruiting her grandson, Marcus Jemison. However, Swinney's involvement with the family went further than just recruiting – Brinetta Jemison was Marcus' mother, and she was battling cancer at the time, something that Pearl didn't know.
Swinney took the time to visit with Brinetta, making trips to her bedside to talk about Marcus and his future, and he became close with the family. On one of Marcus' recruiting trips to Clemson, he brought his grandmother along, and it was then that Swinney told Pearl about what was happening with her daughter.
"Coach Swinney was recruiting my grandson, and he was dealing with Marcus," Pearl told TigerNet this week. "My daughter was sick in the hospital here in Alabama, and Coach Swinney was back-and-forth between Alabama and Clemson. But I later learned that every time he came here, he went and saw her. And then, when I went to Clemson and talked to him, he told me things that I didn't know. I met him, and he told me all of this stuff about my child that I didn't know. And that is when I got back down here and got involved."
Marcus Jemison wound up choosing Auburn, and the story took a sad turn when Brinetta died of congestive heart failure in April of 2012. Little did all of the parties know then that Swinney and the Thomas family would once again cross paths, this time when Clemson began recruiting Cory - Pearl's son, Brinetta's brother and Marcus' uncle.
According to Pearl, Swinney already had a bond with the family.
"I think he is a nice coach, but that isn't all there is," she said. "He was good to my grandson. And if my son Cory decides to go to Clemson, I know he will make a man out of my son. That is important."
Cory agreed with his mother, and said that Swinney is more than just a coach.
"It's just the fact that he makes it all about family first," Thomas told TigerNet. "Coach Swinney doesn't recruit you just to play football. He wants you to become a better person. When I come to Clemson, it will be like I go there and when I come back here, I will be a man. That is just one of the little, small things that stood out to me. I know a lot about him, and I know he is from around here, as is Coach Marion Hobby

Marion Hobby
Assistant Coach / Defensive Ends
View Full Profile . That means a lot."
However, that isn't the only thing that stands about Clemson for Thomas, who also had offers from Florida St., Miami, Ole Miss and Nebraska.
"It's just the fact that Clemson is a great place with great facilities, and there are great people inside of those facilities," he said. "My final decision will be on signing day, but as of right now, I can safely say that Clemson is number one."
Pearl says that if she had her way, Cory would choose Clemson, but he said the family will respect whatever decision he makes.
"I am glad she got to go up there on the official visit with me," he said. "It was good for her to see everything, and see what kind of school it is. I know she loves Clemson, but they are leaving the decision up to me."
As a senior, Thomas had 75 tackles, six tackles for loss and three sacks.