| | |
| --- | --- |
| Family and friends mourn the loss of "Big Groove" | |
---
| | |
| --- | --- |
| Monday, April 28, 2014 4:02 PM | |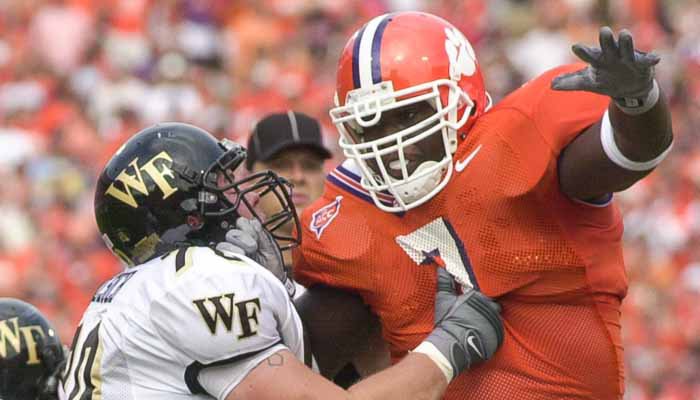 Cory Groover was bigger than life, and his passing leaves a bigger hole in the lives of the people who were fortunate enough to know him.
The 31-year old former Hannah-Pamplico and Clemson football player died Sunday from injuries suffered in a car accident earlier in the week. The accident occurred Wednesday morning when Groover was on his way to his job at Pine Grove Group Home in Elgin. According to Columbia police, a dump truck appeared to have turned left and hit Grover's car head on.
Groover was the MVP of the 2001 Shrine Bowl, and after high school he attended Southwest Mississippi Community College in 2002-03 before going to Clemson. He played defensive lineman for the Tigers and appeared in 22 games, including five starts. During his two seasons with the Tigers, Groover had 52 tackles and two sacks.
Following his Clemson career, he played for the Florence Phantoms Indoor Football team and returned to football recently and was playing for the AIF's Cape Fear Heroes in Fayetteville, N.C.
Former Clemson signee Tymere Zimmerman had known Groover since high school when Zimmerman's Marlboro County team played against Groover and Hannah-Pamplico. Zimmerman is now a receiver on the Cape Fear team, and he was with Groover the Friday and Saturday before Easter.
"Cory was a nice guy, and I'm not saying that because people expect you to say it," Zimmerman told TigerNet Monday. "He was the type of person who wanted everybody to be happy. He didn't want people to be sad, and he only wanted smiles for everybody. That Friday, he finally had it worked out where he could play with us, and we had a lot of new guys. We were playing in York, Pennsylvania, and when he got there he introduced himself to everybody.
"He made sure that everybody on the bus knew him. He was laughing and he was joking around. And then is performance in that game Friday night sums it up. I was telling his sister that game was an example of Cory living life to the fullest. He told everybody to play every play and play every game like it was their last, and if you watched that game, he did that. He dominated every play. He played like it was his last game."
Zimmerman said that Groover's last game will be re-aired in the Fayetteville area sometime this week. He also said Groover left a lasting impression on the team's younger players.
"When we got back on the bus that morning, the other defensive linemen were telling Cory that he needed to get to practice and teach them some moves," Zimmerman said. "It didn't take long for all of those guys to look up to him, just a couple of days. He had that effect on everybody."
Zimmerman said that Groover played running back at Hannah-Pamplico – he rushed for 1,002 yards and had 27 total touchdowns as a senior – and wasn't shy about reminding everybody that he once played the position.
"He is going to be missed down there. He is the biggest athlete to ever come out of there," Zimmerman said. "Every kid from Hannah-Pamplico looked up to him. Even when he played at Clemson, he reminded everybody that he played running back. He was so big, and when we played against them we didn't have anybody that could tackle him."
However, Groover's biggest contributions didn't happen on the football field – they were in the lives he touched.
"He is going to be missed," Zimmerman said. "He worked at the Pine Grove group home in Columbia, and they looked up to him. I was up at the hospital Thursday, and they had brought him some Clemson Tigers bracelets they had for him. They couldn't fit over the cast on his arm. But that says a lot about Cory. He was he was giving and caring. He could make a joke about anything, and you always saw him smiling. Even when was he was upset, he wouldn't show it to anybody. We are all going to miss him."
It was during his work at the Pine Grove Group Home, where he worked as a behavioral therapist and worked with children with autism and developmental disabilities – that Groover showed his compassionate side.
"He worked a lot of overtime, and he was our go-to man," said Kelly Baccomo, who is the Human Resources and Training Coordinator at Pine Grove. "He was our contradiction. He was our teddy bear. He was so big and a football player, but he was just the opposite. He will be greatly missed. I told his sister that he was born to play football, but he was destined to work with our kids. He had a natural way with children. We met with some of our higher-functioning kids, and we told them what happened and there were a lot of tears. He was so understanding and so patient, and even in the worst moments with these kids he could smile and joke afterwards. That is one of the things we will miss the most."
Groover played at Clemson for head coach Tommy Bowden

Tommy Bowden
Head Coach
View Full Profile , and Bowden told TigerNet that he saw a lot of similarities with Groover and former Tiger Gaines Adams

Gaines Adams
Defensive End
# 6-5, 260
Greenwood, SC
View Full Profile .
"First of all, our thoughts and prayers go out to his family," Bowden said. "I talked to his sister Sabrina the day before he died, and I told her that the thing I will remember about Cory is his smile and that great personality he had. He was a hard worker and nothing really got him down. Those are the types of guys you need on your team, especially during two-a-days.
"He reminds me so much of Gaines Adams with that great attitude. Two different circumstances, but two great guys who left us too early. I do a lot of talking to young people, and I try to make sure they are prepared. I lost a 15-year old nephew and a 23-year old nephew, and young people that age think they are invincible. You look at Gaines and you look at Cory, and they seemed invincible. But life doesn't last forever. I will just always remember his great smile and outlook on life."
My heart is so heavy right now. God has called my Clemson brother Cory Groover home to join his team.… http://t.co/kqpgzGApq0

— Jock McKissic (@Jayfifty) April 27, 2014
RIP Cory "groove" Groover !! Gone way too soon man.... Another clemson great taken away from us !! #grooveman7

— Da'Quan Bowers (@DaQuanBowers91) April 28, 2014
#RIP to the big homie Cory Groover. Love ya bruh... #7 #ClemsonTiger

— Michael Hamlin (@Ham_25) April 28, 2014
Corey Groover, you will be missed! You always had a smile on your face! Great teammate! Love ya man!! #gonebutneverforgotten

— Bobby Hutchinson (@bobbyh5585) April 27, 2014
Video courtesy: Sharon Anderson