| | |
| --- | --- |
| Familiar foe, more experienced coordinators | |
---
| | |
| --- | --- |
| Wednesday, December 16, 2015 8:00 AM | |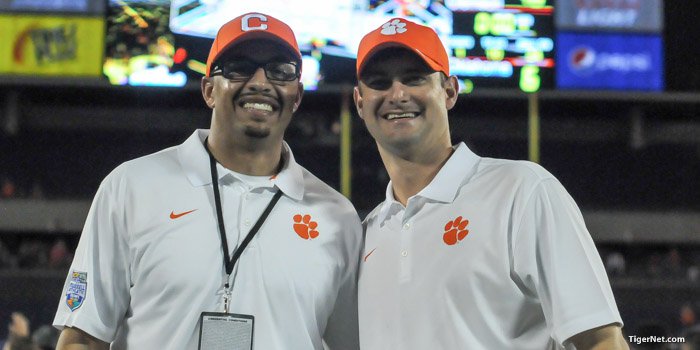 CLEMSON – When newly minted offensive coordinators Jeff Scott and Tony Elliott walked out of Citrus Bowl Stadium last December, they never dreamed they would be meeting Oklahoma again a year later.
Elliott and Scott were named co-offensive coordinators in early December – just over a year ago – after Chad Morris left for SMU, and their first order of business was defeating the Sooners in the Russell Athletic Bowl, a game that turned into a 40-6 Tiger Victory.
Fast forward a year later as Clemson and Oklahoma prepare to meet again, this time in the Orange Bowl for a chance to play for a national championship. Both coordinators have grown exponentially since their debut, and Scott told the media after the Tigers second bowl practice that it's been a long time since he's met a team twice in just a short amount of time.
"Probably back when I was playing in high school is the last time I've been a part of that," Scott said Tuesday afternoon outside of the indoor practice facility. "It's the same thing with us being the underdog, that's good to have early on to kind of get your guys' focus, but whether we had that outcome last year or not their guys are going to be ready because they're playing in a playoff, so I think that's going to supersede really any of that. Any of the emotion and excitement, that lasts until about the first play and then it comes down to X's and O's and the guys who execute the best and protect the football. That's the group that's going to win. You can't spend too much time worrying about that."
Scott said he and Elliott were confident going into last year's bowl game because of their knowledge of the offense, but the season of experience can't be overstated.
"Obviously, having a full year of experience going into it is a big benefit. Last year, Tony and I were going through it for the first time," Scott said. "Even though we were very confident with what we were doing because we'd been in this offense for four years, it was still the first time as far as doing the game planning ourselves and the play calling on gameday. With 14 games under our belt, we feel like we have a lot more experience, and hopefully, we'll continue to get better each week."
For Elliott, he said he's grown more comfortable in his new role of play caller and being in the box, allowing him to deviate from the call sheet and make more in-game adjustments.
"I think I've grown in-game and being able to make some adjustments. This time last year in the bowl game, I was new," Elliott said. "I was up in the box, and I was strictly off of the call sheet, so I've gotten a better feel of being able to get to the adjustments that I want to make and me calling what I've seen in my mind's eye off of tape. I feel I've gotten better there. A lot of credit goes to the players. I've learned that you've got to keep it simple, so they're confident. When they're confident, they can go out execute.
"Obviously, I get too much credit for the play calling. They go out, and they execute it. They're confident, and they take pride in executing it, but for me throughout the course of the week I'm making sure that I'm efficient with my time, so I've gotten better there. In the game, being able to process the information that I'm getting from all of the different sources throughout the course of the game to try to get us into a situation where we can make adjustments to try to get the upper hand on these guys."
Despite having a familiar foe in the Sooners, Scott said there are plenty of differences between the squads from a year ago and this year's teams. However, the game will come down to who can execute the best for four quarters on New Year's Eve.
"I think it's a little ironic that we're playing Oklahoma again. I think last year when we left the field we were pretty excited the way that we finished it and really didn't think we'd see Oklahoma for a while, but 12 months later we're right back at it," Scott said. "As much as things have changed, and we've had a special year, a lot of things are the same, as well. We're underdogs going into the game down there in Florida playing Oklahoma. There are a lot of similarities. I think they've improved this year. We feel like we've improved from where we were last year. We told our guys that what's happened in the past will have no impact on the game. It's the team that executes the best for four quarters that's going to win this game. We can take a few lessons that we learned last year, but really we're putting all of our focus on getting ready for this game because now this is the only one that really matters."