| | |
| --- | --- |
| Fall camp ends, Tigers turn attention to Georgia | |
---
| | |
| --- | --- |
| Tuesday, August 19, 2014 6:42 PM | |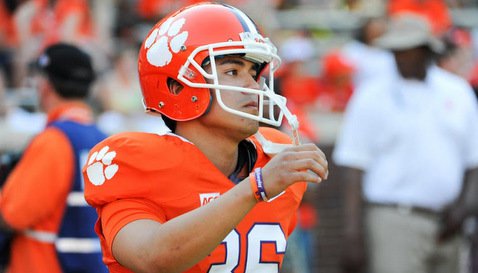 CLEMSON – Fall camp is over, and the Clemson Tigers can concentrate fully on Georgia.
The Clemson football team held the last practice of fall camp Tuesday afternoon in Jervey Meadows – school starts Wednesday – and the team will reconvene Thursday to get fully into preparations for the August 30th opener at Georgia.
"It's good to get camp in the books and turn the page to Georgia," head coach Dabo Swinney

Dabo Swinney
Head Coach
View Full Profile said after practice. "We went all scout teams today and it's always a tough first day when you do that, because you've been repping three groups all spring and all of fall camp and now all of a sudden you're only repping two groups and guys are having to go to scout team. The guys will be off tomorrow. Thursday will be a big day. We'll have our mock, scripted game Thursday in the stadium. We'll have a regular practice on Friday, meetings on Saturday, their off day is Sunday and Monday we'll have our normal game week prep. It's exciting that it's getting closer - 11 days."
Swinney said that opening on the road in Athens isn't something he feels like he can complain about.
"That's football. Everybody has to deal with that stuff. A couple of years ago, we opened up in the Chick-fil-A Kickoff Game in 2012. I thought they dropped us off at the wrong entrance, he said. "It was the doggonedest thing I've ever seen. I was worried about my guys then. We were a bunch of sophomores. We go down there, big game, big stage and they dropped us off and we had to weave through the entire convention center - it was like fan day.
"I remember walking in the door thinking that it would be all Clemson fans. I had to cover Kath's (his wife Kathleen) ears and hide my boys. I was sitting there thinking, they have screwed up and dropped us off at the wrong place because for the first 10 minutes of the walk it was all Auburn. It was not real nice. All of a sudden it flipped and the back half was Clemson. To be honest with you, I thought it helped us to be more focused coming out of the gate. It's different when you go to where it's 98-percent against us. At the end of the day, if it's about that, you're going to lose. If it's about the crowd and all of that, you get beat and you're not ever going to win when you go on the road."
OTHER NOTES
On the depth chart
"We'll put all of it [the depth chart information] out there next week. We do have an opponent that's paying attention. We're still not going to put it all out there. We've still got some things that we have to sit down and talk about."
On Joe Gore

Joe Gore
RS Jr. Offensive Tackle
#73 6-5, 283
Lake Waccamaw, NC
View Full Profile
"I wasn't sure what Joe Gore was going to do. He's been tremendous and has had a great camp. He's probably been our best guy. I was hoping somebody would step up and take the reins at tackle. It's been encouraging to see the way he has performed in camp, consistently."
Injuries
"We've got a few guys that the last few days have gotten a little banged up. We've gotta evaluate and kind of see where they are. Hopefully nothing major. We have most of the guys coming back. Stanton Seckinger

Stanton Seckinger
RS Jr. Tight End
#81 6-4, 241
Isle of Palms, SC
View Full Profile looked great today. He was driving a sled and we really pushed him today. I am very optimistic for him. Coop ( Sam Cooper

Sam Cooper
RS Sr. Tight End
#86 6-6, 250
Brentwood, TN
View Full Profile ) has looked good in practice the last couple of days and we've really pushed him. All of the guys should be back in there by Thursday for sure. I would be very surprised if Stanton didn't cut loose this week."
Significant injury?
"One of them we had to go do and MRI on, and X-ray, so I am not real sure yet on him. I don't know the results, and I haven't talked to the parents and I don't like putting that information out there until I know if it's anything serious or nothing at all. We will just have to evaluate that. Thursday I will have a better idea about all of that."
Charone Peake

Charone Peake
RS Jr. Wide Receiver
#19 6-3, 204
Moore, SC
View Full Profile
"Charone has been great. I dont even look at him as injured. He has done very well in the 1-on-1's and looked good in skelly and is laterally moving very good. I am very encouraged with him. Tomorrow will be a good day for these guys to get off their feet and come out here fresh Thursday evening. It's good to have 19 back."
Tight ends
" Jay Jay McCullough

Jay Jay McCullough
RS So. Tight End
#89 6-3, 248
Fort Mill, SC
View Full Profile has had a great camp, and Leggett has as well. We are very blessed at that position with Leggett and Seckinger and Coop and Jay Jay. D.J. Greenlee

D.J. Greenlee
RS Fr. Tight End
#87 6-1, 240
Clemson, SC
View Full Profile is another guy that has held up in there."
Vic Beasley

Vic Beasley
RS Sr. Defensive End
#3 6-2, 236
Adairsville, GA
View Full Profile 's camp
"Vic is ready to play. He is Vic. He is a handful. Sometimes I tell Hobby to just take him out and stand him over there. We are trying to build our confidence. He is a very unselfish guy and competes hard. He is going to have a great year."
Ammon Lakip

Ammon Lakip
RS Jr. Kicker
#36 5-10, 200
Alpharetta, GA
View Full Profile and the kickers
"He has had a great camp. He is clearly the guy. There isn't really a question of that at all. The question is who is going to be the backup. Alex Spence

Alex Spence
Fr. Kicker
#47 6-2, 190
Florence, SC
View Full Profile is a very talented guy. I hate to compare guys but he reminds me so much of Catman ( Chandler Catanzaro

Chandler Catanzaro
Punter / Kicker (2009 - 2013)
#39 6-2, 195
Greenville, SC
View Full Profile ) at that stage, Just like Catman when he walked in here skinny as a rail and needed to develop his body physically. That is kind of where Alex is. I think as he gets in that power hour and develops strength he is going to be a good kicker for us. The backup kicker right now would be Bradley Pinion

Bradley Pinion
Jr. Punter
#92 6-6, 230
Concord, NC
View Full Profile . The (Christian) Groomes kid from Daniel has come in and done a nice job for us, and he is a lefty. Been a long time since I've seen a lefty and it kind of freaks me out at practice every day."
Punt returners
Several punt returners stayed after practice to take kicks from the machine, and several of them went through a drill where they would try and catch a ball, hold it, try and catch another and keep going until they had four or five footballs in their hands. Daniel Rodriguez

Daniel Rodriguez
RS Jr. Wide Receiver
#83 5-8, 175
Stafford, VA
View Full Profile made it to five.
Slip-n-slide
The coaches set up a slip-n-slide set up on the far corner of Jervey Meadows, and before they boarded the trams back to the WestZone, they all took a turn on the slip-n-slide.
Scout team phenom
Defensive tackle D.J. Reader
D.J. Reader
Jr. Defensive Tackle
#48 6-2, 322
Greensboro, NC
View Full Profile was asked about the difference in preparing for Georgia quarterback Hutson Mason as opposed to former quarterback Aaron Murray ,and he said that defensive coordinator Brent Venables

Brent Venables
Def. Coordinator / Linebackers
View Full Profile will have them prepared, but having quarterback Nick Schuessler

Nick Schuessler
RS So. Quarterback
#12 6-3, 195
Grayson, GA
View Full Profile playing the part of Mason is a huge advantage.
"We really hadn't talked about the difference. They are both pocket passers, but Hutson can run a little bit, but who knows what's coming with Coach V because he'll have us preparing for everything," Reader said. "Nick Schuessler is our scout team quarterback and you can get anything from him – the run or pass. You get ever type of quarterback from him."

Tags:
Vic Beasley
,
Sam Cooper
,
Chandler Catanzaro
,
Joe Gore
,
Charone Peake
,
Stanton Seckinger
,
Nick Schuessler
,
Ammon Lakip
,
Bradley Pinion
,
D.J. Reader
,
Jay Jay McCullough
,
Daniel Rodriguez
,
D.J. Greenlee
,
Alex Spence
,
Brent Venables