---
| | |
| --- | --- |
| Tuesday, March 25, 2014 12:05 PM | |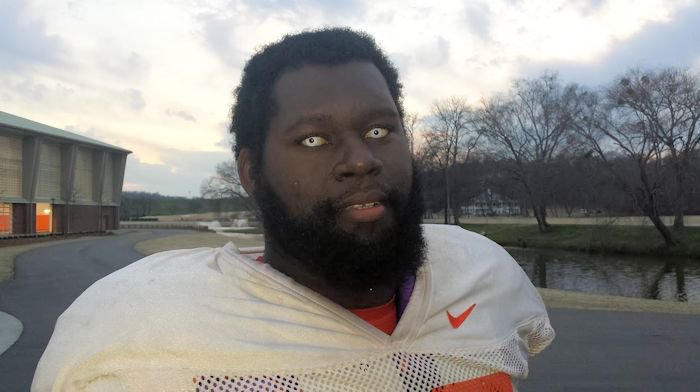 CLEMSON – At 6-5, 338-pounds Kalon Davis

Kalon Davis
RS Sr. Offensive Guard
#67 6-5, 330
Chester, SC
View Full Profile is an intimidating character in his own right.
Add in white contacts that make the iris of his eye white and his pupil larger than normal, and even head coach Dabo Swinney

Dabo Swinney
Head Coach
View Full Profile gets a little freaked out.
"Those contacts? That's the most awful thing I've ever seen in my life," Swinney said after Monday's spring practice. "It's awful. The first time I saw them was in mat drills. I was standing on the paw and looking at him, and it freaked me out. I didn't know what it was until I got close to him. I was like, 'What is in your eyes?' If you know Kalon, he's kind of goofy like that. That's his swag. Some people like the flat bills. He's the funky contact guy."
The red-shirt junior offensive lineman decided before winter workouts that he wanted to spice things up a little bit ,so he surprised his teammates during 5:30 a.m. workouts with his new look.
"I'm not a big tattoo or piercing guy, so I wanted to mix up a little something for the team," Davis said after Monday's practice. "I just wanted to mix it up and cause a little stir. I first found out about them through one of my favorite artists, Hopsin. I introduced them when we were doing workouts to see how people would react to them. I got a reaction from the defense so I though I'd keep them for a while."
Davis said that the coaches actually had to stop workouts, so that his teammates could go ahead and get the gawking out of the way.
"By the time we lined up, they were already used to them," Davis said "The first time I wore them was during winter workouts and it was 5:30 in the morning and I think we had stop warm-ups just to let everyone look."
After seeing the contacts during the first three weeks of spring practice, Swinney joked that that he hopes Davis loses the contacts on his study abroad trip to Japan.
"I'm hoping he loses them between now and fall. He's going to Japan," Swinney said. "Hopefully, they don't feed him anything but rice for the six weeks that he's over there. He's a Japanese major. I wonder how many Japanese majors there are playing major college football. He's unique in that area, too. He's got an opportunity to go do an internship during summer one that is required for his major. He swears he's got a place to work out in Japan. I don't know how he's already got that worked out. Hopefully he leaves those contacts at home because he's a scary looking guy as it is. He's a big man. Maybe he can be a sumo wrestler."
Not only did Davis transform the look in his eyes, but he's also been working on transforming his body.
"At the end of our workouts before we started practice, I went into the Bod Pod and weighed in at 338, but I only had 24-percent body fat," Davis said. "I didn't cut as much weight, but I gained a lot of muscle and lost a lot fat."
The weight loss will help him at his new position on the offensive line.
"I've been spending most of my time at right guard," Davis said. "Even in practice last year, I worked at right tackle, and then we had the one game where Tyler Shatley

Tyler Shatley
Offensive Guard (2009 - 2013)
#62 6-3, 295
Icard, NC
View Full Profile was out so I came in and played right guard. I've been working there before, so no I'm just solidifying my position."