| | |
| --- | --- |
| Exclusive: 5-star LB Smith details silent commitment to Tigers | |
---
| | |
| --- | --- |
| Saturday, January 2, 2016 3:55 PM | |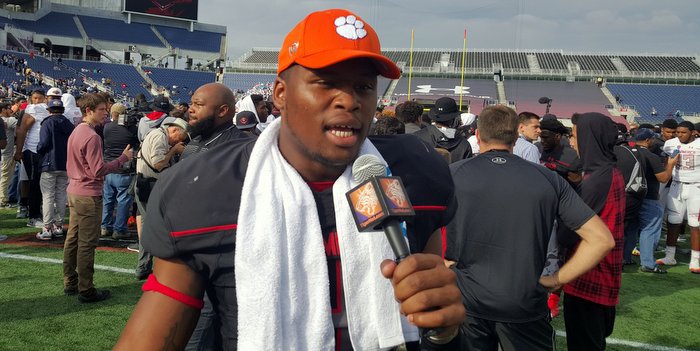 ORLANDO, FL – Five-star linebacker Rahshaun Smith will officially be a Clemson Tiger on Sunday.
Smith, who goes by the nickname Shaq, publicly committed to Clemson Saturday afternoon at the Under Armour All-America Game in Orlando. Clemson beat out LSU and Auburn for Smith's services, but he told TigerNet in an exclusive interview that Clemson's coaches have known he was a Tiger since his official visit in early December.
"I would have to say that I knew for certain after all of my officials were over," Smith told TigerNet at Orlando Citrus Bowl Stadium. "After my last official visit to Clemson, it was kind of hard for me not to commit on my visit. I actually gave papers on my official visit to Clemson, so I've been signed. I've been trying to keep it on the down low and keep everybody guessing.
"The Clemson coaches have known. The way that it went, when I de-committed I told them that day that I felt like I was still coming back to Clemson. I just wanted to be able to live through the whole process and be able to take all of my visits, but at the end of the day if I still feel comfortable I'm coming back to Clemson. On my last official, I told the guys that I was coming back."
The Bradenton (FL) IMG linebacker was committed to Clemson until August when he de-committed to take his official visits. After visiting Auburn, LSU, Maryland and Clemson, Smith ultimately decided to commit to Clemson.
Smith said Auburn was in the mix, but fell when former defensive coordinator Will Muschamp left to take the head coaching job at South Carolina.
"Before Coach Muschamp left Auburn, it was definitely a big race between them. It was a tie between LSU and Auburn," he said. "They're both good schools and great educations. My mom felt comfortable at both schools, so it was a hard process for me."
After having a final four of Clemson, Auburn, Maryland and LSU, Smith cut the hometown Terrapins from his list last week. However, Smith kept his options mostly quiet.
"I have to give a huge shout out to (mentor) Cory Robinson on that one. The way he has helped me grow and prepared me into the man I am today, he's helped me become a man," Smith said. "It's not everybody's business because that's when words get twisted up or things you didn't say happens. I thought it would be best to keep everything low-key."
What made Clemson stand out?
"It comes down to Coach Swinney. He's a player's coach. He's a great coach," Smith said. "All I hear from my teammates now is he's a great guy and that's what I've seen. He's just a great guy. Coach (Brent) Venables is a player's coach. He's going to coach you hard, but he's going to develop you. He's going to develop me to my best potential."
Smith said he was more than an interested observer in Clemson's 37-17 victory over Oklahoma in the Orange Bowl.
"I was very tuned into the Orange Bowl. It was a great game and a great defensive game. I have family in Oklahoma and I know Charles Tapper, Will Johnson, and Zach Sanchez, as well as Clemson - Shaq Lawson, Jayron Kearse. I know Clemson's whole team," he said. "That whole week I was getting texts from guys on both teams like, 'You better get your boy from this team.' It was a lot of rah-rah. I was glued to the TV from the time the game started. It had me on the edge of my seat. It was one of the best games I've seen all year from any college football program."
Smith has already graduated high school, and his family will drop him off in Clemson Sunday afternoon as they make their way home to Maryland. As a result, he said he had a special message for Clemson fans.
"I'm All In. Y'all will see me soon," he said. "I'm early enrolling and when I get there, I'm going to give Clemson and the fans my best effort and we're going to turn around and do it again last year."
As a junior, Smith had 111 tackles, ten tackles for loss, three sacks and two interceptions.
He has national offers from Alabama, Arkansas, Boston College, Clemson, Connecticut, Florida, Florida State, Georgia Tech, Indiana, Iowa, Kentucky, Maryland, Miami, Michigan, North Carolina, North Carolina State, Notre Dame, Ohio State, Oklahoma, Oregon, Oregon State, Penn State, Rutgers, South Carolina, Tennessee, USC, Virginia, Virginia Tech, Wake Forest, Wisconsin and others.