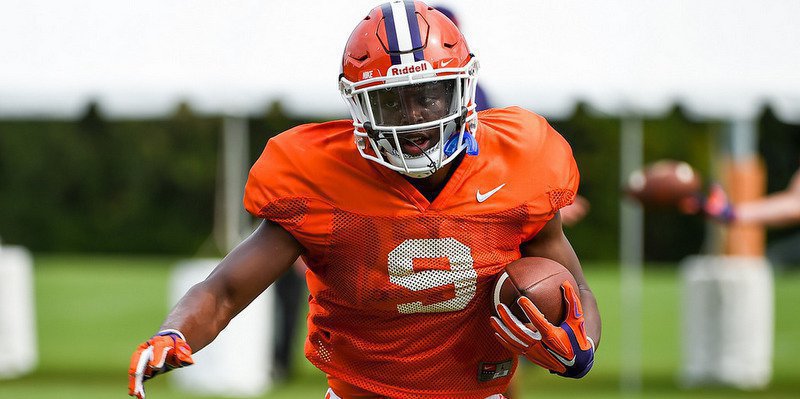 | | |
| --- | --- |
| Elliott says offense too inconsistent during scrimmage | |
---
CLEMSON – Clemson's offense has room to improve if it wants to catch up with the defense.
The team held a two-hour scrimmage inside Death Valley Saturday, and co-offensive coordinator Tony Elliott said his group was inconsistent and failed to execute at critical times.
"We made some plays, but still a little inconsistent at times. We didn't perform in the red zone like I wanted to, myself included, and we made a couple of mistakes there," Elliott said. "I am really proud of how we responded on short yardage and goal line, probably the best session we have had there in a long time. But overall we were inconsistent. I thought the quarterbacks were solid and they were making the right decisions, but we just didn't execute. Things move a lot faster in the stadium. Those guys are coming and there are no coaches on the field to help them so a lot for us to learn from. A good start, but definitely a lot to work on."
Elliott said the offense never got into any sort of rhythm, and he gave partial credit to the defense and partial blame to the offense.
"It's the combination of both and that's what we tell the guys. In camp, we are getting our systems installed and they are getting their system installed," he said. "There are going to be some calls that won't match up and had we had a week to prepare and study them, we would know the tendencies. We're both calling our offenses and our defenses against each other so some things don't vary. So it is a combination of both. Obviously, they are going to give us a challenging look and the defensive line is going to try to challenge you every time you try to run the football. There were some things that we could have done better from an execution standpoint."
He then explained what he meant about making the right decisions.
"It falls into that last question. Brent's (defensive coordinator Brent Venables) calling his defense and getting his scheme called and he may make some calls that are not matched up to what we call so we understand that. I am going to make some calls that probably wouldn't be the right call versus the defense that he calls. Again, we are not scheming each other; we are not trying to beat each other. We are trying to execute our system versus whatever we see.
"What he is talking about is when you are evaluating; did they make the right decision? Obviously, we know we got to run plays and we have to execute, but are they going for the right checklist pre-snap? Are they going through the process and making the right decisions? If you have that, then you can build on the little things and continue to fine tune the next three weeks before we play."
Elliott was asked if any of the offensive players stood out, and he mentioned sophomore receiver Diondre Overton.
"I thought Overton made some plays in the passing game that we needed him to make. Cannon (Smith) had a big play for us and I thought Zerrick (Cooper) made some big throws. Hunter (Johnson) threw a touchdown on a sprint-out. I thought Travis (Etienne) ran the ball hard - not always knowing where he was going but wherever he was going he was going fast and he was going hard. I thought the centers did well with their snaps and I thought the consistency was there. Once we see the film, we will really see what took place."
Any running back that plays for Elliott has to be able to pass protect, and he said Etienne still has things to learn about protecting the quarterback.
"There was one situation where I thought we needed to have better technique and it caused the quarterback to have to step up in the pocket," Elliott said. "Travis is in a tough situation because he is coming from an offense where he is learning everything new, so he was swimming a little bit in pass protection. You got to throw him in there and see what he can retain. The older guys, I was pleased with what they were doing. They are heading in the right direction and didn't give up much pressure other than one where we turned the guy loose trying to cut on an interior pressure. I've got to get Travis up to speed."
One of the fiercest battles in camp is between Sean Pollard and Tremayne Anchrum at the right tackle spot.
"Anchrum played a little bit of left today because of Mitch's situation (left tackle Mitch Hyatt is out with a head injury) and not being back in practice yet, but that is a good thing for him," Elliott said. "It gives us an opportunity on the left and Pollard was in there at right. They are battling. One day, one may be a step ahead and then the next day the other one catches back up. That's a good thing for us because it gives us solid depth at tackle. We've got to go in and evaluate the tape.
"I do remember that Anchrum did give up a pressure off the left side and he'll learn from it. He's a tremendous young man that has a lot of pride and he was going against Clelin, too. Clelin has been out the past couple of days and he came out with something to prove today. He was fired up and rushing off that edge. That is going to make us better. They are battling each other for the spot, but they are also battling Austin Bryant and Clelin Ferrell, two of the best in the ACC."

Upgrade Your Account
Unlock premium boards and exclusive features (e.g. ad-free) by upgrading your account today.
Upgrade Now