| | |
| --- | --- |
| Elliott overcomes emotional week to help Tigers top 'Noles | |
---
| | |
| --- | --- |
| Saturday, November 7, 2015 10:01 PM | |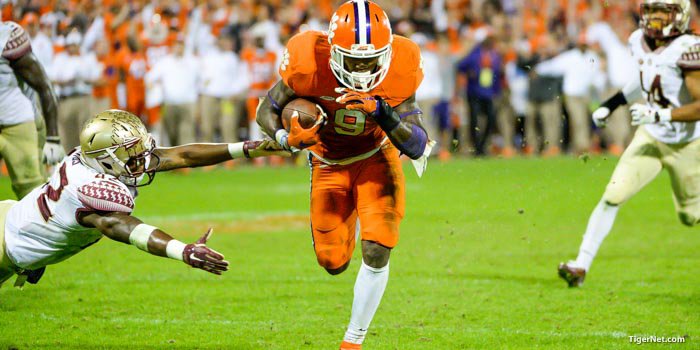 CLEMSON – Clemson head coach Dabo Swinney wants his players and coaches to always look forward – out of the windshield – not to the past through the rearview mirror.
Tony Elliott has bought into that mentality, always focusing on what lies ahead, but an ESPN documentary forced Clemson's offensive coordinator to take a look back at his past and deal with suppressed thoughts and emotions.
This past week, Elliott spent time with ESPN's Gene Wojciechowski recounting his mother's death on Sycamore St. in California and his childhood as he fought to help raise his sister. He ultimately received an offer from Swinney to become Clemson's running backs coach on another Sycamore –this one in Clemson, South Carolina.
The interview just happened to come during Clemson's preparation for Florida State – a game that saw Clemson as the top-ranked team in the country and with ACC title game and College Football Playoff implications and revisiting the past cause Elliott to concentrate on more than just football.
"This week was a tough week for me," Elliott said after Clemson's win over Florida State Saturday night. "Obviously, ESPN did a feature that brought up a lot of things from the past, so there were a lot of requirements for me to film. There was some information that was brought up that I really hadn't thought about, so it was a tough week."
The first-year offensive coordinator said that while he tried to deal with his emotions all of the football field, he also had to prepare for Clemson's biggest game of the season.
"I really haven't focused on it. I just want to put together the best plan each week. Coach Swinney does a great job of having that windshield mentality," Elliott said. "We're just looking ahead and looking ahead. We're not looking behind."
The difficulty of the week was seen by even the players, especially running back Wayne Gallman who saw his position coach struggling with the limelight and attention.
"I did. I could tell when all of the cameras were around him at practice that he was really uncomfortable," Gallman said. "I wanted to say something during practice, but that's something he's going to have to get used to because he's doing good things."
The magnitude of the 23-13 win over the Seminoles might not have set in early Saturday night, but Elliott knows there are bigger goals ahead, helping to ease his mind and overcome his past.
"We're not complacent. We're not satisfied," Elliott said. "Ultimately, the second goal on our goal board is to win the Atlantic championship. We've still got a state championship. We've got an ACC Championship and a bowl championship that we're trying to get."