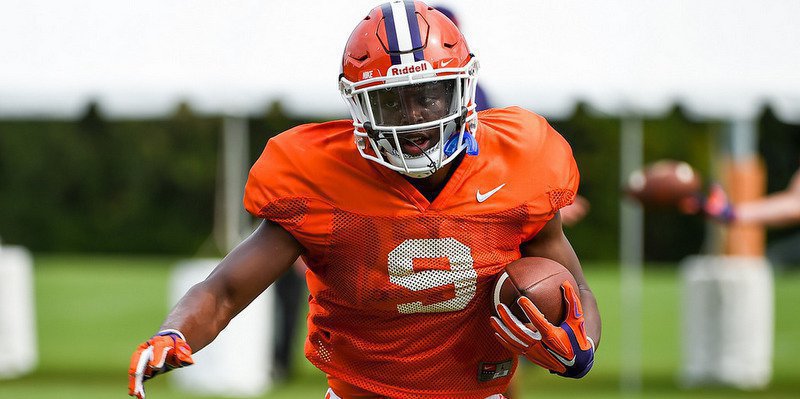 | | |
| --- | --- |
| Elliott on freshman Etienne: "He's been the most productive in terms of making plays" | |
---
CLEMSON – Freshman running back Travis Etienne has been getting second-team snaps during fall camp, and co-offensive coordinator and running backs coach Tony Elliott says the Louisiana native has had the most productive camp of all the backs.
Elliott cautions, however, that Etienne still has work to do to be a complete back.
Elliott spoke with the media following Thursday's practice in Jervey Meadows, and he said that Etienne has been impressive the last few weeks.
"He's mostly running with the second team unit. He's the number four back right now, and we have four scholarship guys. (Adam) Choice has been down a couple of days with his hamstring, and now he's back. Travis has been getting a lot of reps," Elliott said. "I will tell you what, he is fast, he is quick, and he has a great feel. He is a natural runner. As a runner, he is probably looked the best in camp so far with breaking tackles and breaking plays.
"He is definitely the quickest, and he does not know anything, so he just playing ball out there. Now, lining up in pass protection and identifying all of those crazy blitzes that (defensive coordinator Brent) Venables is bringing? He has a lot of work to do there. But you see him every day. He's flashing as a runner, and we're very pleased there. It's my job to grow him up as a pass protector."
Elliott said Etienne has made big plays in the run game and is on track to travel with the team on road trips.
"We like to carry five backs on every trip, and right now he's number four. By default, he's the number four guy, because he's the fourth scholarship guy," Elliott said. "But he's competing. And if you go just off production, in camp he's been the most productive in terms of making plays in the run game. Now, is he the most dependable? By far, he's not the most dependable, because there is so much he has to learn. The background that he is coming from the - the option - he's learning to identify the defense and all that stuff is new to him. He's a quick learner, and he's working his tail off. He's a pleasure to coach, and he's a practice player. I am hoping that he will be ready once we need him."
Etienne wears the number nine that Clemson fans are used to seeing on Wayne Gallman, who now plays for the New York Giants, and Elliott said there is a physical similarity between the two.
There are also differences.
"Physically, he looks like Wayne. He has that number nine," Elliott said. "But when Wayne first got here he was all over the place. He was physical, he was violent, and he was fast and running hard. Over time, he was able to refine his style. Their styles are different. Wayne was a downhill, powerful guy. He could get to the second level, but he didn't have that third level, home run ability. Travis has that all that. He is very natural. Right now at this stage of his career, his eyes are better than Wayne's were when he was a freshman. He sees it. He sees the cutback, and he sees the field. That is something you can't teach. They look alike because he is still clumsy because it's all new to him."

Upgrade Your Account
Unlock premium boards and exclusive features (e.g. ad-free) by upgrading your account today.
Upgrade Now