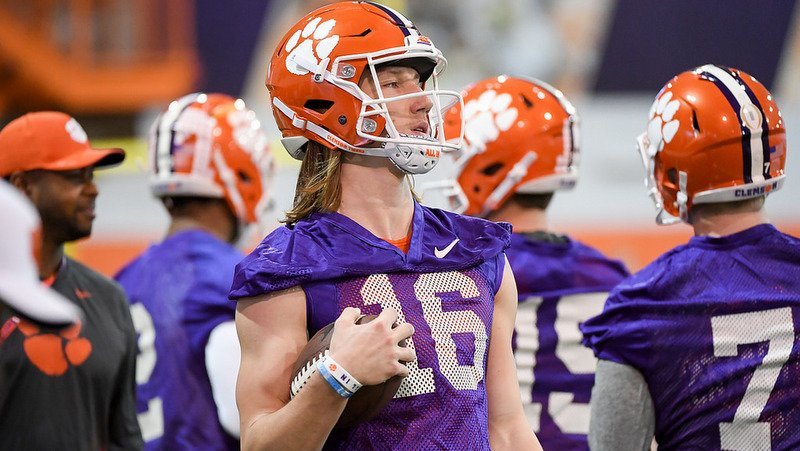 | | |
| --- | --- |
| Elliott knows quarterbacks will be center stage in Saturday's spring game | |
---
CLEMSON – The annual spring game is Saturday, and thousands of the Clemson faithful will pack Death Valley for a final look at the Tigers before the long, hot months of summer.
Spring games in this part of the country are popular – at least for some fan bases – and many in the Clemson administration are hopeful that 50,000 shows up. It's all part of football in the south, according to offensive coordinator Tony Elliott.
"I think people are excited. Football lasts for a short window throughout the course of the year," Elliott said. "For us coaches it feels like it's a long season, but it's only four months and it's such a popular sport and I think with the way recruiting has exploded, a lot of people want to get their eyes on the guys who are coming to school early and get an idea of what their team's gonna look like as they prepare for the fall."
Many eyes will be on the quarterback battle, where Kelly Bryant is endeavoring to hold off Hunter Johnson, Chase Brice, and the talented Trevor Lawrence.
Lawrence is the biggest draw of that group.
"Well you know the backup quarterback is always the most popular guy on campus," Elliott said with a smile. "But I think with what he was able to accomplish as a high school player, just the winning, how he put his team on his back and obviously with the recruiting and how he's lived up to that and I think everybody just wants to see for their own eyes with how good this young man is."
Quarterbacks coach Brandon Streeter put Bryant and Brice on one team with Johnson and Lawrence on the other, and all will get equal reps.
"It's huge. Those guys aren't going to be live, but now you add in some other elements," Elliott said. "You got the crowd, distractions with the crowd, them working with guys they may not have gotten reps with because you're splitting up the teams and now you've got to have cohesion and chemistry with the offensive line so you're going to stress those guys as best as you can without actually having a game environment."
What is Elliott looking for out of the quarterbacks?
"First and foremost, just the ability to manage the game," he said. "Take what's there within the system and just see those guys with the coaches off the field and the crowd noise and different things we can add from a stress point. Being able to go out there and function on their own and put together drives and see who can lead their team."
That competitive fire is something he wants to see out of the entire offense.
"I want to see competition. I want to see them compete," Elliott said. "I want to see key guys in spots that they might have someone next to them that they're not used to and see how they handle that adversity. For the quarterbacks, see how they manage the system and see if they can do the little things when they have these extra distractions. When you have the crowd and mixing up the chemistry and overall just execution and just making sure the guys have the right mentality and that it. Doesn't matter if I'm starting or backing up or if I'm on the White team or the Orange team, that we still try and go out and execute at a high level."
Elliott said he has been pleased with the offense this spring and one area stands above the rest – tempo.
"The ownership of tempo. There were a couple days where we came off break we didn't quite have the tempo, but overall I think there's been a buy-in from a tempo standpoint," he said. "I really, really like the competition at every position and I think it's making everybody better. We had some specific concerns going in losing keys guys from last year, but I feel confident in the guys that are stepping up. But just pleased overall with the guys that are stepping up and going out and produce throughout the course of the spring. A lot of times the spring is tough on the offense because from a depth standpoint you're down on the offensive line and down on wide receivers, but we have quality depth that has given us the ability to go out and have success which builds confidence which will springboard us in the summer as we attack."
"No question I have confidence in all four quarterbacks. Each one of them has opportunities to improve but agree with coach Swinney."

Upgrade Your Account
Unlock premium boards and exclusive features (e.g. ad-free) by upgrading your account today.
Upgrade Now