| | |
| --- | --- |
| Elliott is Clemson's "offensive engineer" in charge of Clemson locomotive | |
---
| | |
| --- | --- |
| Monday, February 16, 2015 7:01 AM | |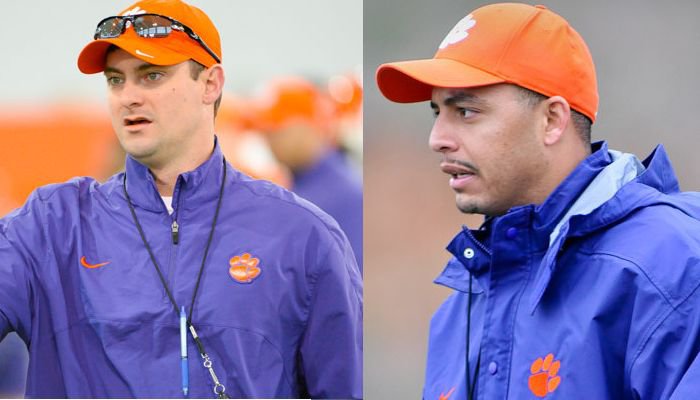 CLEMSON – The locomotive that is Clemson's offense is gaining steam, and a quick look in the cab shows that Tony Elliott

Tony Elliott
Assistant Coach / Running Backs
View Full Profile is driving the train.
Elliott got a new perspective on coaching during Clemson's win over Oklahoma in the Russell Athletic Bowl, watching a college game from a pressbox and not from the sidelines for the first time in his career. The new environs didn't seem to cause any problems as the Tigers rolled to a 40-6 win over the Sooners in the first game for Elliott and Jeff Scott

Jeff Scott
Asst. Coach (WR) / Recruiting Coord.
View Full Profile as co-offensive coordinators.
Clemson head coach Dabo Swinney

Dabo Swinney
Head Coach
View Full Profile , however, has decided that Elliott needs a new job title: Offensive engineer.
During Clemson's National Signing Day Press Conference in the team room at the WestZone, Swinney joked that his new "offensive engineer" and Scott are the perfect tandem to lead Clemson's offense forward without its architect in Chad Morris

Chad Morris
Offensive Coordinator / QBs
View Full Profile . Morris left to take the head coaching job at SMU in December.
"We've got two special guys there," Swinney said on Signing Day. "Jeff was a math major and Tony was an engineering grad. We've got two cerebral dudes. Jeff is kinda down there on the field with the chaos and we can put Tony up there (in the press box) where he can have some calmness."
Elliott, who donned his earbuds and paced the Citrus Bowl field nervously during pregame warm-ups, said he was anything but calm.
"I was pretty nervous going in because I'd never seen the game from that vantage point," Elliott said on a school broadcast on National Signing Day. "But I tell you what, I thought it worked out well. The folks around the program know that I'm pretty laid-back – very intense but at the same time laid-back. Like to be strategic. I think it put me in the perfect environment to do that. To see the big picture and be away from the hustle and bustle of the sideline."
What's wrong with trying to manage a game from the sideline?
"On the sideline in the game it gets hectic," Elliott said. "You're dealing with the players and the other coaches and the ups and down and momentum swings in the game. It's easy to get caught up in watching the game instead of staying one step ahead. Being in the environment that was a lot more relaxed worked well for me."
Elliott said that there was no way he wanted to take credit for the bowl win, however, saying that senior quarterback Cole Stoudt

Cole Stoudt
Sr. Quarterback
#18 6-4, 231
Dublin, OH
View Full Profile and new quarterbacks coach Brandon Streeter

Brandon Streeter
Quarterback Coach
View Full Profile were pivotal as Stoudt threw for a career-high 319 yards.
"I think it was a combination of a lot of things," Elliott said. "First and foremost, Cole had a lot to prove and a lot to play for. He wanted to leave his legacy the way he envisioned it coming in. He deserved that opportunity. Bringing in Coach Streeter, having that one-on-one attention to focus on the details and Jeff and I wanted to put him in a position to be successful. He was confident knowing that we were coming in with a plan to play to his strengths. Give him an opportunity to go out on top like he wanted to.
"Our players did a great job – they knew he was the guy going into it and rallied around him. They showed that they were confident in him and he built off of their confidence and by the time we strapped it up he was ready to play."
Elliott then said that the offense isn't a Chad Morris or a Tony Elliott offense – it's a Clemson offense.
"What we try to instill in these guys is it's Clemson's offense," said Elliott. "It's not the Tony Elliott show. It's not the Jeff Scott show. This is the Clemson offense and I think that is what's going to propel us going forward."
Swinney said that Streeter was the perfect choice to join Elliott and Scott on the offensive side of the ball.
"You bring in a guy like Streeter who's coordinated for nine years," Swinney said. "He really understands that whole process, loves Clemson and is a great quarterback teacher. I think him, really being freed up to coach the details of that position without some of the stress of having to be coordinator will be helpful for where we are right now with a sophomore quarterback, two freshmen (Kelly Bryant and Tucker Israel) and Nick (Schuessler). It's a good fit all the way around and that's what it comes down to. Fit, timing and chemistry – our whole staff is a great group with an outstanding chemistry. That's something that I don't think gets enough credit."