| | |
| --- | --- |
| Elliott breaks down the scrimmage, including Kelly Bryant and Tucker Israel | |
---
| | |
| --- | --- |
| Thursday, March 26, 2015 1:57 PM | |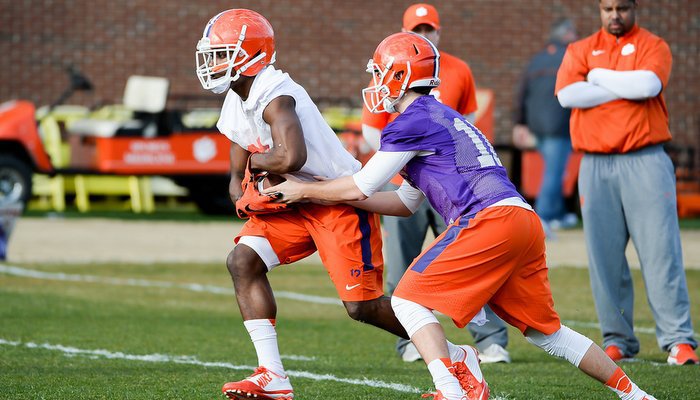 CLEMSON – The Clemson football team held its first full-scale scrimmage Wednesday afternoon in Death Valley, and new offensive coordinator Tony Elliott

Tony Elliott
Assistant Coach / Running Backs
View Full Profile saw a lot of good things. He also saw things that need a lot of work.
The offense is working without starting quarterback and leader Deshaun Watson

Deshaun Watson
So. Quarterback
#4 6-2, 205
Gainesville, GA
View Full Profile , who is recovering from ACL surgery after suffering the torn ligament late last season. Elliott and co-coordinator Jeff Scott

Jeff Scott
Asst. Coach (WR) / Recruiting Coord.
View Full Profile are spending the spring trying to find a viable backup for Watson and find consistency in the offensive line.
Wednesday's scrimmage was a good start.
"The tough thing about our scrimmage is that the coaches get off the field and now they (the players) have to function on their own," Elliott said. "It's going fast and the defense is getting after them, and they are going against one of the best defenses in the country. Some of the good things - we made some plays. Jordan Leggett

Jordan Leggett
Jr. Tight End
#16 6-5, 250
Navarre, FL
View Full Profile made some plays. He is a guy we are really counting on. Obviously, we were able to do some things in the redzone. That is an area we have to improve on from last year. But there were some plays that were there and we just didn't make them. That's the biggest thing, just that total execution. They competed. There were some ups and downs, and I would like to see the tempo be more consistent."
Front and center were freshmen quarterbacks Tucker Israel

Tucker Israel
Fr. Quarterback
#10 5-11, 190
Orlando, FL
View Full Profile and Kelly Bryant

Kelly Bryant
Fr. Quarterback
#2 6-4, 205
Calhoun Falls, SC
View Full Profile , along with veteran Nick Schuessler

Nick Schuessler
RS Jr. Quarterback
#12 6-3, 195
Grayson, GA
View Full Profile .
"The freshmen - it was the first time for them in the Valley with everybody off the field and things started moving fast," Elliott said. "For the most part, they did a pretty good job. But obviously, there are a lot of things we are asking them to do and we are continuing to add things at a pretty good pace. But once we get a chance to look at the film we will be better able to evaluate them. Nick did some good things, but then he also had some areas where he could have managed the offense a little bit better."
Elliott then broke down the differences between Israel and Bryant.
"For Tucker, he has been in a system where he was asked to throw the ball and hasn't been asked to make as many plays with his legs," he said. "That's the area where he's capable, he just has to develop that confidence and get more practice at the reads and understand what we are asking him to do from a zone read perspective. He has to have the confidence to make the throws and drive the ball in the air. For this offense to go fast, everybody has to have some responsibility. Kelly, athletically, can make some plays with his legs and he is continuing to develop as a passer. The one weakness the one has, the other has as a strength. But that's where we are pushing them to continue to build on their strengths but continue to build on their weaknesses, too."
One highlight for Elliott was the continued improved play of veteran tight end Jordan Leggett, who has battled inconsistency in his Clemson career.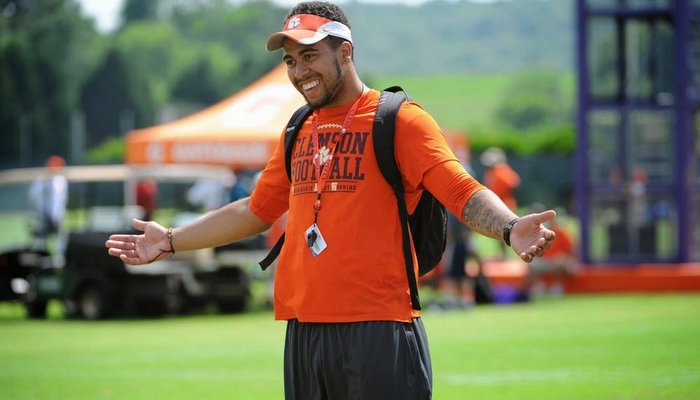 "It was good to see Leggett make some plays," Elliott said. "He's pivotal in this offense, to be a blocker and get the running game started but then also be that effective pass receiver out of the backfield."
The scrimmage also gave Elliott and company a chance to see the freshman offensive linemen at work.
"It's a situation where the coaches aren't on the field and they are having to make their own calls. The defense is stepping around and they are bringing what seems like pressure from everywhere," he said. "They did some good things but then they also had an opportunity to see the importance of complete communication across the board at all levels. Athletically, it's not a question on those guys. It's just how quickly can they bridge that gap. Obviously, Mitch (Hyatt) is a guy that your comfort level continues to grow with, but he has some areas to improve."