| | |
| --- | --- |
| Elliott and Scott discuss promotions, how play calling duties will be handled | |
---
| | |
| --- | --- |
| Friday, December 12, 2014 8:27 PM | |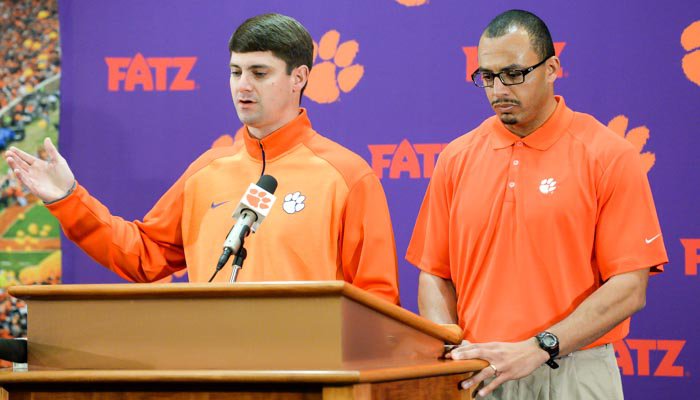 CLEMSON – Fifteen years ago, two wide receivers were partners during the stretch portion of practice and the two would talk about their future plans. Little did they know then how that future would unfold.
New co-offensive coordinators Jeff Scott

Jeff Scott
Asst. Coach (WR) / Recruiting Coord.
View Full Profile and Tony Elliott

Tony Elliott
Assistant Coach / Running Backs
View Full Profile were teammates for the Tigers from 2000-2002, and Scott told the media Friday in the WestZone that he is proud to share the title with a former teammate and fellow Clemson alum.
"For me it's an honor to be able to move up and have more responsibility. Tony and I were talking the other day and I can remember 15 years ago, we were stretch partners at practice," Scott said. "We were teammates here and we used to stretch each other and obviously talking about the future. Fifteen years later to be able to have the opportunity to be in a position of influence at your alma mater, there's a lot of pride personally and as a group. It's also been a lot of fun to hear from a lot of our former teammates at Clemson.
"They are reaching out to us to tell us how proud they are that we're having this opportunity. I think it means a little more than just being a coach at a school that's just hired you to do a job. To have the opportunity to coach at your alma mater is awfully humbling and very special. For me personally, having the opportunity to do this with Tony is really special. Tony and I have known each other for a long time and have a great relationship, a very close friendship and also a very good working relationship. I think that's important - anytime you're going to do something like we're going to do being co-coordinators - it has to be the right two guys. I'm really looking forward to that."
Elliott said he has been so busy on the recruiting trail that the full effect of the promotion hasn't had time to sink in.
"It's a tremendous honor and a tremendous blessing to be in this position. It hasn't really hit me yet," Elliott said. "I don't even think we've had a chance to celebrate with the wives because we were on the road recruiting. Now as we jump in over the next couple of weeks, I think the magnitude will really start to sink in. It's a testament to the program and what Coach Swinney stands for. One thing that I always value is that he says to always be prepared for your opportunity. The difference in the role is that Chad [Morris] did a good job in challenging Jeff and myself over the last four years to prepare ourselves for this opportunity.
"He gave us the responsibility within the preparation process to help us prepare us for this. I couldn't be more excited to work with Jeff. We have a good relationship and it's evident in recruiting. There's no ego involved. I'm glad that we're co-coordinators because there are areas that I may not have the expertise and I know he'll have the expertise. We'll work together. There are no egos involved. We're happy to be at our alma mater, representing the guys that we played with. We started as stretch partners, then we had some off the field instances at his house with jet skis that we won't talk about. Our relationship goes deeper than this situation here. This has been something that we've been working on for a long time. We work well together, so I'm excited."
Swinney announced that Elliott will handle the play-calling duties and move from the field to the press box on game days. Elliott was asked how he has prepared to take over the play-calling duties, and he said it has been a process that former offensive coordinator Chad Morris

Chad Morris
Offensive Coordinator / QBs
View Full Profile started.
"Coach Swinney and Coach Morris did a great job over the last couple of years of preparing us in the aspect of calling the plays in the spring game. On game day, there is a lot of input that goes into it," Elliott said. "There would be certain things that I would see to say to Chad, 'Hey Chad, we need to look at this. This is something that I'm seeing.' And, the same thing with Jeff. Jeff would make a lot of calls in the passing game. For the bowl game, I'm going to rely heavily on [Brandon] Streeter. I know he's just coming in but that expertise that he has of being a coordinator, tapping into Coach Swinney. Jeff has called plays at the high school level, so I'm going to be tapping into everybody. Very similar to what I did when I transitioned from coaching wideouts to coaching running backs.
"I know there is going to be a little bit of a learning curve, but I know the experience of the spring game, the game day experience, watching Coach Morris and how he prepares - how meticulous he is actually calling the plays throughout the game and the adjustments you have to make on the sideline. I'll be able to do that from the box. I'll be relying on Jeff because he'll be giving me information. Streeter will be giving me information. Coach Pearman, Coach Caldwell, and Coach Swinney will as well. One thing I learned from Chad was to be a listener. Be a listener because those guys will be able to help you. I know there's a rhythm that you want to get into but one man can't see it all and you're going to have to rely on the information and the expertise of the guys around you to get into a rhythm so you can make the calls and be successful."
Will Clemson's offense change as a result of the change in coordinators? Elliott says no.
"Tempo is a big part of what we want to do and like Coach Swinney said, that's his philosophy. He was able to bring in Chad to help establish and put the terminology in place," he said. "Tempo is something that we're going to continue to do. We want to continue to be aggressive, throw the ball down the field, and still be able to have a two-back system where we run the ball. You're not going to see what we do change but that adjustment is going to be getting in a rhythm.
"Being in the box, I can take all of the information that's coming from Streeter and Jeff and Pearman and Coach Caldwell and stay out of the chaos to keep us one play ahaead, if possible. That adjustment I was talking about is getting into a rhythm to be able to keep up that tempo. It's what we want to do. It's what the players know. It's what they have fun doing and it's proven to be effective. We want to continue to build upon what Chad has already put in place and make it a Clemson offense, not about any one of us. This is what we do at Clemson - be aggressive, throw the ball down the field, be sound in what we do but have fun, be a little bit multiple - but tempo is a lot of what we do."
Scott said that it's a good thing the fans can't listen in on the coaches' headsets on Saturdays, but said that past experience is what helped Swinney have a comfort level in elevating the two assistants.
"Number one, it comes to the relationship of the two that are doing it. Number two, it comes with the experience that we have working together," Scott said. "That's kind of what Coach Swinney alluded to. It's probably a good thing everybody can't hear the headsets on Saturdays. Coach Swinney has been on the headsets for the four years that Coach Morris has been here and he's heard the communication that has gone on between our staff. That's why he has a very strong comfort level with this situation. It would be different if one of us was just coming in or if we hadn't worked with each other over the last four years. Ultimately, I think Tony being up in the box gives him a little bit of clarity like Coach Swinney said. I've got two receivers in my right pocket, two receivers in my left pocket and three on the field trying to figure it out all out while also trying to watch the secondary.
"A big part of our game plan is done during the week. Tony will have the opportunity as the flow the game of changes. A lot of those third down and critical calls are really decided on a Tuesday night at 10:30 with five guys in the room watching plays. We already know the game plan. I think that's something that's made our offense successful as well. Our players, they know when we get to certain places on the field, they know what's going to be called. They know the first call on third-and-one on the right hash, they know what that call is. Sometimes we'll get on to them because we start to signal it and they just go line up because they don't even need to see the end of the signal. I think because the way system is set up - there will be a relationship with communication. Somebody has to be the one to call plays. Initially when we were talking about it, I volunteered that I wouldn't mind calling it on first and second down and letting Tony call it on third and fourth down. We figured this was probably the best way."