| | |
| --- | --- |
| Elliott: Offense was good, but turnovers have to stop | |
---
| | |
| --- | --- |
| Sunday, November 29, 2015 8:36 AM | |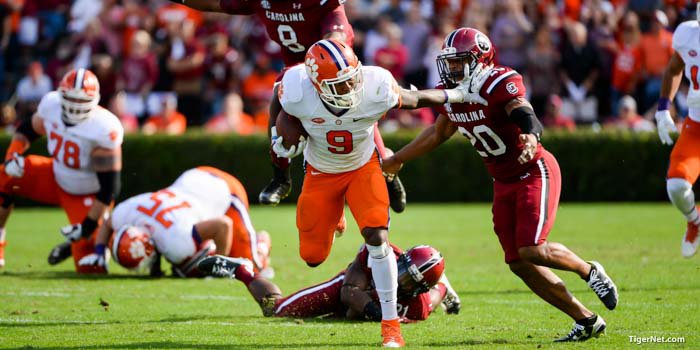 COLUMBIA – Clemson's offense was dynamic when it wasn't turning the ball over. Unfortunately, the Tigers turned it over three times and even though South Carolina scored just eight points off of those turnovers, each one stalled a drive and gave South Carolina momentum. And hope.
The Tigers rolled up over 500 yards of total offense for a school-record eighth consecutive game, gaining a balanced 236 yards on the ground and 279 through the air for 515 total yards. Clemson was also 9-of-13 on third down, had 25 first downs, was 4-of-4 in the red zone and averaged seven yards per play.
However, three turnovers kept the Gamecocks in the contest and co-offensive coordinator Tony Elliott said Clemson will have to be better as they head into next week's ACC Championship Game against North Carolina.
"You know, it was back-and-forth, and I didn't have time to think about it. I tried to keep the guys positive. This week it was fumbles - we haven't had a lot of issues with fumbles," Elliott said after the game. "We have had some interceptions, but with Wayne (Gallman) it's late in the season and he's had a lot of carries. That was his second fumble, and it was not acceptable. The one that gets you the most is the mesh issue. We had a problem with the mesh where we're trying to run a zone read concept and the ball was on the ground. Tay (Artavis Scott) was fighting for extra yards and trying to be a competitor. Credit to those guys - they had a plan to strip the ball from us. We will look at it Monday and stress ball security and look at each individual position and each individual player and see what we need to correct and get going."
After a scoreless first quarter and eliminating the turnovers, Elliott said the offense was able to find a rhythm.
"It's a team win. We hurt ourselves with some turnovers there, and the defense was shutting them down," Elliott said. "We were able to find our rhythm in the second half and put it together, and that's the sign of a good team - that both of us can have moments in the game where we might not be at our best, but we take care of each other. We feed off each other, and this is a good quality win for our team."
He said he was pleased with the Tigers' ability to convert on third down.
"The name of the game is staying on the field on third down. The main thing we've had some issues with is third-and-long, and today we were able to convert some of those," he said. "I think we were 9-of-13, and we understand we have to convert. We felt like we had a pretty decent feel for what they were trying to do. We dummied a couple of times just to kind of get a tip, but it just comes down to those guys executing. When we execute, we are hard to stop."
South Carolina made it a 3-point game at 28-25 in the fourth quarter, and Elliott put the ball in Deshaun Watson's hands.
"I tell you what, he is an awesome young man and an awesome competitor. We told him we were going to put the ball in his hands," he said. "We believe he is the best player on the field and the best quarterback in the country, and he continues to produce. It seems like the hotter the fire, the stronger he gets. Just excited for him and his opportunity.
"I don't know what the criteria is for those guys to make decisions, but I am going to give him my vote as the best player in the country. He goes in week and week out, and he can beat you running the ball or he can beat you with his arm. He makes good decisions. He didn't have any turnovers in the air, even though he did have the one fumble. He's a complete player - the best quarterback in the country. But that's for them to decide, but I know I am happy he is on my team."
The win means the Tigers are 12-0, something Elliott said he hasn't had time to think about.
"I think you go into every season believing that you can win 12 games in a row. The feeling really hasn't sunk in, because I spent a lot of time preparing myself for this game," he said. "This one was very, very important. Obviously, it's the next game up on the schedule, but this one here is a little bit personal because I am an in-state guy and have the rivalry in my family. It really hasn't sunk in. I just really wanted to win this game for my seniors so they could go out .500 in this series."
Next up is North Carolina, and Clemson can't have the turnovers and expect to beat the Tar Heels.
"I watched them a little bit getting ready for Wake Forest. I really haven't seen them on defense, but I know they are explosive on offense and can score a lot of points, so we are going to have to be on our "A" game and be prepared to go out and execute," Elliott said. "Don't turn the ball over, manufacture drives and help the defense. They are obviously playing at a high level and are looking forward to the opportunity of playing us in the championship. I will get on it tonight, and I will have a good feel by the time we get to practice on Monday."