| | |
| --- | --- |
| Elliott: Excitement surrounding offense might come from a new voice | |
---
| | |
| --- | --- |
| Tuesday, December 23, 2014 2:01 PM | |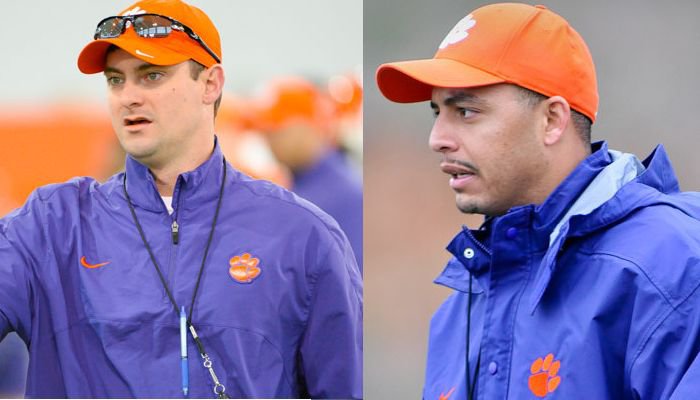 CLEMSON – Clemson's offensive players talked about a sense of excitement at bowl practice last week, and a lot of that excitement centered on the coaching staff changes that saw Jeff Scott

Jeff Scott
Asst. Coach (WR) / Recruiting Coord.
View Full Profile and Tony Elliott

Tony Elliott
Assistant Coach / Running Backs
View Full Profile promoted to co-offensive coordinators and Brandon Streeter brought back to Clemson as quarterbacks coach.
TigerNet spoke with Elliott following practice late last week, and he said that sometimes players respond positively to a different voice and to the fact that Scott and Elliott were promoted from within the program.
"I think a lot of it has to do with the fact that (one of) their own have been promoted. They are all Clemson guys, and that further fuels the passion and the fire to be a Tiger," Elliott said. "Because they see that Jeff and myself are Clemson grads and have been here and that Coach (Swinney) will stay true to his word of how he wants to build a culture within the program. Then again, sometimes change is a good. New voices. They get a chance to hear from us more. So I think it is just a combination of a new voice and the fact that they have Clemson guys and we are All In."
Elliott also serves as one of Clemson's top recruiters, and he said it was good to get off of the recruiting trail for a week and concentrate once again on football.
"This feels good. It is a chance to get off the road recruiting and get back into football and get together as a staff and put together a plan," he said. "Everybody is working together and contributing. There has been excitement out here at practice every day, and Cole is taking ownership of the plan. There have been some good practices so far."
He was asked if he has had time to sit back and reflect on the flurry of activity that has surrounded the program and his own new role and he said it hits him more during the week.
"As fast as we go and with the tempo that we practice at, it's a little difficult to do that," he said. "But after that first practice, to just sit back and it's likes OK, this is a little bit different role and you understand some of the things that you would see Coach (Chad) Morris do throughout the week in the preparation process. Now that you are sitting in this seat you kind of understand and have a better feel for it."
Elliott is still having to wear the hat of running backs coach, and he said that while he has accrued more responsibility he has asked the backs to take on more responsibility of their own.
"During practice, it's a little bit tough at times. But I have told the running backs that just as I have assumed more responsibility they have to assume more responsibility in practice," he said. "But as the running backs coach - in preparation for this opportunity but when Coach Morris was still at the helm - I was trying to make sure I was watching everything and understanding and having a feel. It's a little more responsibility but I have kind of asked the running backs to step up a little bit more and help me as we transition."
Helping Elliott with the transition to playcaller and to help with the quarterbacks is Streeter, who has already made an impact.
"Brandon Streeter is great. Obviously he is a Clemson guy, so we already had that connection and I knew Streeter prior to him coming back here," Elliott said. "We didn't play together - we just missed each other - but in the coaching profession throughout the years we have had a chance to get together and we have recruited the same area. We have the same demeanor off the field in that we are kind of reserved and laid back. But when we step on the field we have a lot of intensity. And he is a great technician and he has been in the seat I am now sitting in and so he has been a big help to me. I am able to bounce ideas off of him as a former coordinator. He is actually able to help us all as we put the plan together."