| | |
| --- | --- |
| Elite defensive end says Clemson "sold itself" | |
---
| | |
| --- | --- |
| Friday, February 12, 2016 7:01 AM | |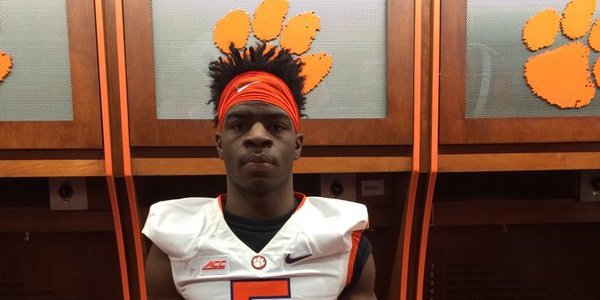 After losing Shaq Lawson and Kevin Dodd to the NFL and signing just one defensive end in 2016, the Clemson coaching staff will look to the 2017 class to continue adding talented depth to its group of defensive ends.
Cordele (GA) Crisp County's Markaviest Bryant is one of the coaching staff's top targets to fill that void.
Bryant visited Clemson on January 30th for Clemson's first junior day in 2016, and he told TigerNet he came away from the visit impressed and with all of his questions answered.
"Clemson, the campus, it sold itself. I like the campus. I like the coaches," Bryant told TigerNet earlier this week. "They made me felt like I was at home and lived there. I learned everything and even more than what I already knew. I left there without any questions. I learned everything I needed to know, including their history. I really enjoyed it. I really enjoyed the environment. It wasn't a game day, but I really enjoyed it."
The 4-star prospect spent time with defensive ends coach Marion Hobby and he said the two are continuing to develop a relationship.
"I met him (Hobby) and from time to time we will have conversations," Bryant said. "When I went up there, he taught me some things and showed me some things. He told me what kind of defensive scheme they have, how many players they have coming back, and how I would fit in their football scheme. I learned a lot. I really like him. We still talk. I even talked to him today. He's a good coach."
Bryant – a 6-4, 228-pound weakside end prospect – said he enjoyed breaking down Clemson's scheme and learning about how defensive coordinator Brent Venables would use him should he choose the Tigers.
"When I went campus, I had a one-on-one conversation with him (Venables). He came over there with me and he specifically told me that Clemson wasn't all about football that it is more about being a young man," he said. "He told me some things, but first and foremost he told about my grades and how academics were going to go and then he told me about football and the schemes. He's the one who really laid out the defense to me and how it is. He really kind of helped me out and made me feel at home when I was there. He told me he would help me and he told me that it may take a little time to get into the defense but if I do come I'd be able to catch on easy."
However, it may have been Dabo Swinney that Bryant was most impressed with, especially since Clemson's head coach reminds Bryant of his high school coach.
"He's (Swinney) a cool guy. He's not serious all of the time," he said. "He's a laidback guy. He handles himself well. He's a confident man. He really speaks his words. He talked me one-on-one at lunchtime when he came to my table. We talked about football and about getting in the weight room. I really relate to Coach Dabo Swinney because he's about like my head coach that I have right now."
Bryant already holds offers from Alabama, Cincinnati, Clemson, Florida, Florida State, Georgia, Georgia Southern, Georgia State, Georgia Tech, Kentucky, Mississippi, South Carolina, Tennessee and Troy. With just under a year until National Signing Day, Bryant is taking his time with the recruiting process and taking the advice of those around him to keep an open mind.
"I'm really open to the recruiting process. My coach is going to be a big part of my recruiting process and where I go," he said. "I grew up a Florida fan but now I see that there are other teams out there and that's why I'm open. Don't get me wrong, I still like Florida and they're still one of my top five teams but I'm really open in my recruiting process. I see other bigger and better teams out there."
Bryant amassed 73 tackles and 10 sacks during his 10-game junior campaign.