| | |
| --- | --- |
| Elite OL names leader after Clemson visit | |
---
| | |
| --- | --- |
| Monday, March 9, 2015 6:01 AM | |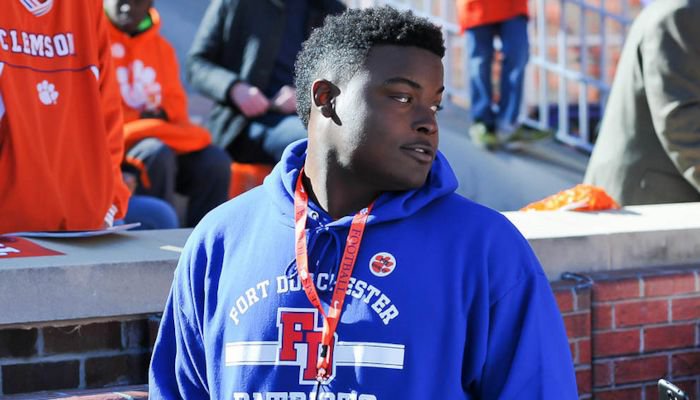 There's a long way to go before National Signing Day 2016, but John Simpson

John Simpson
Offensive Guard
6-4, 290
North Charleston, SC
View Full Profile has set his eyes on his favorite after a weekend trip to Clemson.
The Tigers have long been thought to hold a slight lead for the 2016 North Charleston (SC) Fort Dorchester 4-star offensive guard, but after taking in the events of Saturday's junior day Simpson decided to publicly declare Clemson as the leader.
TigerNet spoke with Simpson Sunday evening and he said everyone and everything from the players to the coaches to the fans caught his attention during the visit.
"It was just the coaches and the players and stuff like that," Simpson told TigerNet Sunday evening. "Even the fans, when I was walking back fans were like, 'You need to come here, John.' It was crazy."
Clemson signed four offensive linemen last recruiting cycle and will look to continue to add depth with the 2016 recruiting class, as well. Simpson said that he feels like he fits the mold the Clemson coaches are looking for.
"I feel like they are making a big push for offensive linemen because that's one of the most important positions on the field," Simpson said. "I want to play guard because that's the position I played last year, but next year I'm playing tackle. It really doesn't matter to me. I feel like I can play several positions."
A sentiment echoed by offensive line coach Robbie Caldwell

Robbie Caldwell
Assistant Coach / Offensive Line
View Full Profile .
"Every time I talk to him [Caldwell] and we talk about positions, he just says that you can play any position on the o-line because you're athletic enough and you can move," Simpson said. "If I did have to play center, I wouldn't have a problem with it because I love the sport, so it really doesn't matter what position they put me at."
It was co-offensive coordinator Tony Elliott

Tony Elliott
Assistant Coach / Running Backs
View Full Profile who made the first impression with Simpson, and Elliott's persistency is what has given the Tigers staying power with one of the top prospects in the state of South Carolina.
"He [Elliott] has been there since my freshman year and he's been talking to me since I was at Starr High School," Simpson said. "He was talking to me when I was there. He would come back every so often just to let me know that they were interested, because he wasn't able to really talk to me. We talk all of the time now and most of the time it's not even about football, it's just about what's going on in life."
Simpson said that he hasn't set a timetable for his decision, because there still other places that he would like to visit.
"I'm not really sure. I've still got a few more visits to go on just to see other campuses, because [South] Carolina and Clemson are the only ones that I've seen," he said.
However, Clemson's up-front way of doing things and the family culture have really resonated with the 6-4, 288-pound prospect.
"The way that they treat me as an individual. They treat everybody the same," he said. "I feel like if I were to go there that they don't just put on a show just to get me to commit. They actually mean what they say and they say what they mean. They show you how everything is up front, so you won't be surprised about anything if you do go there. Clemson is my leader."