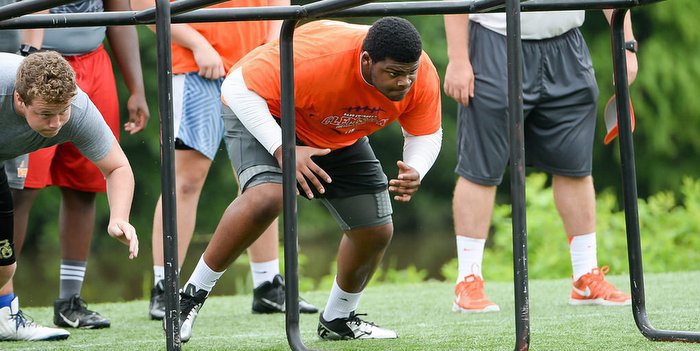 | | |
| --- | --- |
| Elite OL Jamaree Salyer talks Opening, Clemson's rise to prominence | |
---
Jamaree Salyer forecast more than a year ago Clemson football's ascension to elite status.
"I kind of told my friends – I visited Clemson for the first time the spring before they went to the national championship – you could really see how they were growing as a program, and I was just telling my friends, they're going to finish top 5," Salyer said. "And nobody believed me or whatever."
The 6-foot-3, 320-pound lineman from Atlanta's Pace Academy is rated by multiple recruiting services as the nation's top offensive guard in the 2018 class. He spoke by phone with TigerNet this weekend about recently attending Nike's The Opening in Oregon, his recruitment, and his goals as a player.
"But you could just see how the program was growing," he continued about the Tigers. "I went up there this spring, and you could see the difference – how they're treating themselves as an elite program, how they practice hard – just the morals they live by.
"I definitely saw that coming."
The rising junior recently went head-to-head at The Opening with the nation's best high school players, most of whom had more than a year on him in terms of experience.
"It was fun, just to be able to go out there and compete against the best players in the country," he said. "I was able to test where I really am as a player and see what areas I need to improve on. And it was also fun to go with two of my teammates."
Salyer told TigerNet he doesn't really have a list of top schools at this stage and that he just wants to focus on the coming season while enjoying the recruitment process. He mentioned Big Ten powers Ohio State, Michigan and Michigan State as three programs garnering his attention at the moment. The Buckeyes, in particular, are a team he's enjoyed watching since childhood.
"I really liked the way they ran the ball and continuously had a good program, as the years went on," Salyer said of Ohio State. "And when I was a kid, they used to always be the team to challenge Alabama and all the big schools. So I just really like that about Ohio State."
But in a recent interview with Scout.com, the hulking but nimble lineman name-checked Clemson as a top contender in his still-early recruitment.
"I'm really liking Georgia and Clemson right now," Salyer told Scout. "Those are not the only schools I like but just to name a couple off the top of my head. They're doing a great job recruiting me, great coaching staff."
On Saturday, Salyer told TigerNet he just wants to let the recruiting process play out and not rush into making a commitment.
"I'm just trying to get around and see as much as I can," he said. "I guess after the performance at The Opening, I just talked to my coaches and my family, and we didn't think it would be a good time to commit or list top schools. Just give every school a fair chance, really."
Salyer said his primary Clemson recruiting contact – co-offensive coordinator Tony Elliott – has stressed and exemplified patience in that regard.
"He told me he was going to give me some time to let me just enjoy my recruitment," Salyer said. "I talked to him a lot in the winter and spring. He told me he was going to give me some time to see other schools, so I won't have to be overwhelmed with Clemson. And I thought that was fair."
The consensus five-star prospect said the Tigers foresee him lining up at offensive guard.
"They definitely want me to play guard," Salyer said. "They say it's possible I could play tackle, but I'm pretty sure I'm going to play guard."
He said though he's visited Clemson "a lot of times" – including Dabo Swinney's Football Camp – he has yet to attend a game in Death Valley and "definitely" looks forward to that experience. (Plans to attend the Florida State game this past season fell through when one of his coaches became ill.) And like many other recruits, Salyer pointed to the Clemson program's "family environment" as a definite selling point.
"I guess the coaching staff, how it's such a family-oriented place," he said of what stands out about TigerTown. "With the kind of tradition they hold as a school, I can definitely see them building on what they have as a program, and just being a top 10 or even a top 5 school every year. Because it looks like what they're putting together up there is really good."
Salyer prides himself on being a good student who takes academics seriously. He said his main goal for college is to eventually earn an MBA in preparation for a future career in business.
"I want to have something to do once football is over," he said.
Whatever program eventually lands his talent will be getting a humble competitor who leads by example, he said.
"For one thing, they would definitely be getting a good student, first," Salyer said. "And I would be level-headed – I wouldn't let any type of success I would get, you know, get to my head or anything. I just try to be a leader in my own way. I wouldn't say I'm the most outspoken person, but you know, I can be. I try to lead by my actions.
"I just want to come in and work hard and do the best I can to contribute to the team, not really to my own success."
Salyer is listed by 24/7 Sports as the No. 1 offensive guard and the No. 10 player overall in the 2018 class. In addition to Clemson, he already holds offers from Georgia, Alabama, Notre Dame, Tennessee, Arkansas, Auburn, Florida State, Kentucky, Memphis, Miami, Michigan, Michigan State, Ohio State and South Carolina, among others.

Upgrade Your Account
Unlock premium boards and exclusive features (e.g. ad-free) by upgrading your account today.
Upgrade Now