| | |
| --- | --- |
| Elite DT out of North Carolina talks Clemson | |
---
| | |
| --- | --- |
| Tuesday, May 19, 2015 8:15 AM | |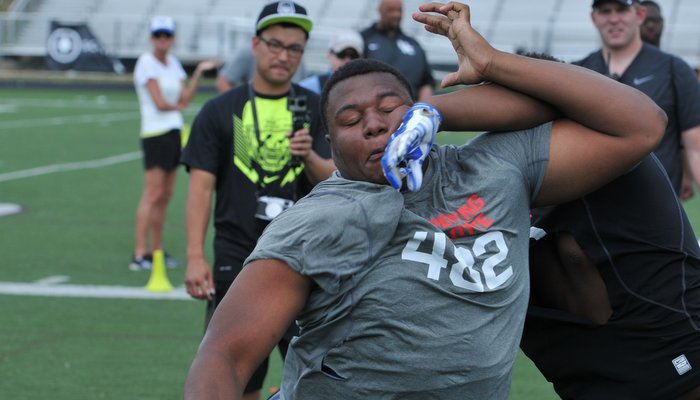 Dexter Lawrence

Dexter Lawrence
Defensive End
6-5, 315
Wake Forest, NC
View Full Profile - one of the top-rated defensive tackles in the country - found himself surrounded my media members and fellow players prior to the start of Nike's The Opening Charlotte Regional earlier this month and he handled all of the attention with poise and a smile.
Watching the laid-back Lawrence handle the attention might make one wonder what kind of demeanor the 5-star Wake Forest (NC) defensive tackle would have on the field. It didn't take long to answer that question, however, as he played every snap with the same enthusiasm and toughness, earning himself an invite to The Opening in Beaverton, Oregon later this summer.
Lawrence has offers from nearly every school in the ACC, Big 10 and SEC, and while some are recruiting him harder than others, he told TigerNet that he is still a long way from narrowing down his list of potential suitors.
"There are about 17 schools that are really on me right now. I can't even name them all right now," Lawrence told TigerNet at Mallard Creek High School. "I've been to Clemson, South Carolina, N.C. State, UNC and those schools, but I want to take officials, too. I want to visit schools like Arkansas, Florida State, Alabama, Ole Miss and Clemson."
With the departure of Grady Jarrett and Deshawn Williams to the NFL, Clemson has a need at defensive tackle, leading area recruiter and offensive line coach Robbie Caldwell

Robbie Caldwell
Assistant Coach / Offensive Line
View Full Profile to stay in constant contact with Lawrence.
"I talk the most to Coach Caldwell. He's just been telling me to work hard each day," Lawrence said. "He wants me to come up for a visit sometime. That's pretty good and it's impressive that Clemson put those guys in the NFL. That's a big factor for me. I will be looking at the schools that put players in the NFL."
Although the 6-5, 310-pound prospect hasn't visited Clemson recently, he remembers how the fans support the program, keeping the Tigers in the back of his mind.
"I haven't been there since my freshman year but the fans and coaches, they are just all into it and enthusiastic," he said. "The fans are good fans and a lot of people are really supportive."
Although Lawrence is far from a decision, he knows exactly what he's looking for in a school.
"I'm just looking at the team, is the program family oriented, and me playing as a true freshmen," he said. "I also want to see how into it the coaches are and how enthusiastic they are."
With plenty of time before National Signing Day 2016, Lawrence is taking the process slow and will face the storm that is recruiting, much like he does every interior offensive lineman - head on.
"Not right now (on making a decision). I've got over 30 offers right now. I'm handling it pretty well right now," he said. "My friend said it hasn't gotten bad yet, so I'm just waiting for that. I'm probably going to wait until signing day unless I graduate early."
As a junior, Lawrence accounted for 55 tackles, 10 sacks, 25 tackles for loss, three blocked kicks and three forced fumbles.