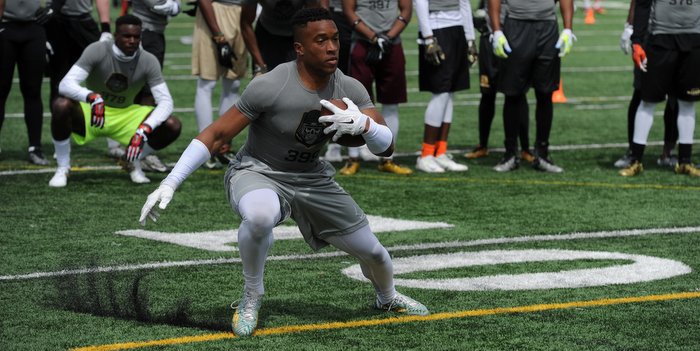 | | |
| --- | --- |
| Elite 2017 WR on Clemson: "I love this school very deeply" | |
---
Amari Rodgers has had a love affair with Clemson football since he was a child, so it was only fitting that he commit to the Tigers on Valentine's Day.
"I love this school very deeply," the four-star wide receiver out of Knoxville Catholic High School in Tennessee said before announcing his decision. He recently told TigerNet that he chose to enroll at Clemson in 2017 because "it's a great place."
"Since I've been a little kid, Clemson's been one of the top schools that I liked," Rodgers said. "When they started recruiting me, I was like 'Wow, that's a blessing' – because ever since I've been in middle school, they've been one of the best schools that I've been watching and been a fan of."
Rodgers, who as a junior was named Tennessee's Class 4A Mr. Football Back of the Year, helped lead the Irish to a state championship this past season. He amassed more than 2,500 all-purpose yards, accounting for 31 total touchdowns and more than 1,600 receiving yards.
Knoxville Catholic head coach Steve Matthews said Rodgers scored a touchdown every 4½ times he touched the ball.
"He's outstanding – he's electrifying with the ball in his hands," Matthews said. "He started out for us as a running back – and so he has that in his background – but really has developed into a great route runner. And his hands improved tremendously. He's got terrific hands and really a knack for going up and getting the ball in the air. He plays a lot bigger than his stature (5-foot-10, 203 pounds)."
Matthews said that during the Irish's 2015 state title run, Rodgers was a utility man of sorts.
"Punt returns, kickoff returns, catching the ball, hand it to him – he can pretty much do everything you want anybody to do on a football field," the coach said.
The Clemson coaches who recruited Rodgers are Dan Brooks and Jeff Scott. Their message to him, Rodgers said, has been to maintain his speed and not gain too much weight.
"And don't fall off my game," he said. "Some people when they start to succeed, they don't work as hard as they used to. I'm just going to continue to get better – work hard every day and lift weights."
He said the coaches foresee him stepping into Artavis Scott's position, and he's hoping he'll also be wearing No. 3 on his jersey – the same number he wears for Knoxville Catholic.
To those ends, Rodgers has been working with a personal trainer and studying Clemson game film, so that he'll be "up to speed" when he arrives in Tigertown. He recently attended Nike Football's The Opening camp in Atlanta, and plans to visit both sessions of Dabo Swinney Football Camp this summer.
Before committing to the Tigers, Rodgers fielded offers from schools including Alabama, California, Florida State, LSU and Tennessee. (In December, he decommitted from Southern Cal, where his father – former Tennessee Volunteers quarterback Tee Martin – is offensive coordinator.)
Rodgers said he's honored to be a part of Clemson's stellar 2017 recruiting class, a group that is already bonding via an online group chat.
"We talk like every day – see how each other's day's going, stuff like that," he said. "It's pretty cool."
Just before committing, Rodgers – who plans to major in communications – cited academics, atmosphere and fan base as key factors in his decision. In a phone conversation with TigerNet, he stressed the university's academic reputation and the football program's high graduation rate, and said the game-day atmosphere in Death Valley is unrivaled.
"The student section – they're turnt, like the whole game," he said. "They're all having fun, jumping up and down the whole game, distracting the other team's offense. That's pretty cool. All the fans are into it, and they're all just one big family."
In his final season with the Irish, Rodgers hopes to bring home another state championship trophy, go undefeated and solidify his role as a team leader.
"I also want them to get better, too," he said of his teammates, "so I can get better."
Matthews said that while his star receiver's leadership qualities are evidenced by his work ethic, he's just scratching the surface in that department.
"Myself and probably everyone else forgets – he's 16 years old. He won't be 17 until September," Matthews said. "So he's extremely young, and really hitting his stride now as an athlete. And I think as he matures, the leadership will also come out. He's a great student – works very hard in the classroom, works extremely hard off the field, on his craft.
"An excellent young man. He comes from a great family – just a 'yes sir, no sir' type kid. And just as good as they get off the field and on the field. … He's an incredible player, and I think he'll have a great career at Clemson."

Upgrade Your Account
Unlock premium boards and exclusive features (e.g. ad-free) by upgrading your account today.
Upgrade Now