| | |
| --- | --- |
| Edwards: ACC needs more than FSU and Clemson for league to be relevant | |
---
| | |
| --- | --- |
| Thursday, December 5, 2013 9:21 AM | |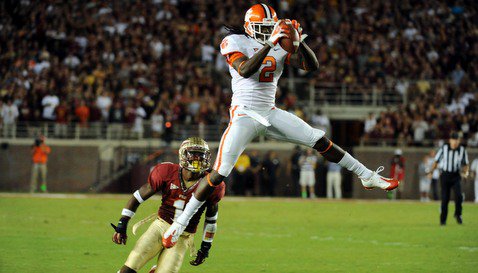 Clemson head coach Dabo Swinney

Dabo Swinney
Head Coach
View Full Profile has said for the past three seasons that all the ACC needs to be once again considered a power football conference is to have one or two teams take the next step and be a national title contender.
The ACC has that this season in Florida St., which will more than likely play for the National Championship should it beat Duke this Saturday in the ACC Championship Game.
However, ESPN's Brad Edwards told a media contingent Wednesday afternoon that it will take more than one or two dominant teams for the ACC to be considered among the nation's elite.
Edwards, an analyst on College GameDay on ESPN Radio, an ESPN college football researcher and one of the top analysts on everything BCS, spoke about the subject on a BCS conference call Wednesday when he was asked if the ACC has indeed closed the gap on its SEC brethren and even the rest of the BCS conferences.
He said that the league has needed a season like the one Florida St. is having, but that there is a clear difference between Florida St. and Clemson, and then Clemson and the rest of the conference.
"This is something the ACC has needed for a long time, which is to have a team in the National Championship mix in the last month," Edwards said. "What would really help the ACC out, though, would be for Duke to be competitive (Saturday). The impression that I have – and I can't speak for everyone nationally – but the impression I get from watching this season is that Florida St. is well above Clemson and that Clemson is well above the rest of the ACC. I would assume that Clemson would easily beat Duke or anyone else that you would put them up against in the conference."
Swinney told the media last spring at the ACC meetings what he thought the conference needed.
"All I know is I've been in this league 11 years now," Swinney said. "We have to produce those few dominant teams. If you look at the SEC, they've had a heck of a run, but there have been only a few of those dominant teams. They've had an undefeated team or a 12-1 team. We have not produced that in our conference.
"A lot of time, people want to spin this perception that this is a basketball conference. It's a great league for athletics. Listen, folks. Yeah, we got a bad run for eight years now. But the SEC had a bad run for a while, too. Somebody's gotta get hot."
That somebody has been Florida St., even though Clemson has spent the majority of the season in the Top 10 in the rankings. However, the conference has just three teams ranked in the Top 25 currently in FSU, Clemson and Duke. Florida St. is a four touchdown favorite over Duke in a game that is considered by many to be the worst of the championship games this weekend, and last season Florida St. played a 6-6 Georgia Tech team in front of thousands of empty seats in Charlotte.
The conference is also a BCS-conference worst 3-13 in BCS bowls, but has 11 teams bowl-eligible after adding Pittsburgh and Syracuse.
Edwards said it would help the perception of the league if it were to produce more than one or two good teams.
"I really don't see the conference as a whole closing the gap right now as much as I see Florida St. becoming an elite team again," he said. "Clearly, it would help if Miami were to become an elite team again and if Clemson were to just remain what it is or if Virginia Tech were to get back to what it used to be. All you need is three or four teams that are legitimate Top 25 year after year that nobody questions if they are good. Then you are back to where the ACC wants to be. But as long as you have just one team that is elite and one team in Clemson that is in discussion for the Top 10 or maybe in that range, then I don't think they are there yet. They are not there yet, but it was definitely a good step as far as the season went."