| | |
| --- | --- |
| Ebo, Yoga and Winning a National Championship | |
---
| | |
| --- | --- |
| Thursday, April 9, 2015 8:12 AM | |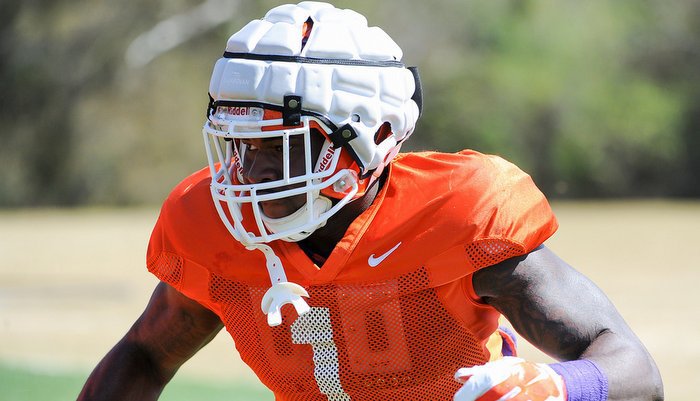 CLEMSON – Ebenezer Ogundeko

Ebenezer Ogundeko
RS So. Defensive End
#1 6-3, 250
Brooklyn, NY
View Full Profile has been patiently waiting in the wings. Watching. Learning. Biding his time behind NFL draft picks and All-Americans, waiting for his time to come.
That time is now.
The rising redshirt sophomore defensive end out of Brooklyn's (NY) Thomas Jefferson High School is one of the more intriguing talents on Clemson's roster, arriving on Clemson's campus in 2013 as a raw bundle of athleticism and talent who had to learn the nuances of big-time football.
He redshirted in 2013 and had just five tackles in 16 snaps over seven games a year ago as he toiled behind the likes of Vic Beasley

Vic Beasley
Defensive End (2010 - 2014)
#3 6-2, 236
Adairsville, GA
View Full Profile , Shaq Lawson

Shaq Lawson
So. Defensive End
#90 6-3, 269
Central, SC
View Full Profile , Corey Crawford

Corey Crawford
Defensive End (2011 - 2014)
#93 6-5, 275
Columbus, GA
View Full Profile and Tavaris Barnes

Tavaris Barnes
Defensive End (2010 - 2014)
#9 6-3, 275
Jacksonville, FL
View Full Profile . Three of those players have headed off to the NFL and Ogundeko entered spring practice knowing he finally has his chance to get on the field after waiting his turn.
"I still have time. But deep down in the bottom of my heart I really wanted to play," Ogundeko told TigerNet Wednesday evening. "I was a little bit impatient but I fell into the same situation I fell into my freshman year before I redshirted. It was the same situation last year, where I just played special teams and every chance I got out there I was appreciative of being out there with Vic and Corey and Shaq and T.B. With all those guys ahead of me. I knew I could always learn from those guys and once they left I would play. It wasn't a major problem."
Now is his time, and while he has certain goals he wants to reach there is one team goal that supersedes all else – winning a national title.
"I feel like now is my time, if I have a great year and continue to progress," he said. "I just want to be a big leader on the defense because the coaches are looking for a leader. I just to want come out here and help my teammates. I want to get double-digit sacks, but my main goal is helping the team get to the National Championship. I could not really care less about the sacks and the numbers as long as we are winning."
His climb to the top started this spring, but he says he isn't where he wants to be. Not yet.
"I didn't progress like I really wanted to this spring," he said. "I wanted to progress more on my lateral movement because I really didn't have time during the spring to work on my yoga. I wanted to work on my strength and my explosiveness. I feel like I could progress even more if I just concentrate on the little things."
Yes, Ogundeko does yoga, something he picked up from quarterback David Olson

David Olson
Quarterback (2014)
#10 6-2, 220
Columbia, SC
View Full Profile last spring.
"I started doing yoga last spring. He (Olson) prompted me a little bit," he said. "During the skills and drills last year in the summertime and before camp he showed me a few stretches and things like that. It helped me in my hips, to help loosen them up. It helps a lot. I feel like I can run better and I feel like I can breathe better, too. And like today, with the heat when we first started, that is a mental thing and yoga helps with that."
As a result of his work in the weight room and a steady diet as well as the yoga, Ogundeko checks in at a solid 6-3 ½, 256 pounds. It's a weight he thinks will be perfect once the season starts.
"I just want to reduce my body fat and stay lean," he said. "I want to try to play light and keep my strength and speed at the same time, like Vic (Beasley) did last year."
Another change for Ogundeko has been the switch from weakside defensive end (think Vic Beasley) to the strongside spot (think Corey Crawford). The change has been helped along by veteran strongside end Kevin Dodd

Kevin Dodd
RS Jr. Defensive End
#98 6-5, 275
Taylors, SC
View Full Profile .
"I have been playing more of the strongside, which is a change. This is really the first time I have played that side since high school," he said. "It is pretty hard for me to rush from there, but Coach (Marion) Hobby is doing a great job with film and helping to teach me. Kevin has been able to help me a lot. He is my older brother - Coach Hobby assigns older brothers - and he has been helping me out and flip my hips better and get my foot towards the quarterback."
All that is left is for the season to arrive and for Ogundeko to take to the Memorial Stadium turf during crunch time. It's something he has been dreaming of doing since he first arrived.
"I could definitely envision myself making a bunch of plays out here and celebrating with my teammates," he said with a smile. "That is something I have always dreamed of, and I want to do it here at Clemson."