| | |
| --- | --- |
| ESPN's Pollack and Palmer break down Clemson-UGA | |
---
| | |
| --- | --- |
| Thursday, August 21, 2014 3:41 PM | |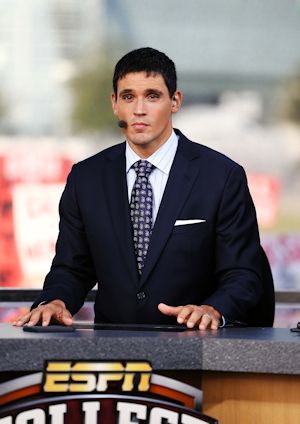 ESPN college football analysts David Pollack and Jesse Palmer spent the early part of Thursday afternoon on a conference call with the national media, and the early part of the call centered on the Clemson and Georgia opener in nine days and Clemson's chances of making a run at the four team playoff.
Pollack thinks that Clemson has the pieces to make a run because of their defense, and both analysts think that Georgia has the edge in the season opener in Sanford Stadium next weekend.
Pollack, however, responded to a question by TigerNet and said he was a big fan of Clemson's defense, especially the front seven.
"I think their defensive line and defensive front seven, you can put them up there with the top 10 in college football and not blink an eye," Pollack said. "You talk about the interior players that they have and also the ability to rush the passer. I think it really covered up for a lot of their flaws that people didn't necessarily get to see. I think it will probably cover up the back end again. They are that good."
Pollack said that he has been impressed with what defensive coordinator Brent Venables

Brent Venables
Def. Coordinator / Linebackers
View Full Profile has done during his time at Clemson.
"I think when he left Oklahoma his defense had kind of slid back a little bit and I think people were curious as to what he would do," Pollack said. "The talent up front is extremely good. I think last year the back half needed a little bit of work and I think it can be better this year, especially the linebacker corps because they are a little more experienced. "
Can Clemson make the four team playoff? Pollack said the Tigers need to prove they can beat Florida St. and South Carolina.
"When I look at the ACC, I think FSU is by far the most talented team, but Clemson is by far the second most talented team and then there's a big old gap between everybody else," he said. "As far as them moving forward and possibly being a sleeper, it all revolves around the quarterback and finding some receivers. Their offensive line will be like it was last year, maybe a little better. I think it's never going to be super great. They are going to have to find skill positions to replace Sammy Watkins

Sammy Watkins
Wide Receiver (2011 - 2013)
#2 6-1, 205
Fort Myers, FL
View Full Profile .
"I remember doing the game last year and watching Mike Williams

Mike Williams
So. Wide Receiver
#7 6-5, 208
Vance, SC
View Full Profile - a freshman at that time - and thinking, 'Wow, he's pretty sick, too.' The way they've recruited, they'll be able to fill those needs. I think to see them early against Georgia will be a good barometer for them to see how the quarterback plays. I want to see Clemson beat South Carolina or Florida State because that's the only two teams that have beaten them the last two years otherwise Clemson has been beating everybody else."
The Tigers have one of the nation's most talented young quarterbacks in Deshaun Watson

Deshaun Watson
Fr. Quarterback
#4 6-3, 204
Gainesville, GA
View Full Profile , and Pollack said he knows all about Watson's talent.
"The quarterback Watson from the Gainesville area has been running this offense since he was 14 or 15 years old. I expect we'll see him because he's one of the best dual-threat athletes at the quarterback position that you'll see - elusive, quick, he's a gamer," Pollack said. "I have a buddy that coaches high school football in Georgia and he said that he's the best player he's ever seen or coached against. I expect him and Chad Morris

Chad Morris
Offensive Coordinator / QBs
View Full Profile ' offense to be a little bit better than you think. I think he'll play but Stoudt will be the guy running the offense. I think Clemson has a chance to win a bunch of games. "
In regards to the opener, Palmer said that he thinks Georgia has the advantage.
"I think this year I'd probably give the edge early to Georgia in that game. Obviously, that game being at home is a big deal for Georgia," he said. "There's a lot of motivation considering what happened last year in that game, too. I think with two teams losing quarterbacks, I think Georgia is in a better spot with Hutson Mason - his experience as a fifth year senior and understanding of the system. The fact that he got to play in games last year and played well is huge. Obviously, he's got tons of talent around him at wide receiver and at running back and at tight end with Jay Rome. Defensively, I know that everyone is very curious to see this defense under new defensive coordinator Jeremy Pruitt, but there are a lot of playmakers. It might be the best linebacker group in the entire country. I think people are certainly anxious to see that."
Palmer said that he wants to see what Stoudt can do in Chad Morris' system.
"I think so much of that is playing within the system. Chad Morris has a very quarterback-friendly system - understanding where to go with the football and being the point guard and facilitator and letting playmakers make plays for you," Palmer said. "It's a very different looking offense without some of the explosive firepower they had on the outside - Sammy Watkins and Martavis Bryant

Martavis Bryant
Wide Receiver (2011 - 2013)
#1 6-5, 200
Calhoun Falls, SC
View Full Profile was a guy that really emerged the second half of the season. With his size, he was guy that had a size and speed combination that really changed the game for that offense. A lot of new pieces on that side of the ball. Anytime you are replacing a legend - a guy in Tajh Boyd

Tajh Boyd
Quarterback (2009 - 2013)
#10 6-1, 225
Hampton, VA
View Full Profile who set the ACC standard with a lot of his records, it's easy for a quarterback to try to do too much. I think really for Cole Stoudt

Cole Stoudt
Sr. Quarterback
#18 6-4, 231
Dublin, OH
View Full Profile the key isn't to try to come out and throw for 500 yards and five touchdowns every game. I think you play within the system."
If the Tigers are to win at Georgia, Palmer says that Stoudt has to take care of the football.
"At Clemson, the defense has gotten progressively better under Brent Venables. I think they'll take another step," he said. "There are some suspensions for that Georgia game on the defense which is going to hurt. Coming out in week one and not trying to set the world on fire in a hostile environment, early just play within the system. If you try to be a hero early in that game, you might turn the ball over a couple of times and all of a sudden the game gets out of reach and out of control and you get down early. I think that's the worst thing that could happen."