| | |
| --- | --- |
| ESPN's Edwards thinks both Clemson and Bama have Orange Bowl ticket concerns | |
---
| | |
| --- | --- |
| Wednesday, December 4, 2013 2:49 PM | |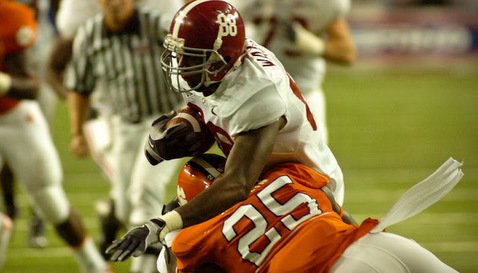 Miami in early January against the defending national champion Alabama Crimson Tide is beginning to look more and more like a reality for the Clemson football program.
Brad Edwards, an analyst on College GameDay on ESPN Radio, an ESPN college football researcher and one of the top analysts on everything BCS told the media during a conference call early Wednesday afternoon that he believes a Tiger-Tide matchup in the January 3rd Orange Bowl is still the most likely scenario.
Clemson is currently ranked 13th in the BCS rankings and needs to stay in the top 14 in order to be considered for a BCS bowl game. Providing that Florida St. beats Duke this weekend in the ACC Championship Game, the Seminoles will more than likely play for the National Championship, and the Orange Bowl would have the option of picking Clemson as the ACC's replacement in the game.
Edwards told the media that he doesn't see Clemson falling out of the top 14.
"I don't see a likely scenario where Clemson would fall out of top 14 which would prevent the Orange from being able to take them," Edwards said. "I guess if Northern Illinois and Oklahoma and Arizona St. win and where no one in front of them has fallen past them. Even Michigan St. would have to win. There is a pretty lengthy series of results that would have to be strung together to make Clemson fall out of the top 14."
However, the Orange Bowl has indicated it is worried about ticket sales if Clemson were to be picked, but Edwards said he thinks the bowl's relationship with the ACC would trump those concerns.
"As to whether the Orange would pass them over if they were available, I think it really comes down to the relationship that the ACC has with the Orange Bowl," he said. "It's not the just the one that has existed for many years now in the BCS, but the fact they also have the agreement in place for next year for the playoffs for the ACC champ to go there. It's hard for me to imagine the Orange Bowl stiffing the ACC there and going with someone else if Clemson is available."
Edwards said he thinks that some of the concerns for ticket sales could be allayed by a strong matchup.
"I understand they are a little concerned over ticket sales, and I think maybe that comes into play when they choose an opponent for Clemson. If they are a little worried about the number of people that Clemson may bring, then maybe the second choice number of tickets sold could be a factor. But I would really be surprised to see the Orange Bowl pass over a Clemson team that is eligible."
Clemson's losses to South Carolina and Florida St. are a major component of the Orange Bowl's worry about Clemson ticket sales, but Alabama's loss to Auburn last week would also be a concern.
"You think about that fan base and how excited they were after beating Georgia to open the season," Edwards said. "At that point they basically had two games left on their schedule in Florida St. and South Carolina, and they lost both of them. I can understand the Clemson fan base being deflated after that, and I think that is what the Orange Bowl is worried about, that Clemson wouldn't travel as well as they had hoped. So I think they need to look for someone to sell tickets.
"There is the same concern for Alabama. Their fans traveled down to Miami – not for this game but to that stadium for the National Championship game last year, so how many of them are going to want to come back for a game that really means nothing compared to what they were down there for a year ago. Selling tickets is a huge bottom line for these bowl games."