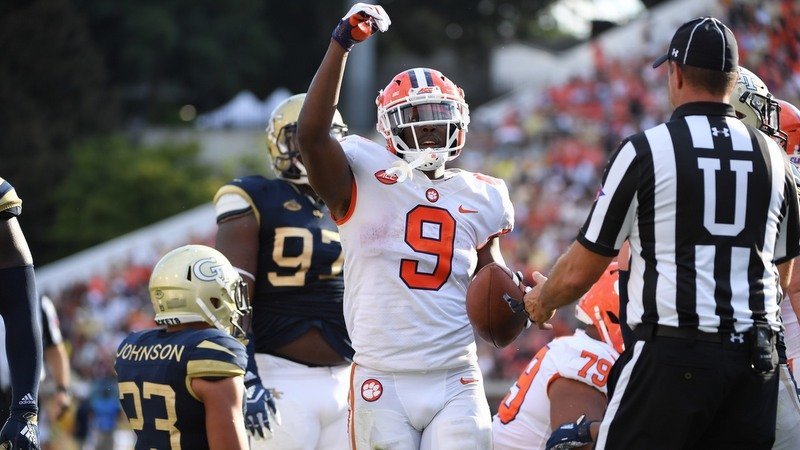 | | |
| --- | --- |
| ESPN analyst says Tigers have to avoid being overconfident against Georgia Tech | |
---
The key for Clemson against Georgia Tech? Be themselves and let everything else take care of itself.
ACC Network analysts Jon Beason and Tim Hasselbeck spoke with media Monday morning previewing ACC football ahead of week one. Hasselbeck will serve as the game analyst for Georgia Tech at Clemson on Thursday, Aug. 29 (8 p.m. ET, ACC Network) and Virginia at Pitt on Saturday, Aug. 31 (7:30 p.m. ET, ACC Network), while Beason will anchor All ACC Monday and Tuesday (8 p.m. ET, ACC Network).
TigerNet asked Beason and Hasselbeck the keys to the game, and they had similar answers.
"I think for Clemson you are talking about being nearly a 40-point favorite. If I'm Dabo Swinney, I'm going to put a lot of pressure on them to, what we would call in the NFL to be a pro, to be a professional," Beason said. "To realize that it does not matter who you're playing, it's a hundred yards of green grass and you're supposed to go out and play your best and execute the scheme and play with enough passion and energy that exudes, I'm a champion, I'm the best."
Beason went on to say that Clemson has to play with focus against an outmatched opponent.
"I think that that's the key for Clemson is to make sure their guys are focused and they don't feel like this is a glorified warmup game," Beason said. "You're playing an ACC opponent, you're coming off a historic season, everyone's telling you how great you are, and you're talking about kids feeling good about themselves. That sense of entitlement and being somewhat overconfident could be disastrous, even though you're playing against a Georgia Tech where no one thinks they have a chance in this.
"So that would probably be my number one key for Clemson is just to realize that it is a big platform, you're playing prime time, you have to go out and be who you are to make sure that you win this football game."
Hasselbeck says Clemson only has to worry about Clemson.
"There's so much change at Georgia Tech in terms of scheme and personnel, in terms of where guys will be, the key for Clemson is to not worry about what Georgia Tech is doing," he said. "Clemson has far superior talent. If they just do the things that -- I mean this could just be, it doesn't matter the opponent, I guess, is kind of the way I would put it. They just need to do what they do. They can stay in their base stuff offensively, just make sure that they are spreading the ball to their playmakers. And I think that they will end up being fine because there will be some surprises, I'm anticipating, from Georgia Tech in terms of where they have certain players.
"And there's going to be offensive linemen that are now defensive linemen. There are going to be guys that were quarterbacks that are now playing receiver or running back. And rather than getting bogged down in the scheme and all of that stuff, I think the plan for Clemson is just that, to trust in the skills that they have there and how they use them."
As a former quarterback, Hasselbeck can't wait to see Clemson quarterback Trevor Lawrence in person.
"And as it relates to Trevor and seeing him in person, I'm excited to see him in person," Hasselbeck said. "There's so much you can tell by a quarterback when you watch him on film, whether it's just the decision making and even arm strength at times can really come across when on you're watching a coach's tape of a player. But seeing somebody in person, seeing the way the ball kind of jumps out of a guy's hand, seeing how he handles the environment that he is in, I think is as important as any of the measurable tools that a quarterback has.
"So, yeah, I'm really looking forward to seeing him play. Obviously, he's kind of met expectations a year ago and kind of not really expecting things to be much different."

Upgrade Your Account
Unlock premium boards and exclusive features (e.g. ad-free) by upgrading your account today.
Upgrade Now