| | |
| --- | --- |
| ESPN analyst breaks down Clemson/UNC, Watson's Heisman chances | |
---
| | |
| --- | --- |
| Friday, December 4, 2015 12:56 PM | |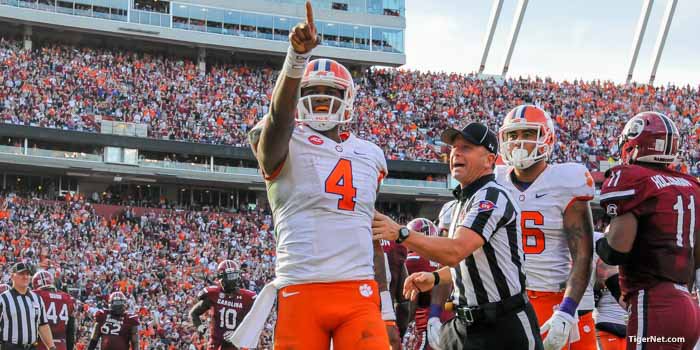 Saturday's ACC Championship Game will be all about efficiency, and ESPN College Football analyst Robert Smith thinks North Carolina will have to play its best game of the season if they want to upset No. 1 Clemson.
The top-ranked Tigers (12-0) will take on the Tar Heels (11-1) at 8:14 p.m. Saturday night in Charlotte's Bank of America Stadium in a contest that many in the national media think favors North Carolina.
Smith, who played at Ohio St. and now serves as one of the network's top analysts, thinks the game belongs in the hands of the Clemson offense and quarterback Deshaun Watson.
"I think it's really about offensive efficiency for them. Because for all of the talk about the talk about the North Carolina defense - and from a numbers standpoint they've been better this year - but when you look at efficiency, and you look at opposing offenses the defense actually hasn't been that great," Smith told TigerNet Thursday. "We are actually going to be doing a segment on that tomorrow on SportsCenter. When you go against an offense with so many weapons like North Carolina, they are going to score some points. For Clemson, it's really about getting their offense humming, getting the run game going and controlling a little bit of clock."
Smith said the Heels will have to be at the top of their game if they want to win.
"The offense has been efficient all year, and it has to continue to be efficient for North Carolina to have a chance in this game," he said. "It sounds stupid because it's so obvious, but you can't lose the turnover battle in a game like this. And defensively, they have to find a way to come up with some big stops against Clemson. The numbers are better than a year ago. But, they will have to be sound. They will have to play their best game of the year, hands down."
The Tigers will be led by Watson, who has emerged as one of the nation's best players. TigerNet asked Smith if Watson deserved to be in New York as one of this year's Heisman finalists, and he said yes and that Watson will be a frontrunner next season.
"Absolutely. There is no question about it in my mind. He's gotten so much more comfortable. I've been through the ACL recovery process, and I know it takes a little bit of time to get comfortable with the repair. The muscles are adjusting and getting stronger," Smith said. "He has gotten so much better running the ball as the season has gone on. That adds a completely different dimension to his game. He has been so efficient in throwing the ball as well. They do a good job in that offense of mixing up looks and distributing the ball to a lot of different people. He does a tremendous job of running the offense and running the ball himself. There is no question in my mind he belongs there. As for next year, I think he will be a front-runner. Christian McCaffrey at Stanford will be in the mix as well. But you have to think as well as the team has been performing all year long and getting into the playoff and with his name circulating the way it is, he would be one of the frontrunners heading into next year."
OTHER CLEMSON NOTES FROM THE CALL
On Dabo Swinney and the job he has done at Clemson
"I think he's done a great job. I've enjoyed watching him. He's an entertaining guy, obviously. Watching some of his press conferences over the years and getting past all of the Clemsoning nonsense has been fun to watch. Of course, it starts with reenergizing. You do an excellent job of recruiting and evaluating guys and then developing them once they get there. Of course, having great assistants certainly helps. The problem with that is that when you get great assistants they get some publicity nationally and then they are going to depart. You have to be able to recruit players, but you also have to recruit coaches. Dabo seems like the kind of guy that really does a great job of selling his program and selling not just who they are but who they want to be and who they want to continue to be. I think that excites other coaches as well."
On Brent Venables not being mentioned for a lot of job openings
"Part of that may be just what his own aspirations are. I think he likes being a defensive coach. His name will certainly come up, but that may be some of what is happening. Some guys are just focused on one side of the ball and may not want to run a program or may not want to do it at that particular point. And some of it is timing - just what jobs are available."