| | |
| --- | --- |
| "Dysfunctional" defense has Venables smiling | |
---
| | |
| --- | --- |
| Sunday, October 26, 2014 10:01 AM | |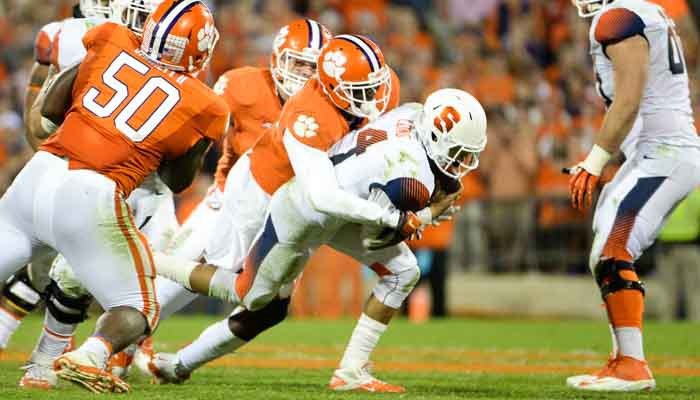 CLEMSON – Clemson's defense fought with each other during the game, and members of the defense were arguing in the locker room after the game.
Defensive coordinator Brent Venables

Brent Venables
Def. Coordinator / Linebackers
View Full Profile even went as far as to call his group "dysfunctional."
Venables was all smiles after the game – as he should be after seeing his group give up just 170 total yards – and said the defenders were playfully arguing about which player forced a second fumble. In other words, the defense is having fun and the fun is in the winning.
Venables said some early Syracuse success had his group's attention, and the first dysfunctional event of the night popped up.
"It was really more what Syracuse was doing to us. Who's supposed to be pressing and who's not? Getting after each other a little bit," Venables said. "We got off the field so let me handle that and get mad at all that. You guys can stick together and now you get on and you get off and shut up. It was really more of that. Whether they think they should be working us or not, they've got good players. Frustration was more internally. That's not anything the offense is doing. We were working through our dysfunctional family issues on the defensive side."
The defense allowed just two field goals to the Orange and Venables said he was pleased with the way the defense performed.
"Obviously, I loved how our guys played. Great effort, good intensity, just took it one play, one series at a time. We were a little bit frustrated there," he said. "I could tell on the sideline, cause they were having to fight a little bit more than they wanted. Syracuse, they came here to win. I tried to explain it: "Hey guys, look, it's like last week. We have to worry about us and control what we can control, and if we have to go out there and play 100 snaps, then we have to do that." You can't make excuses.
"This team, we've got to come out and perform, and I loved responding after that second drive they kind of worked us a little bit. Everybody comes in with a new little package here or there, does something a little different than what you were planning for, and you fight through that and adjust and those kind of things, but I loved the character they showed in a tight ball game. That second half, I thought we really complimented one another and played the game not making mistakes but still staying aggressive. The fourth quarter, I really thought the line of scrimmage, we really took it over on both sides of the ball. Now those guys are in there (locker room) having fun and arguing about who forced a fumble."
The Tigers set the tone early, forcing a 3-and-out on the first Syracuse drive, keeping alive a streak that started in the opener at Georgia.
"You want to come out and establish yourself right away. I think it's huge. At some point, all great things must come to an end. It'll happen, but again, I hope our guys just stay focused," Venables said. "We can't stop them every single play, contrary to popular belief, but it allows you to get into a rhythm, it puts them on their heels a little bit. This is a rhythm game, whether you're on offense or defense or a play-caller, and you come out and they've got their openers. We don't have a script on defense. We have to react to what they do to a certain degree, so I'm sure they put their plays together, so for us to come out and establish ourselves like that, I do think it helps confidence, getting into a rhythm and creating field position, too."
The offense had four turnovers – putting the defense in bad field position more than once – but ran the last eight minutes off the clock, allowing the defense to watch the end of the game from the sidelines.
"I loved that last drive. It was a thing of beauty. Coach Morris and those guys have fought through so much adversity with personnel issues and injuries," Venables said. "Nothing is easy for any of us right now but those guys and Cole did awesome. Cole (Stoudt) is my MVP. Finding a way to win whether its 50-51 which is miserable for a guy like me or that's 16-6. We've got a chance that we're getting a rhythm and having that chemistry the right way and a lot of confidence in each other. We understand ourselves as much as anything."
Senior linebacker Stephone Anthony

Stephone Anthony
Sr. Linebacker
#42 6-2, 244
Polkton, NC
View Full Profile had a big game with six tackles, a forced fumble and an interception.
"He's had a great senior year up to this point. Been a fabulous leader, been super consistent and has done everything you'd want him to do," Venables said. "Performed at a high level, and he's - as a coach - he's in that mode right now where he's a great extension of you as a coach on the sideline. Unfortunately, guys like Kellen Jones

Kellen Jones
RS Jr. Linebacker
#52 6-1, 233
Houston, TX
View Full Profile and B.J. (Goodson), those guys are definitely good enough to play, and I would have loved to gotten them in. It's not that I don't trust them, I've just got a lot of faith in Stephone as such that he didn't need a break. He was in a good rhythm as well. There's a lot to be said for that, but I wish I could have gotten those other guys in there some as well because they're good enough."
The Tigers now have 12 days to prepare for Wake Forest, and Venables was asked if he would rather keep playing considering how well his dysfunctional group is playing.
His answer was no.
"They do, even Steph. He's not quite as fast as he was early against, say, like Florida State," Venables said. "All of them need it. Everything has its time, and there's a bunch of teams taking those breaks right now. Wake (Forest) is, as well, but I think it actually comes at a great time. We come back playing that Thursday night, then after that it's a three-game season."