| | |
| --- | --- |
| Down Under Tigers: Aussies make trek to see Clemson play | |
---
| | |
| --- | --- |
| Tuesday, October 20, 2015 5:48 PM | |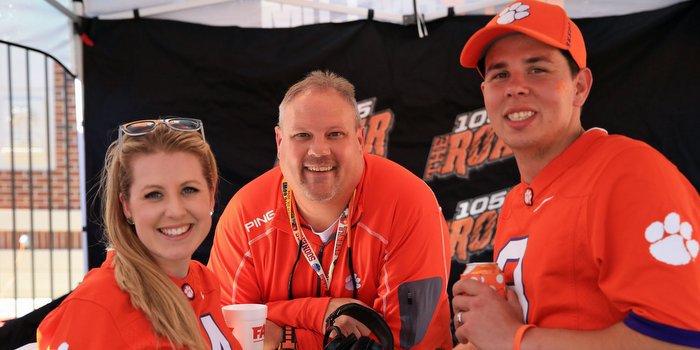 CLEMSON – Seven times each football season, Clemson fans from far and wide gather in Death Valley for a home game, using each and every opportunity to see their Tigers play. Some come from the Upstate, others from the lower part of the state and some from out of state.
Last weekend, one couple made the trek from Australia.
Jake and Erin Flannery live in Newcastle in New South Wales, Australia. Clemson isn't just around the corner, or a drive of a few hours. Heck, not only is it not in the same time zone as their home in Australia, it isn't even on the same continent.
The trip was set up by Erin, who wanted her husband to see his favorite college football team in person. So how did a person who grew up in Australia – surrounded by soccer and rugby – become a fan of the Clemson program?
It started with the Wests Tigers, an Australian professional rugby league football club based in Sydney's Inner West. Jake started watching American football and began looking for a team named the Tigers. One in particular caught his eye, and it was the night game against Georgia and the Tigers trek around the stadium that also caught his heart.
"When I was 17, I started getting introduced to Clemson football," Jake said last week before the game. "American football became my favorite sport. I have been following for a numerous amount of years now. When they played Georgia back in 2013 – everything I saw with running down the hill and since then I've been obsessed with it."
It didn't take Erin long to realize she needed to make sure her husband got to see the Tigers - and iconic Death Valley – in person.
"It might be early in the morning, but he gets up to watch all the games," Erin said. "He puts on his jersey and sets his cups in front of the TV and he has his t-shirts out. Everyone else is sleeping in the house. But he said he really wanted to go so we planned our holiday around this game. Our total time here in the states is a month, so we leave on the 29th of October, and I had to work everything back from this game. We had to condense some things so we could make it here."
The couple landed in Los Angeles, and Erin's trip to Disneyland in Anaheim was cut short because Jake wanted to watch the Clemson home game verus Notre Dame.
"He was in his jersey and he was upset all day because he was afraid he might miss it," Erin said. "And then he got to see it, and he was carrying on and excited when Clemson won. We had to change the trip a little, but it was a good night in the hotel room. "
Jake agreed.
"I was in my jersey watching the game in the hotel. I was cheering all throughout the game, but the second half wasn't quite as strong and I was getting a little angry," he said with a laugh. "But this year they've proven they can play tough, especially at Louisville."
The trip to California was followed by a stopover in New Orleans, and then they made their way to Clemson. The couple was touring Clemson's campus on Friday when Jake thought he recognized one of the students.
"We were walking around the campus just to get a good feel for Clemson, and we were taking a picture when out comes Deshaun Watson

Deshaun Watson
So. Quarterback
#4 6-2, 207
Gainesville, GA
View Full Profile ," Erin said. "I was just being a tourist and taking photos and Jake is as white as a ghost. And then he's sprinting – and you have to understand that Jake is a shy person – and he catches up and says, 'Excuse me mate, are you Deshaun Watson?' And he said yes and we got the photo and it was amazing."
Jake and Erin made an appearance on the Tiger PreGame Show Saturday prior to the game, and then took a trip over to the stadium. He walked into Death Valley and admitted he was almost overcome with emotion.
"I have been a fan for years. This is kind of surreal to be here," Jake said before turning away.
The Tigers made the trip worthwhile with a 34-17 victory over Boston College, and Erin said seeing Watson complete a long touchdown pass to Artavis Scott

Artavis Scott
So. Wide Receiver
#3 5-10, 191
Oldsmar, FL
View Full Profile was icing on the cake.
"The game was like nothing we have ever experienced before. The Clemson family made us feel so welcome and it was very special to be a part of something so amazing," she said. "The game itself was electric, the running down the hill and the performance of the marching band were amazing to actually see in person. The whole game was pure entertainment and there was never a dull moment. Jake's favorite part was Watson's pass to Scott and trying to up the decibel level of Death Valley - it was so loud in there!"
The couple will return home in a little over a week, but are already planning on making a return trip to Death Valley, because that's what Clemson fans do, no matter the distance.
"We are forever grateful for the kindness and support of each and every one of our new Clemson family," she said. "The Tigerama, tailgating and the game (including Jake getting to go on the field!) have made our experience better than we ever imagined.We can't wait to come back as soon as we can!"