---
| | |
| --- | --- |
| Friday, October 3, 2014 9:30 PM | |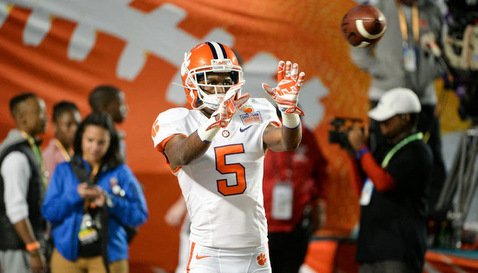 CLEMSON – Down to his last strike, Germone Hopper

Germone Hopper
RS So. Wide Receiver
#5 6-0, 175
Charlotte, NC
View Full Profile had a decision to make. Did he have what it takes to make it on Dabo Swinney

Dabo Swinney
Head Coach
View Full Profile 's football team at Clemson or was he going to let a lack of maturity and focus win out and give up on his dream of being a member of the Clemson football team?
Those were the choices that the redshirt sophomore faced when Swinney suspended him in March for the remainder or spring practice, making Hopper spend the time that he would be on the football field with tutors from Vickery Hall.
For many it would have taken hours or days for the realization of what was happening to sink in, but Hopper told the media earlier this week that he instantly realized that everything he had worked so hard for was quickly slipping way and that a change was necessary.
"As soon as he said it, it hit me right then that I had to get on track and get right with coaches," Hopper said earlier this week. "I knew that I wanted to be out there on the field and I knew that I could help them. I just felt like I let them down. As soon as he said it, I knew I had to be on the straight and narrow."
Hopper said that he thinks he was down to his last strike with Swinney and looking back on it the punishment was exactly what he needed to move his life – and football career – in the right direction.
"I think so. Coach Swinney told me that if I didn't get it together that I might not be on the team and I took that very seriously," Hopper said. "I'm more focused now. I've matured a lot and I understand what it takes to be on the right path and earn the trust of my coaches. I understand what they expect from me now."
The Charlotte native even went as far as to thank Swinney for making him learn a difficult life lesson.
"When I got suspended from the spring, I just thanked Coach Swinney for that because it was an eye opener for me," Hopper said. "I knew that I had to step up to the plate and step up to my responsibilities. Coach did a good job giving me the chance to earn the coaches' trust back and I think I did a very good job with that. That was the turning point for me."
After a tumultuous off-season, Hopper saw his first extensive action last Saturday against North Carolina, catching three passes for 139 yards and two touchdowns.
His performance against the Tar Heels only reinforced what he already knew – that he can be an important part in Clemson's offense.
"It was a great experience," Hopper said. "Coach Morris told me before the game that I was going to be a heavy part of the offense and I prepared in my head to do what I had to do. It definitely boosts my confidence and now I'm going out and playing at a high level. I don't expect anything but that now and they don't either. Every time I step out there now, I'm going to have a high confidence and just go put points on the board for my offense and try to help them in the best way possible."
And off the field, Hopper finally realizes what it means to be a Clemson Tiger.
"It was great. My main thing is that the reason I came to Clemson is because it's a family environment and I'm seeing that now," Hopper said. "For me to be a big help to this offense, it was great seeing where I came from. The stuff that I've been through here and for me to step up the way that I did, it was just great. Saturday night, coaches were coming up to me telling me that it was good to see that I'm doing well now and that they trust me. It was unbelievable Saturday."