| | |
| --- | --- |
| Dorian O'Daniel, young linebackers shine against Tech | |
---
| | |
| --- | --- |
| Wednesday, November 19, 2014 9:36 AM | |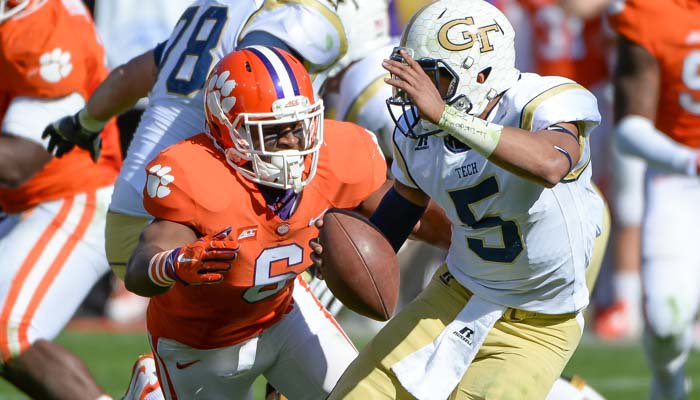 CLEMSON – Saturday's loss at Georgia Tech was heartbreaking, but it was also a glimpse into the future for the Clemson defense.
Brent Venables

Brent Venables
Def. Coordinator / Linebackers
View Full Profile ' group is senior-laden and experienced, and while many may worry that the defense will take a step back next season while trying to regroup from so many losses Clemson's defensive coordinator liked what he saw out of several younger players who were pressed into action against the Yellow Jackets.
One of the most surprising players to see action was freshman linebacker Dorian O'Daniel out of Olney, Maryland. O'Daniel was pressed into duty after an injury to starter B.J. Goodson

B.J. Goodson
RS Jr. Linebacker
#44 6-1, 240
Lamar, SC
View Full Profile and wound up playing 41 snaps after logging just 20 total snaps in the season's previous nine games. O'Daniel tallied 10 tackles in those 41 snaps.
"The moment wasn't too big for him. I was very pleased. He was very fearless," Venables said of O'Daniel. "Again, I always point out the mistakes because I have to be that guy. But he did really, really well. That is a game that challenges you in a lot of different ways and a lot happens like that (snaps his fingers) and you have to read it the correct way. And when you don't bad things can happen. And for the most part he did really well that way. Physically he tackled well. Physically he blitzed well. He was super-engaged and was able to follow along to some adjustments mid-stream. They had some success coming out in the third quarter and we changed some things up and that's not easy to do, particularly with young guys. But he was on point, so I am super pleased with both he and B.J. They split the time there."
Goodson wound up playing 33 snaps and Ben Boulware

Ben Boulware
So. Outside Linebacker
#10 5-11, 235
Anderson, SC
View Full Profile logged 27 as Venables worked his younger linebackers into the rotation. Add in the freshmen who redshirted this season – Korie Rogers

Korie Rogers
Fr. Outside Linebacker
#43 6-2, 242
Buford, GA
View Full Profile , Chris Register

Chris Register
Fr. Outside Linebacker
#45 6-4, 242
Greensboro, NC
View Full Profile and Kendall Joseph

Kendall Joseph
Fr. Linebacker
#34 5-11, 230
Belton, SC
View Full Profile - and Venables said that he likes what the future holds at the position.
"I preach to all of our guys as you break down practice every day, and I keep pointing to those guys and say, 'Look at these guys. They act like grown men.' It's how they about go about their business - the accountability, the discipline and the maturity," Venables said. "I like how they are so coachable and tough-minded. They are reliable and they are super consistent and very humble and just great, great leaders. And when you have that in your group and you try and nourish that whole concept as a coach then it's easy for your young guys to buy in.
"This next group of guys - B.J. Goodson and Ben Boulware and Kellen Jones

Kellen Jones
RS Jr. Linebacker
#52 6-1, 233
Houston, TX
View Full Profile and with Travis Blanks

Travis Blanks
Jr. Safety
#11 6-0, 210
Tallahassee, FL
View Full Profile coming back - it will be a lot easier for these new leaders to emerge and the young guys to follows suit. I love our group. I love it. Now, I am going to miss those other guys big time, but that happens every year. You are going to lose guys but hopefully you are doing well in developing and recruiting and those kinds of things. But we are going to have a very good group, and we have some guys coming in next semester as well and they are going to be just what the doctor ordered just in regards to the mindset, work ethic and ability. No prima donnas in that group whatsoever."