| | |
| --- | --- |
| "Don't get caught." Kelly Bryant earns more playing time | |
---
| | |
| --- | --- |
| Tuesday, October 27, 2015 4:06 PM | |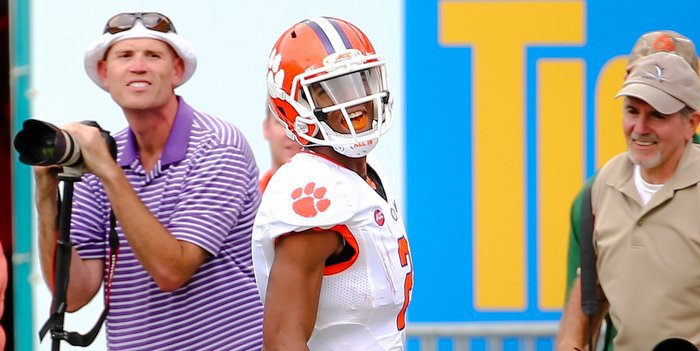 CLEMSON – The game is slowing down for Kelly Bryant, and the freshman from Wren will only get better as he sees more snaps.
Saturday's 58-0 victory over Miami was Bryant's first time to really shine on the big stage – he entered the game late in the third quarter and had touchdown runs of 59 and 10 yards. He was only 1-of-1 passing for four yards, but the Tigers elected to keep the ball on the ground with a commanding lead.
Following the game, head coach Dabo Swinney said that Bryant – who entered the game listed third on the depth chart behind starter Deshaun Watson and backup Nick Schuessler – had earned the right to compete for the second-team job.
That was echoed by co-offensive coordinator Tony Elliott Monday, and Bryant told the media Tuesday that he and Schuessler have been splitting the second-team reps for the last few weeks.
"We've been splitting the reps with each other. We've been getting the same amount of reps, so that's pretty good," Bryant said at the WestZone. "I've been learning from Deshaun and how he goes about his preparation, and then learning from Nick and how he goes about his preparation. It's been good getting more reps and I'm just taking advantage of my reps."
Bryant said earning extended playing time in the blowout over the Hurricanes was a learning experience.
"I learned the game can slow down for you if you just relax, slow down, have fun and enjoy the moment and trust your teammates and coaches," he said. "Just go out and play and quit thinking. There were a couple of times I pulled it when I could have thrown it out there, and also with my running, rather than getting east or west I can run north and south and not lose a couple of yards."
Bryant was asked what was going through his mind during his 59-yard jaunt into the endzone, and he laughed and said there was only one thing on his mind.
"Don't get caught," Bryant said. "I was following my tight end and I saw the center and the guard open up the hole and I was thinking I had to try and make it through the hole and not get caught. I saw the endzone and I just ran til I couldn't run anymore."
Bryant said that both Watson and Schuessler have rendered assistance as he deals with the learning curve, a process that was accelerated after he arrived on campus in January.
"Having Deshaun and Nick in front of me, that was a good experience," Bryant said. "I really wasn't too caught up with the redshirt. I know the coaches said don't worry about that, leave that in their hands, just prepare and practice and control what I can control. Coming in during the spring helped me tremendously in getting a grasp on the offense and knowing how the coaches want everything ran. I am happy I came in during the spring and not the summer. It would have been a quick turnaround."
The result? A quarterback who is starting to earn playing time.
"I'm starting to understand what it all takes to be a quarterback," Bryant said. "Not just running and throwing, but knowing what the offensive line and running backs are doing, how many steps the receivers are going to take, knowing my best matchups out there, and the little things most people don't think about that goes into being a quarterback. Just preparing better and watching more film."