---
| | |
| --- | --- |
| Sunday, October 11, 2015 8:01 AM | |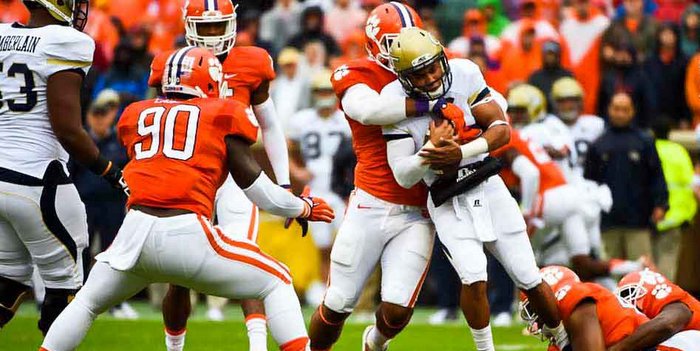 CLEMSON - The Clemson defense may not be on the level of the 1985 Chicago Bears, but the effort they put on the field Saturday night was one of pure domination.
In a total team effort, Clemson defeated Georgia Tech 43-24 Saturday night in Death Valley, but it was the ability of the defense in shutting down Paul Johnson's triple option offense that was the most impressive.
The Yellow Jackets amassed just 71 yards rushing on 42 carries – the lowest total of the Paul Johnson era – and 159 yards passing – 96 of which came on two long touchdown passes. The 71 yards was also the second-lowest output all time for a Johnson team - UConn held Navy to just 35 yards on 29 carries in a 38-0 win over the Midshipmen on Nov. 16th of 2002, Johnson's first year at Annapolis.
Despite dominating the line of scrimmage, stuffing the run and not allowing the triple option to ever gain any traction, defensive coordinator Brent Venables

Brent Venables
Def. Coordinator / Linebackers
View Full Profile isn't usually one to praise his defense in front of the media; however, credit and praise were much deserved and given during post-game interviews.
"Everything else you could ask for and wanted - you say, 'If you do X, Y, and Z then we're not only going to win the game, we're going to dominate.' - they did," Venables said of his defense. "You hope first and foremost that you just find a way to win and that you're good enough to win, and they went well beyond that today. That was a lot of fun to watch. I don't care who they're missing or where they're lacking. It doesn't have anything to do with that. I watch positioning and I watch discipline and I watched it for 60 minutes. You're never going to play that perfect game. We have great respect for Coach Paul Johnson and that quarterback we just played. I'm the first one to remain humble and keep things in perspective. We're not the '85 Bears, and I'm not proclaiming that or beating my chest, but our guys need the recognition when they deserve it. They deserve it today."
The 71 yards rushing on 42 carries – a 1.7 yards per carry clip – is just one part of the performance that Venables is proud of.
"Well, good for us. Yeah, I just watched how we played," Venables said. "Stats, I haven't looked at them. I just watched how we played. I just knew there was a lot of anxiety all week, all the way through the night. Ask my wife. But you feel very good. That's a really good performance, and we continue to have answers, continue to talk the stresses of playing a cat-and-mouse game, and that was fun to be a part of."
Venables said the defensive performance is less about scheme or X's and O's and more about the players and the high level of execution.
"In some ways, yes. In some ways, no. We did a few things schematically a little bit different. Hopefully they don't open their mouths too much (about the changes on defense)," Venables said. "We didn't reinvent the wheel or do something that nobody else has ever done, by any stretch. What we did, we just executed it well, with precision, with discipline and being physical and staying on our feet. So, regardless of the scheme, it requires those other elements.
"That has to be paramount to what you're doing — staying on your feet and playing with discipline and playing with precision. If they're a little bit off and you're precise, you have a chance to be really disruptive and not allow them to get into a flow like you saw today. And so, they don't have the same skill at some positions, and I understand that, but still, that was more about us than anything, we think."
While some will say Georgia Tech is an injury-depleted team and missing its best players, Venables said the defensive performance hinged on his unit's ability to play with great discipline.
I was so pleased with our guys and our coaches and our preparation. What a performance," he said. "Regardless of whatever Georgia Tech's own issues are, the preparation that went in and their ability to execute - really control the line of scrimmage from the onset, positioning was terrific. There was just great discipline. I'm starting to feel like I'm watching the defense come together. They're a real cohesive unit and have some chemistry to us. I just marveled at the willingness to play with discipline and trust and the physicality. What a really strong performance."
Not only is Venables not ready to anoint the 2015 Clemson defense the '85 Bears, he's not even ready to say they're as good as the 2014 unit. However, he likes what he sees so far and said the mark of a good defense and team is improvement.
"That group last year was really, really good. This group this year has a chance to be really, really good," he said. "Through five games, there have been some excellent moments. We're really clicking on all cylinders, but we've got a variety of formidable challenges that lie ahead in the future. The best units, the best players and the best teams - that doesn't mean you don't stub your toe along the way, but you continually get better over the long haul in whatever particular area. I blew the coverage there on the deep one late. I tried to be too perfect and have them check and that wasn't the exact situation. That's totally on me. I asked them to check something that we didn't rep one time, and I'm just trying to be too perfect."
Stopping Tech's triple option attack was just one goal on the list, and Venables said he is going to make sure the players know the win was just one more check on the list.
"I certainly hope so. We're 5-0. That's it," he said. "We haven't done anything yet. They know that. Our job as coaches is to make sure if somebody isn't aware of that they need to be. We have goals and we haven't attained any of those goals yet other than we're 5-0 after five games."