| | |
| --- | --- |
| Doeren thinks young Pack ready for the challenge of Death Valley | |
---
| | |
| --- | --- |
| Friday, October 3, 2014 10:31 AM | |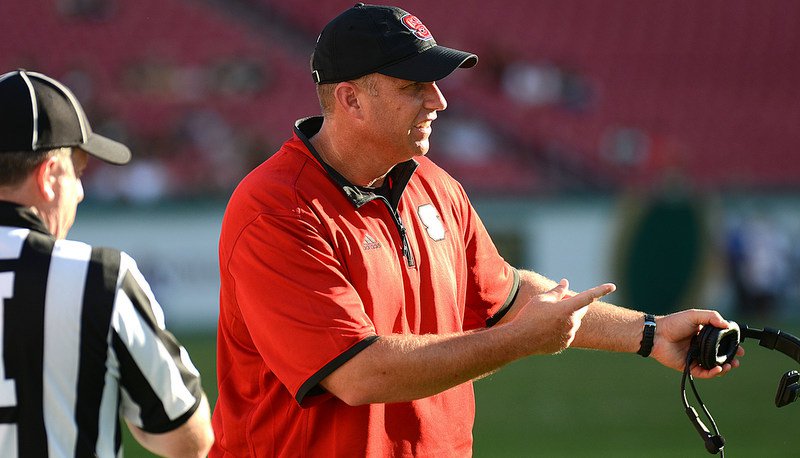 Dave Doeren's North Carolina State team is 4-1, the lone loss coming at home last week against top-ranked Florida St., a 56-41 setback that saw the Wolfpack blow a 24-7 first quarter lead.
Despite the fact that N.C. State's lone excursion on the road this young season was a mid-September date at South Florida, Doeren thinks the Wolfpack are ready for the crowd in Clemson's Death Valley, especially after an electric environment in Raleigh last week.
"I think now we've had to deal with the crowd noise that we're going to get at Clemson, but I think it was a confidence builder," Doeren told the media this week. "It's going to be a great challenge. It's an awesome atmosphere, I've been told, to play in. For us to have to play in the top two teams in our league back to back, it's going to be a great challenge for our football team this week. Look forward to the opportunity."
Doeren said that the Florida St. game showed his team can beat any other team in the country.
"I believe we can beat anybody, and that game showed. There were so many plays... even with the 41 points, our offensive guys will tell you, we turned it over twice, and one of them was in the red zone going in to score," he said. "We know that we can score on anybody. We have that confidence. Like I told the guys after the game, we're way better than we were, but we're not as good as we can be. So we've got to keep fighting and scratching to move and close the gap that existed between us and where we were last year."
He then admitted that Clemson will present a challenge, especially with the emergence of freshman quarterback Deshaun Watson

Deshaun Watson
Fr. Quarterback
#4 6-3, 204
Gainesville, GA
View Full Profile .
"We move on to a really good Clemson team," Doeren said. "They've had two tough losses against two great opponents and a senior class that is 21-2 at home, 21-5 as a senior class. A really impressive group of leaders at Clemson and a freshman quarterback that's lighting it up and against a defense that has a bunch of seniors and graduate students on it."
Doeren said Watson is reminiscent of Florida St.'s Jameis Winston.
"Similar to playing Florida State, he'll run. He's one of the best spread runners in the country coming out," he said. "Right now he's throwing the ball really well, one interception and ten touchdowns, I believe. His receivers are strong. They'll go up and get the football. They play with confidence. We're going to have to have tight coverage. We're going to have to be able to go up and play jump balls, and our pass rush lanes and our pressures are going to have to be disciplined."
Doeren said the biggest gap he sees between the two programs is the average age difference.
"We're the third youngest team in college football. That's the problem," he said "We're just young. We're playing teams like Clemson with seniors and graduate students, and freshmen and sophomores on our side. We're a really young football team. We're playing hard. We're playing with passion. We're practicing hard. We just don't have the experience or the years in the weight room that our competitors do in some areas."
As a result, he said his players have to learn to play with precision as well as passion.
"We tell our guys, we've got to be great technicians," he said. "We've got to play above our heads from an effort standpoint to meet up with the two and three differential on the teams we're playing. That's all it is. It's just a youth thing. We've got 51 freshmen and sophomores and 15 true freshmen that are playing. It's a lot different than Florida State and Clemson's lineup."