| | |
| --- | --- |
| Doeren, Wolfpack see Clemson game as a "big opportunity" | |
---
| | |
| --- | --- |
| Wednesday, October 28, 2015 1:22 PM | |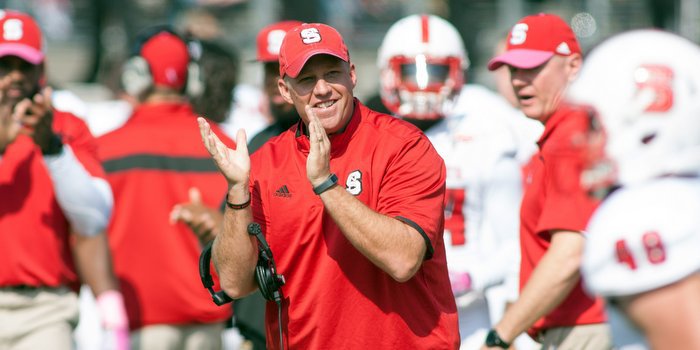 N.C. State is off to a decent start in 2015, winning five of its first seven games, but Pack head coach Dave Doeren is still looking for a signature win in his third season and a victory over third-ranked Clemson presents a big opportunity.
The Wolfpack (5-2 overall, 1-2 ACC) won their first ACC game against Wake Forest last weekend and are looking to continue the positive momentum in this Saturday's Homecoming contest against Clemson (7-0, 4-0).
Doeren met with the media on Tuesday for his weekly press conference and said he was happy with his team's performance in last week's game, but Clemson presents a whole new challenge with its stout defense and up-tempo offense.
"I'm proud of the team and staff to get win number five in a place that has been historically very challenging," Doeren said Tuesday morning. "It was great to raise the bar for our program and do something that hasn't been done in the last six attempts. There have been some really good players to go down there and come away without a win. I don't know exact stats, but in 12 years there has been two guys who are playing in the NFL at quarterback and didn't come home happy after that – at least every time.
"Moving on to this week with Clemson on homecoming week, they are a really good football team and they have excellent personnel. They have a lot of depth and use their guys well. They are disruptive on defense. Coach Brent Venables does a nice job with their blitz packages. They have long defensive backs and good corners that press you. Their defensive ends are long. Their linebackers are active. On offense they are an up-tempo team, which we have seen a lot of Deshaun Watson is a very good quarterback that can run and throw. He has big targets. Their tailbacks are probably playing better then I've seen for them in the last couple of seasons. They are running the football well. They are protecting their quarterback better."
However, Doeren knows that his players – and the Wolfpack faithful – will show up ready for the challenge.
"They present a lot of challenges, but at the same time it's a big opportunity," Doeren said. "We are excited about the challenge as a staff and the challenge as a team. The team has a chance to play against the No. 3 team in our stadium on homecoming. I want to say thank you to our fans for coming out the stadium. We had a lot of red in that stadium. It says a lot about you, and I know you will show up to this game. It's going to be a lot of fun. Looking forward to the opportunity."
To prepare for the game, Doeren said he and the players will watch last year's game in which Clemson won 41-0 and only allowed N.C. State 154 total yards.
"We will watch last year's game with them. A lot of them played in it. I don't think there is a ton that needs to be said," he said. "They had some big explosive plays on offense early at the beginning of the game, and we turned the ball over a couple of times. We got behind big early and just couldn't get back in the game. The guys will know what happened and I think they are more worried what we are going to do about it."
Doeren said that he's not worried about Clemson as whole, but rather the individual player matchups, and if his team can beat the Tigers one-on-one the Wolfpack stand a very good chance of emerging with a win.
"As a player, we can't worry about Clemson. We have to worry about the one-on-one match ups. To me, that is what the game is," he said. "There are a lot of one-on-one match ups in the game. If I'm a corner, all I need to do is worry about what I'm doing on this coverage against that receiver. If I'm an offensive tackle, 'What am I going to do on this play?' There are lots of one-on-one match ups and we need to take every play as that. If you are a player, and you win more one-on-ones than they do, then you will beat them. That is the approach we have to take.
"We need to win our one-on-match ups. If you do that collectively, that is the stuff you don't control. A corner can't worry about what the Mike linebacker is doing. That is the approaching we are going to take. A lot of these players were here when they upset a team before. They all watched the Georgia Tech game from this weekend and saw a great upset. They all know. Any game, any team can win. If you play to the best of your ability any team can beat anybody. We are going to give it everything we can and play a great team."