| | |
| --- | --- |
| "Disgusting" Boulware won't shave spectacular beard | |
---
| | |
| --- | --- |
| Sunday, August 9, 2015 9:57 PM | |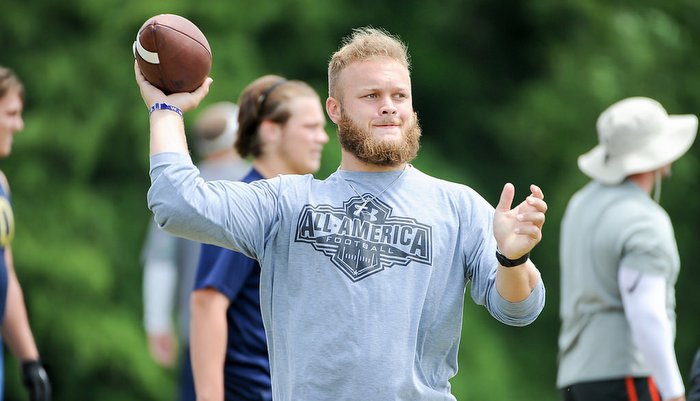 CLEMSON – Ben Boulware

Ben Boulware
Jr. Outside Linebacker
#10 6-0, 235
Anderson, SC
View Full Profile 's beard garnered a lot of attention during the start of fall practice last week, and Boulware has no plans to shave it.
The junior Clemson linebacker said he started growing it out during the early part of spring and decided to keep it despite the fact that he hates it. In other words, he's a typical linebacker.
"It's so long now, and I thought I might as well keep growing it out until the end of the season," Boulware said after practice last week. "I just don't feel like shaving, and I have a bet with my brother on it for a hundred dollars. That's a lot of money for a college kid. It's been about five or six months now."
Boulware said he knows how he looks to other people, but as the new self-anointed CEO of the Beard Gang, Boulware said his beard isn't going anywhere.
"I want to shave it so bad. I look so ugly. I look homeless," he said. "I do the best I can with trimming it and combing it, but there is only so much you can do. I look disgusting, and I know it. You don't have to tell me. But I've gotten this far, and I think it looks kind of cool for a football player. I feel like I have the best beard on the team. They made the Beard Gang shirts, and I am now the CEO. I haven't been in the past, but I have taken over that role."
Projected to start at the weakside (or WILL) linebacker spot, Boulware has more to worry about than just his hirsute face as he tries to help a bevy of young linebackers find their way in Brent Venables

Brent Venables
Def. Coordinator / Linebackers
View Full Profile ' defense.
Boulware said that group is well on its way.
"Compared to last year, we are a lot further ahead than we have been in years' past. It's somewhat interchangeable," he said. "It's pretty close. Closer than it has been than it has been. The linebacker room is just eager to learn. All of the guys are in there early, and they are in the books, putting in the time it takes to be a successful player at this level. Collectively, it's a solid group overall.
"Usually when we have big breaks from the bowl game to the spring and then to fall camp, guys forget all of the stuff that they learned previously. Our guys are so eager to learn they are in the books constantly. I am sure there is a little drop-off from the spring to now, but our guys have been in the books and in the film room. We haven't lost much since the spring because guys are continuously learning their craft."
He was asked if he has any expectations heading into the season, and he said his only goal was to win a national title.
"I have the same expectation every year," Boulware said. "No matter who the personnel happens to be, my goal is to win the national championship. If you're a football player that has pride, that should always be your goal. That's our goal, and it has been our goal since day one."
If the Tigers are to reach such lofty goals the defense will have to find leaders to replace former leaders like Grady Jarrett

Grady Jarrett
Defensive Tackle (2011 - 2014)
#50 6-0, 290
Conyers, GA
View Full Profile and Stephone Anthony

Stephone Anthony
Linebacker (2011 - 2014)
#42 6-3, 245
Polkton, NC
View Full Profile .
Boulware said he knows he has to be more of a leader, but can't change who he is just for the sake of being vocal.
"I feel like I have been a leader since I've been here. I have to be more vocal," Boulware said. "The main thing now is that I have to work with the younger guys. I was once in that role, and now I have to work with them and get them to a certain level to where if they get thrown in a game they can perform at a certain level. I have to bring them along. But as far as my work ethic and how I am as a football player, that's the same as it has been since middle school.
"The main thing we have to work on is leadership. We lost so many leaders, and you can't teach that. You either have it or you don't. We have to find that leadership and then bring the younger guys along. We just have to find guys that are willing to lead. I have to prove it on the field and off the field, too, but it takes more than one guy. It will take a lot more than me, and I need help. But we have guys that are willing to do that."