| | |
| --- | --- |
| Devastating loss a motivating tool for Clemson defense | |
---
| | |
| --- | --- |
| Tuesday, September 23, 2014 10:01 PM | |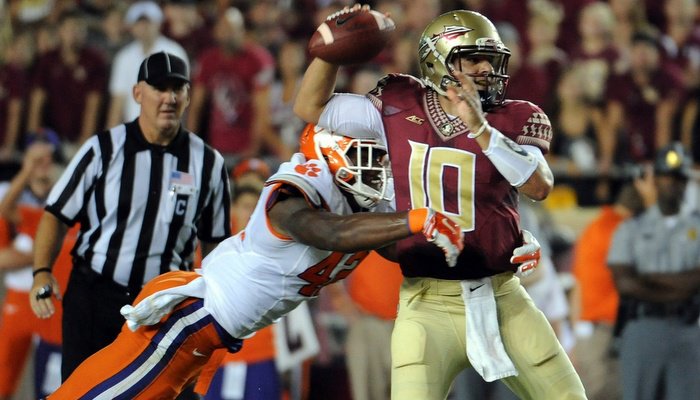 CLEMSON – Over the last four seasons Clemson has suffered several heartbreaking and shocking losses – the 2012 Orange Bowl, Florida State in 2012 and 2013, and South Carolina in 2013 are just a few that come to mind.
However, Saturday's 23-17 overtime loss at No. 1 Florida State was by far the most devastating to the Tigers not because of the score or the fact that they lost in overtime, but because the Clemson football players knew they were the better team.
Senior defensive tackle DeShawn Williams

DeShawn Williams
Sr. Defensive Tackle
#99 6-1, 292
Central, SC
View Full Profile told the media that before the game last Saturday night head coach Dabo Swinney

Dabo Swinney
Head Coach
View Full Profile didn't need to give the team a long speech because the players were already prepared to show the nation what they were made of.
"He [Swinney] told us to have that zoomed focus," Williams told said Monday afternoon in the WestZone. "When you're in that mode that can't nobody stop you. Just be great. He wanted us to be great and we showed that we can be great. For games like that, you don't need much talking. The atmosphere was a big time stage. That's what you come here for. Everybody played good. MacKensie Alexander

MacKensie Alexander
RS Fr. Cornerback
#2 5-11, 190
Immokalee, FL
View Full Profile - he's special. He's a special athlete. We put our best foot forward Saturday night."
The result of the team's attitude was as dominating a performance as the Clemson defense has had since 2011 when the Tigers beat Virginia Tech for the ACC Championship.
"I would say that was probably one of my top two performances that we've had," Williams said. "My freshman year when we played Virginia Tech, that was a great performance. Saturday night we went out that with that swagger that Clemson defense is known for having. We knew that we had them and that we were going to win but it didn't go the way that we wanted to. We have to push forward and focus on North Carolina."
Unfortunately, offensive and special teams miscues led to one of the most heartbreaking losses that Williams has been a part of during his four years at Clemson.
"That loss right there doesn't match anything else," Williams said. "In high school, you play for fun. Just to see your brothers put in so much time, effort and hard work we did this week and just come up short. This is going to motivate our team to be great. We're going to work hard starting today on North Carolina and put our best foot forward."
The feeling that he and his teammates felt as they sat in the locker room Saturday night in Doak Campbell Stadium is something that Williams said that he never wants to feel again.
"Just to see my brothers and the hurt on their faces after the game," he said. "I told Grady [Jarrett] that that made me want to work so much harder than what I did because you don't want to lose a game like that - a what if game. You don't want those types of moments. I think you'll see a different type of team this Saturday."
But it's that feeling that just might propel the 2014 Clemson Tigers to greatness.
"It hurts. You couldn't have a better performance from the defense and offense," he said. "You've just got to focus. I think this is going to help us. This loss is going to motivate us and keep us hungry to work harder to get where we want to get to. Our goals are not lost. We can still win it but some things have to happen. We just have to win out and do what we've got to do and handle business like we did last week."